Experience the Intelligent Future with Machine Learning Applications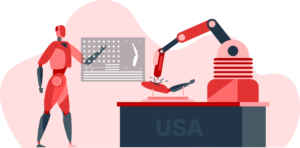 Machine Learning Development plays a significant role in almost every digital tool we use today. As a modern business, it's crucial to stay up-to-date with the latest developments in cognitive computing, including the various subsets of AI. At SoluLab, we understand the importance of these technologies and offer a wide range of expert Machine Learning Services to help your business make informed decisions. As a leading machine learning company based in the San Francisco, our team deeply understands local rules and regulations. This enables us to stay ahead of the curve and deliver solutions that align with your unique needs.
Partner With the Best Machine Learning Development Company in San Francisco
Imagine automating repetitive tasks, making data-driven decisions, and gaining valuable insights from your data. Our team of expert Machine Learning developers in San Francisco can make that a reality for you. We can help you achieve your business goals and drive meaningful results. From predictive analytics that can anticipate customer behaviour to natural language processing that enables conversational AI, our expertise spans various applications. Our tailored approach ensures we deliver solutions that fit perfectly with your requirements.
Here's what you will be offered:
Ultra-modern technologies
Flawless proficiency
Profound subject knowledge
Apex industry leaders
9+ years of experience
Our Machine Learning Development Services
Our Machine Learning Development Services in San Francisco offer a comprehensive range of solutions to meet your business needs. From data analysis to algorithm development, we specialize in creating customized Machine Learning solutions that drive business growth.
Predictive Modelling

The experts of SoluLab designed an AI-powered solution that can recognize possible future results based on historical data and probabilistic algorithms.

Big Data Analytics

We at SoluLab, find and decrypt patterns in large volumes of composite and raw data to reveal insights into your business.

Neural Network Development

SoluLab helps you design a system that can analyse large amounts of data with numerous variables to create an exceptionally adaptive application.

Computer Vision

The veterans of SoluLab can effortlessly design pattern recognition and image identification from the real world to generate meaningful information.

Business Intelligence

Our specialized Machine Learning professionals automate your company operations and assist you in making the best decisions by anticipating business risks.

Deep Learning

We at SoluLab build cognitive business technology frameworks by harnessing our expertise in deep learning. By using advanced deep learning, we deliver the best business solution.

Natural Language Processing

We at SoluLab can help you design text recognition, identification, and generation of texts from humans for your business solution.

Smart Chatbots

The proficient experts of SoluLab integrate chatbots beautifully with live chat software to smoothly automate communications. Be indistinguishable from the human.

Marketing Automation Solutions

We at SoluLab increase customer satisfaction and retention using marketing automation solutions. We help you lead in nurturing the process of your business.
Transform Your Business with Expert Machine Learning Development Services in San Francisco
Our experienced Machine learning developers in San Francisco can assist you in various ways, such as analyzing and modelling your data, predicting future trends, and processing natural language. Utilizing our customized machine learning development solutions allows you to gain valuable insights into your customers and market trends, streamline your operations, and make data-driven decisions that lead to better outcomes. Contact us today to learn how we can help you elevate your business to new heights.
Our Machine Learning Projects
Our Machine Learning Projects showcase our expertise in developing innovative solutions using machine learning algorithms and techniques. From data analysis to model training and deployment, we have delivered successful machine learning projects that have helped businesses in San Francisco enhance their operations and achieve their goals.
Engagement Models
We offer flexible engagement models to meet your unique needs and requirements, specifically in San Francisco market. Whether you need a dedicated development team, team extension, or project-based model, we have the right solution.
Dedicated Development Team

Our specialized machine learning development team is designed to allocate a group of proficient experts who will solely focus on your project. By working closely with your organization, this team will act as an extension of your in-house team and deliver a tailored machine-learning development solution. You will have complete authority over the team's makeup, and they will be dedicated exclusively to your project, ensuring optimal concentration and productivity.

Team Extension

With our team extension model, you can supplement your current team with our proficient professionals who have ample experience in machine learning development. We can provide the necessary assistance if you require expertise in particular areas or need to expand your team's size. Our team members work with your in-house team, adhering to your project requirements and processes to guarantee smooth integration and productive collaboration.

Project-based Model

Our machine learning app development model is perfect if you have a specific project with well-defined requirements and timelines. We collaborate closely with you to understand your project goals, scope, and timeline and provide a comprehensive solution to deliver your project on time and within budget. Our project-based model offers flexibility and agility, ensuring that your project progresses smoothly and is completed successfully.
Our Machine Learning Technology Stack
Build Intelligent Apps with Top Machine Learning App Development Company in San Francisco
Our machine learning app development services can help you create intelligent and customized applications that leverage the power of AI and data analysis. Our team of experienced developers in San Francisco specialises in developing apps that can learn from user interactions and make predictions based on historical data. Whether you're looking to build a chatbot, recommendation engine, or predictive analytics tool, we can help bring your ideas to life. Contact us today to learn more about how our machine-learning app development services in San Francisco can benefit your business.
Our Machine Learning Development Industries
As a leading machine learning development company in San Francisco, we have expertise in implementing cutting-edge technologies to transform various industries. Here are nine industries where our services can be applied.
Healthcare

We can develop predictive models to diagnose diseases, detect abnormalities, and create personalized treatment plans. .

E-commerce

Our machine learning algorithms can analyze customer behavior, predict demand, and optimize pricing strategies.

Finance

We can build fraud detection models, develop credit scoring systems, and create predictive models for investment decisions.

Manufacturing

Our machine learning solutions can improve production efficiency, predict maintenance needs, and optimize supply chain management.

Retail

We can create personalized recommendations, optimize inventory management, and analyze customer sentiment.

Marketing

Our algorithms can help optimize marketing campaigns, analyze customer behavior, and create targeted advertising.

Education

We can develop adaptive learning platforms, create personalized learning paths, and analyze student performance.

Transportation

Our machine learning solutions can optimize route planning, predict maintenance needs, and analyze traffic patterns.

Agriculture

We can develop crop yield prediction models, analyze weather patterns, and create precision agriculture solutions.
Our execution Process
Discovery Workshop

Here, we understand your business, goals, pain points and priorities. These multiple brainstorming sessions help us to map out the existing workflows and your future goals.

Strategy and Solution Design

At this stage, once we gather your requirements in a whiteboard session, we begin designing, prototyping, and user testing your platform or product.

Development

Programming and coding based on the designs approved by you takes place in this stage. Our development lifecycle consists of 3-stages: Alpha phase, Beta phase and Release phase.

Testing and QA

We continue our data-derived validation process, carry out in-depth QA testing, for each release of your product or platform to ensure that the final product, that is ready for the market.

Launch and Maintenance

Here, your product or platform goes LIVE. On your approval, our devs publish your product in live environments. We exclusively take care of cloud and on-premise hosting.

Support and Customer Service

To ensure continuous improvement, we perform ongoing product and platform maintenance and optimization, deploy market strategies, and provide real/fix support.
Client Testimonials
"Sound technical knowledge. Proactive communication. Proper understanding of the project. Great commitment. Thank you, SoluLab, for all the tech support."

Founder & CEO,