Innovative Tech Solutions for Automotive Industry
The automotive industry will need to adapt the advanced technologies, due to rapid disruptions in this sector.  Digitization plays a crucial role in the automotive industry and its processes. It equips the interior suppliers with necessary tools and helps them remain flexible and relevant in this modern era. Digitization in automotive manufacturing could make companies improve their competitiveness while setting a strong foundation for future growth in a steadily evolving manufacturing landscape. 
Introducing Blockchain in Automotive Industry
Blockchain has the potential to play a major role in underpinning the industry transformation that is coming. The technology promises more transparency to the industry's operations by helping car manufacturers and their partners forge long-lasting and trustful relationships with customers.
"Blockchain technology itself is not the end-all solution," explains Chintan Thakkar, Head of Distributed Ledger and Emerging Technologies at the SoluLab Inc.
Blockchain-based solutions like 'VerifyCar' offer a cure for this problem. This app, currently being piloted, could enable users to track and verify the complete vehicle history, and share data – like the mileage – with third parties. It could even be used in conversation with the seller: "As a potential buyer, I could use the 'VerifyCar' app on my phone to scan the QR code in the seller's app.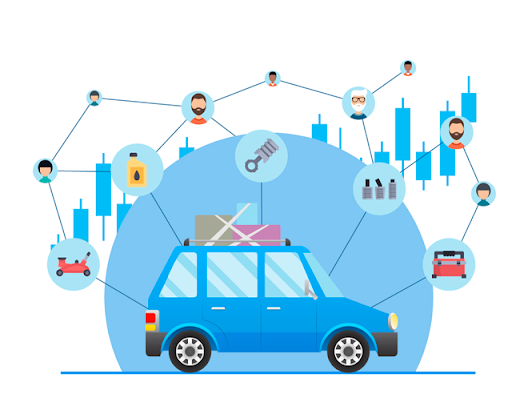 'SoluLab Inc' is pursuing blockchain-based pilot projects that make the path of minerals traceable. The first question is: How can we physically prevent a material from being replaced or mixed? This is done using traditional methods such as barcodes and seals – but also with innovative techniques like chemical tracers. These are chemical additives that are added to a batch of material to make it individually identifiable and machine-readable with a scanner.  Blockchain can be utilized to improve process efficiencies across the supply chain and back office, including knowing our supplier (KYS), provenance/trace and verify parts, connected supply chain and targeted recall. 
Blockchain has likely to have a bigger impact in the automotive industry when combined with other technologies such as the 'Artificial Intelligence/Machine Learning' and 'Internet of things'.
Opportunities with artificial intelligence and machine learning
From parts suppliers to vehicle manufacturers, service providers to rental car companies, the automotive and related mobility industries stand to gain significantly from implementing machine learning at scale. Autonomous driving has been the central concern of the automotive industry for quite some time. This revolutionary concept wouldn't be possible without the help of Artificial Intelligence. 
Vehicles have everything it takes to drive us around, except for a brain. Providing them with one, or with artificial intelligence, could make them smart enough to need a driver no longer. However, this is a task that even modern computer programs can't deal with. AI allows vehicles to learn, and that's what driving requires.
Cross-traffic detectors, blind-spot monitoring, and the emergency braking are only some of the features that such assistants provide. They can even take emergency control of the vehicle if needed to avoid an accident.
AI based predictive analytics models can continue to learn from thousands of performance data points collected from manufacturing plants, suppliers, service providers and actual vehicles on the road. Predictive maintenance helps increase customer satisfaction and brand reputation, while also improving compliance with recommended maintenance.
Insurance companies can embrace AI technology to helps in making risk assessments in real-time. Something very convenient for customers is its ability to file claims when accidents occur. The technology can create drivers' risk profiles based on their risk factors.
It can predict drivers' behavior based on their previous actions. AI can identify any personal issues that might affect their ability to drive safely. Furthermore, insurance companies can provide their customers with auto apps that would assist drivers in case of an emergency.
Automotive IoT (Internet of things)
The term 'automotive IoT' refers to embedding IoT technologies into automotive systems to create new applications and solutions which can make vehicles smarter and more intelligent, facilitating safe, efficient and comfortable driving.
IoT technologies are used in the automotive sector to  create innovative and advanced solutions, including  connected car solutions, Advanced Driver-Assistance Systems (ADAS), in-vehicle infotainment systems, navigation & telematics solutions, predictive maintenance solutions, Vehicle-to-Vehicle (V2V) applications, Vehicle to Infrastructure (V2I) applications, and Vehicle to Everything (V2X) communication applications.
ADAS (Advanced Driver-Assistance Systems) is an umbrella term used for various types of active safety systems in vehicles which allow drivers to take timely control of the vehicle by alerting them of potential hazards on the road. Some key ADAS features include Adaptive Cruise Control (ACC), Lane Departure Warning Systems, Collision Warning Systems, Blind Spot Detection Systems, Night Vision Systems, and Parking Assistance Systems.

Smart apps are being baked into vehicle infotainment systems to provide in-car navigation, telematics, and entertainment. Such infotainment systems will support a range of apps, including Google Maps, Google Assistant and several apps from the Play Store. Similarly, Apple CarPlay is offered as a feature in a number of mid- to high-end cars.
Drivers are further protected, thanks to advanced sensors that can monitor surrounding traffic patterns and the environment to ensure safe driving and with the use of mesh networked cars on the road, onboard systems can predict and avoid collisions far in advance of actual occurrences.
The car cameras or IoT connectivity in the car can spot advertising along the road and provide it to drivers. The content is automatically synced between the car's console and the driver's mobile app. (Note: it can be simply a mobile app, and doesn't absolutely need the car's console.) In exchange for engaging with the received content, drivers are awarded points toward rebates on their monthly car payments or in the form of actual cash payments to the driver.
These offers are for restaurant deals, shopping discounts and many other consumer engagement opportunities. They are all stored in a White-labeled App that is branded for the automotive manufacturer.
HMI is mentioned as one of the seven trends that will reshape the automotive industry by 2030. Some of the rest include self-driving, connected vehicles, and e-mobility. HMI connected cars are currently in a transition phase. To get a glimpse of the future, we'll share some human-machine interface trends that are leading us to more intuitive connected vehicles.
The Internet of Things along with other disruptive technologies is revolutionizing the complete automotive industry.