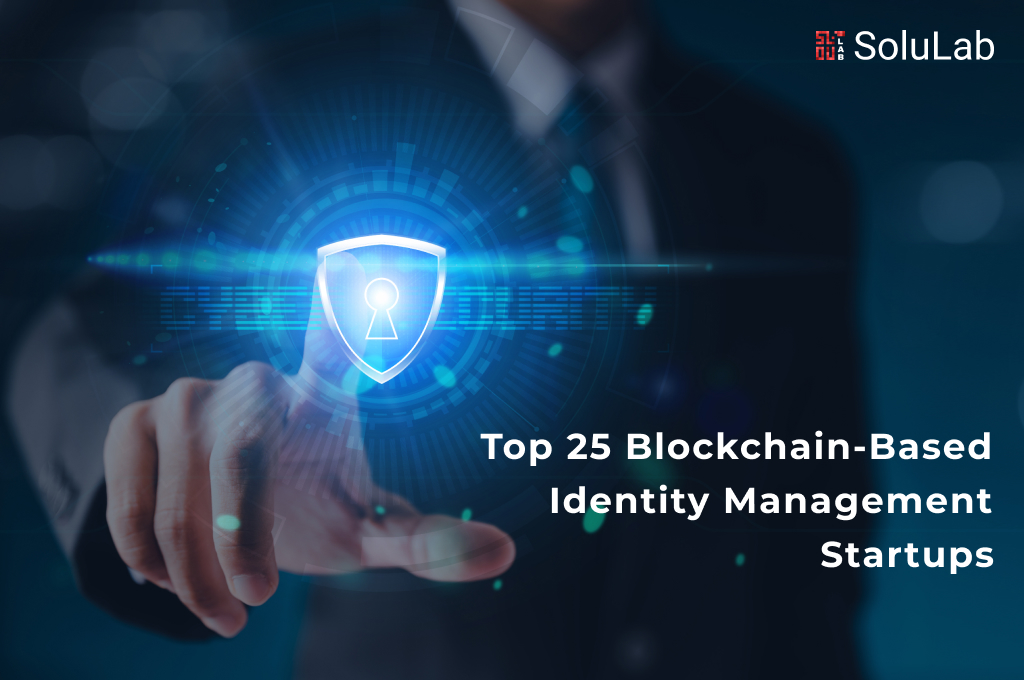 Identity management has certainly been a tough task since data leakage or theft happens to be the biggest threat in this regard. However, blockchain technology plays a significant role in effectively solving problems. Identity management with blockchain technology offers a decentralized as well as a secure solution that plays a crucial role in helping to put the users back in complete control through a distributed trust model. Therefore blockchain development companies have been in high demand in recent times.
To deal with the increasing demand for blockchain services for identity management, one can find a number of startups entering the industry. These startups have been working dedicatedly to appropriately deal with the demand for the services in the market and come up with the right solutions depending upon the exact requirements of businesses. Let us now have a look at the top 25 blockchain-based identity management startups that have left a mark in the industry.
1.  Hu-manity.co

Hu-manity.co's software, powered by artificial intelligence, creates, reads, understands and compares the legal language in data-related contracts that govern data practices between multiple entities. Institutions use Hu-manity.co's software to restore trust and transparency in digital technologies.
2.  Evernym

Evernym develops software and applications to help organizations around the world build trusted, digital relationships. It is a blockchain-powered start-up that aims to establish decentralized human rights and corollary sovereign laws on the blockchain. Their priority is to protect personal data from poaching and illicit propagation. Whether it is geospatial data, spending habits, or medical history.
3.  Edge

Edge allows users to buy, sell, and trade cryptocurrency with a high level of security and privacy. The Edge mobile app supports the leading cryptocurrencies providing a large selection of assets for trading. It empowers individuals to take control of their own online data by developing the proprietary tools, software, and systems needed to keep their information tightly secured. 
4.  Fractal

Fractal is an open-source zero-margin protocol that defines a basic standard to exchange user information in a fair and open way ensuring a high-quality version of the free internet. They'll do this by automating critical mechanisms using blockchain technology. From know-your-client (KYC) and anti-money laundering (AML) processes to data protection, security, and identity management.
5.  Metadium Technology

 Metadium is a next-generation blockchain protocol designed to create a decentralized identity ecosystem with the real-world introduction of Self-Sovereign Identity; the concept that individuals are owners of all aspects of their own identity in the offline and online world.
6.  Civic Technologies
Civic is a leading provider of identity management tools for Web3, empowering people to easily and privately manage their identities across chains with an on-chain representation of their reusable identity. The company's flagship product, Civic Pass, is an integrated per missioning tool that helps business customers enable secure access to their on-chain assets.
7.  Validated ID

Validated ID brings real identities to the digital world by helping businesses send and sign documents online and identify users and clients with maximum efficiency, security, trust and legal compliance. With VIDsigner we offer a SaaS multichannel electronic signature platform that combines the security of cryptographic technology, biometrics, and easy use from email certification to website and mobile integrations, smartcards, and handwritten in-person signing.
8.  TheKey

THEKEY is an identity verification tool powered by the blockchain. It incorporates Blockchain-based dynamic multidimensional identification (BDMI, for short) to help authenticate that somebody is who they are claiming to be. This level of authentication is in lockstep with what government agencies require.
9.  Nuggets

Nuggets is a multi-award-winning self-sovereign verified digital identity & payment platform that serves as a reusable, interoperable ID, with a merit-based  that travels with you for Web 2.0, web3, and the Metaverse. Alongside offering proof of who you are and what you can access, Nuggets also serves as a non-custodial cache for your digital assets.
10.  GlobaliD

At GlobaliD, we're building a universal identity solution that is easy to use, ties users to unique names, and transcends borders and institutions. globaliD is a blockchain-powered tool that lets users establish, own, and utilize their digital identity. The encrypted globaliD platform allows users to build their digital reputation and deploy it in a number of ways. Users can input their attested government ID, social profile, and financial status based on verified documents.
11.  Hub

Hub is a blockchain-based trust protocol that aims to make user reputations deployable across the web. In the age of free-wheeling internet opinions spat out at no cost to the speaker's reputation, Hub wants to bring accountability back to the digital world. By decentralizing reputation data using the blockchain, the idea is to establish greater value for users whose opinions warrant a greater level of trust. 
12.  Vetty

At Vetty we are hyper-focused on building products that enable businesses and jobseekers to regain control over their recruiting experience, Vetty is a Candidate Centric Background Screening & Recruiting Marketplace. Our international identity, background screening, and verification platform help HR teams improve hiring speed, decrease remote-hiring risk, and unlock the potential of applicants.  On the job seeker side, we are giving candidates unprecedented access to their background information, and helping them build the skills most important to today's labor market.  
13.  1Kosmos

1Kosmos is the outfit behind BlockID, their identity management platform powered by blockchain technology. The platform is a move away from the physical, legacy copies of identification that can be easily duplicated, manipulated, and used as tools for identity theft. BlockID eschews these old ways in favor of a secure locker for one's digital identifiers stored on their mobile device. 
14.  Velix.ID

Velix.ID is a platform to enable frictionless identity verification across the globe. The contemporary methods of identity verification take too long to process, incur a massive financial loss for both businesses & individuals, and often compromise the personal information of the user.
15.  DIW

DIW is a decentralized identification infrastructure that allows users to securely access a number of dApps without compromising their identity or data. Users can store identifying information and documents, passwords, banking information, wills, and other digital data in the DIW ecosystem. There, it will be encrypted and stored decentral as a digital locker for the most important information we can possibly have. The platform does more than just store identifying documents, though.
16.  Blockchain HELIX

Blockchain Helix is aiming to become the 'DNA of digital identity by reducing the cost and improving the quality of digital KYC processes. With Blockchain Helix, accredited institutions can securely share KYC data among themselves, reducing the time and cost associated with client authentication. Two banks exchanging KYC data is an example of the Blockchain Helix Trust Provider Network in action.
17.  Persona
Persona represents the solution for identity management, aligned with the latest data protection regulations. Its scope is to empower individuals and grant them control over their personal data as well as the means to secure access to their private details. Persona is a zero-knowledge identity management system built on the blockchain.
18.  NuID

NuID is a pioneer in trustless authentication and decentralized digital identity. The NuID platform leverages zero-knowledge cryptography to eliminate the need for businesses to store passwords and other authentication credentials. NuID's unified protocol for strong authentication supports passwords, tokens, and biometrics—enabling developers and businesses to reduce security risks and streamline the user experience. Their mission is to end mass credential breaches by returning data ownership to the individual.
19.  SelfKey Foundation
    
SelfKey is a blockchain-based self-sovereign identity ecosystem that empowers individuals and companies to find more freedom, privacy, and wealth through the full ownership of their digital identity. SelfKey enables an identity wallet, with which individuals and companies can control and manage their personal data, securely manage their cryptocurrency portfolio, and easily and painlessly onboard onto financial, immigration, and cryptocurrency-related services.
20.  Bureau

Bureau is a first-of-its-kind trust network that delivers unprecedented trust and security to businesses and consumers. Think of a one-stop platform that helps businesses automate their decisions, prevent fraud, and power seamless user experiences. Bureau provides an accurate and comprehensive picture of each of your customers so that you can confidently transact without fear of fraud. 
21.  AyanWorks

AyanWorks provides Blockchain Consulting & Solutions, Outsource Product Engineering & UI/UX Modernization services to customers on various domains globally. Currently, they are focusing a lot on emerging technologies around Blockchain. 
22.  TRM Labs

TRM Labs is a blockchain intelligence company that helps financial institutions, crypto businesses, and government agencies detect and investigate crypto-related financial crime and fraud. Every day, we tackle challenges in data engineering, data science, and threat intelligence to advance our mission to build a safer financial system for billions of people. 
23.  Solidus Labs

 Solidus Labs solution utilizes machine learning to detect, address, investigate and report market manipulation in digital asset trading. Its features include collaborative and customizable alert management, regulatory reporting, and compliance management. Its clients include digital asset broker-dealers, market makers, hedge funds, and centralized and decentralized exchanges.
24.  Casa 

App & cloud-based platform for private key management. Casa offers protection of savings against theft, natural disasters, accidents, and more with a multi-signature approach. It also offers a key recovery service.
25.  CipherTrace
CipherTrace develops cryptocurrency Anti-Money Laundering, cryptocurrency forensics, and blockchain threat intelligence solutions. Leading exchanges, banks, investigators, regulators, and digital asset businesses use CipherTrace to trace transaction flows and comply with regulatory anti-money laundering requirements, fostering trust in the cryptocurrency economy. 
Closing Thoughts
The post gives a fair idea about the top-performing blockchain-based identity management startups that have established a strong foothold in the market. Their contributions to the industry have a significant impact on properly dealing with the challenges of traditional identity management setup. The rate of adoption of blockchain technology in identity management has been on the rise over the past few years and is expected to rise further in the time to come.