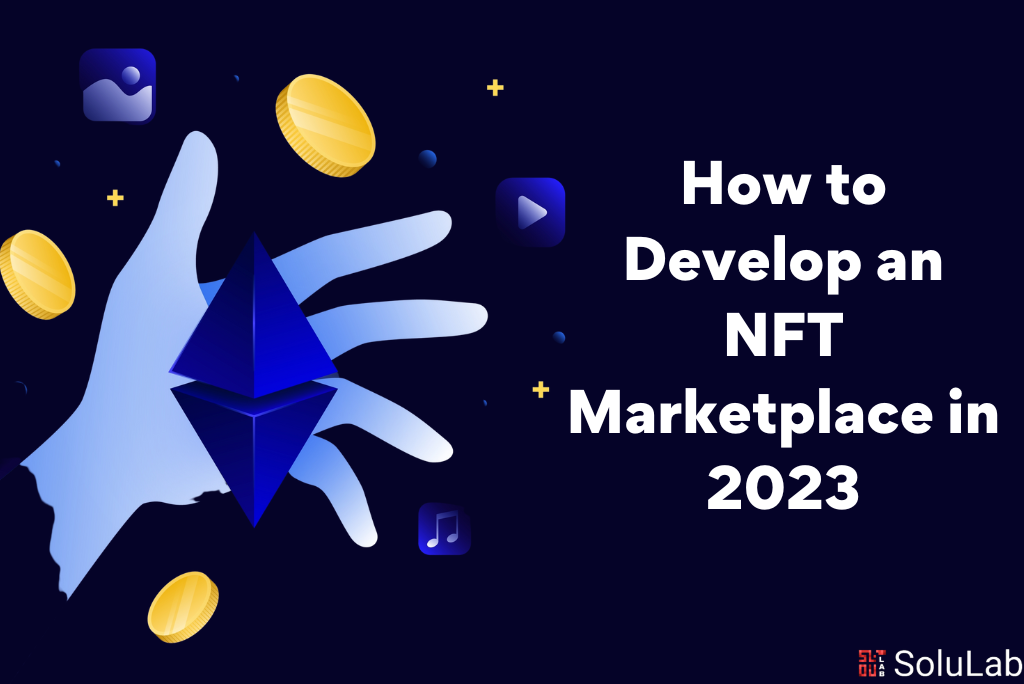 Unquestionably, the NFT (Non-Fungible Token) market is expanding rapidly. Particularly in the field of art and collectibles, NFTs are quite common. However, they have more promise than just digital art. They can be used to buy event tickets, access limited-edition digital goods, publish and license next-generation music, access gaming elements like avatars, and buy digital lands in virtual worlds. You'll be astounded to learn what the data reveal regarding the task of how to develop NFTs.  The size of the global NFT market is anticipated to increase from 1894.4 million USD through 2021 to 5093.3 million USD by 2028, growing at a CAGR of 17.9% from 2022 to 2028.
As an outcome, NFT-based marketplaces have developed throughout the crypto industry and are now widely used. Companies are looking into ways to interact with the NFT market in response to this type of multifold increase.
Are you considering designing and establishing your own NFT market? Are you interested in learning how to develop NFT marketplace can help you? Yes? Here is a step-by-step instruction manual that will address all of your concerns. Let's start now!
What is an NFT?
First, let's define the word NFT. Infusible Token is referred to as NFT. It is a blockchain-based digital asset with a special identification code that keeps it distinct. The inability to copy or tamper with NFTs is another intriguing aspect of them.  Similar programming is utilized to create NFTs as it is for cryptocurrencies. Both, yet, are distinct.
Cryptocurrencies represent fungible tokens with equal values that are similar. However, NFTs stand out. Each NFT can only exist in a single instance at any one time. Thus, if you hold 50 Ethereum tokens (cryptocurrencies), for instance, they will all be the same, yet if you own 50 CryptoKitties (NFTs), they will all be distinctive and different.
Simply described, NFTs are virtual representations of real-world objects like artwork, gaming assets, & real estate. Because of this, tokenizing them reduces the likelihood of fraud within the transaction while also making it simple to buy, sell, and trade them.
Now that we've discussed what NFTs are, let us discuss how they function
NFT management happens on a blockchain. One of the most used blockchains for non-fungible tokens is Ethereum, which you might take into consideration. These blockchains serve as a distributed ledger that may be used to track each NFT's ownership and transaction history. Additionally, the NFT's coding and distinctive ID ensure that no other token can imitate it.
The last step is to acquire digital currency, like ether (ETH), and store it in a wallet like Trezor or Electrum. On an NFT platform/marketplace like the OpenSea platform or SuperRare, users can create and trade their digital assets. Here are some interesting NFT statistics that you should be aware of.
The NFT market is valued at $100 million in 2020. This increased 30 times to $3 billion by mid-2022.
The millennial population in America is 23% NFT collectors.

The Merge sold for 91.8 million USD and was the most expensive NFT ever.

On the OpenSea platform, about 2,50,000 people trade NFTs each month.
NFT Marketplace and How Does It Work?
NFTs cannot be directly traded, unlike Bitcoins or any other fungible tokens. Instead, you must use a unique system called NFT marketplace. NFT marketplaces are online or virtual markets where anyone can buy and trade NFTs.
An NFT marketplace can be compared to the "Amazon of the crypto world." Users can register, add digital artwork or other items, and sell or buy things using their accounts.
The tokens or digital assets can be easily auctioned, bought, and sold here for a defined price. To store and exchange NFT tokens within to develop NFT marketplace, you will need crypto wallets.
Benefits of NFT Marketplace
The emergence of NFT marketplaces is changing how people conduct business online by providing a faster, safer, and more efficient means of exchanging assets. Here is a summary of the main advantages of NFT marketplaces that demonstrates why they are the ideal choice for you and the greatest approach to doing online business.
1. Transparency
The majority of traditional markets fall short of gaining the confidence and trust necessary for business transactions. NFTs are built on blockchain technology, which guarantees that all NFT transactions remain transparent to their users. This increases users' trust in a distributed database by providing them with error-free payment processes and a smooth transacting experience.
2. Increased Security
Blockchain technology is used to secure every transaction made in the NFT marketplace. You can enjoy all the advantages of highly secure transactions, which protect you from transaction loss and guarantee that no one can steal your digital assets or engage in fraud. Your assets won't be deleted, changed, or lost from the blockchain network because it is immutable.
3. Liquidity
There is a growing market for cryptocurrencies and NFTs, so you should invest in one. Decentralization also encourages active investment in digital assets. As a result, the NFT now has more liquidity. NFT marketplaces also have built-in liquidity capabilities that make it simple to exchange or trade NFTs for other assets. Simply said, you may quickly convert your NFTs into other assets without having to wait for purchasers to materialize.
4. Easy Transfer of Assets
The NFT marketplace enables you to possess a genuine item and offers integrated authentication as proof of ownership. You can also tokenize your assets & market them on the NFT platform.
5. Decentralization
The key to developing an NFT marketplace is developing a decentralized platform. Users can freely exchange assets here without relying on regulators, conventional financial institutions, etc. With the help of blockchain technology, this is doable.
6. Instant Payments
On the NFT marketplace, cryptocurrency transactions and payments can be done without a user's full name, address, or credit card number. This enables making rapid payments for anyone simple, quick, and private.
7. Decreased Fees
It is well known that NFT marketplaces have cheaper fees than conventional marketplaces. This is because they do not require a middleman or agents to complete deals.
8. Greater Independence
NFT marketplaces are not subject to the same laws and restrictions as conventional internet marketplaces because of their decentralized structure. Users now have the choice and flexibility to buy, sell, and trade digital goods.
9. Growth Potential
The increasing excitement around NFTs and cryptocurrencies puts the NFT sector in a great position to draw attention from investors all over the world. This may facilitate its rapid growth.
10. Traceability
You can trace & verify the ownership of NFTs thanks to blockchain technology, which underpins the NFT market. Users can confirm the NFT's uniqueness and determine its value because of the traceability feature of the NFT. Celebrities and fashion brands can sell NFTs worth millions of dollars because of this.
Read more: Create Your Own NFT Marketplace In Just 48 Hours With This Nft Website Builder
Must-Have Features in an NFT Marketplace
Make sure your NFT platform has all the essential elements required to enable the smooth operation of the market. Here is a list of every characteristic your NFT solution must have.
1. Storefront
The majority of NFT markets provide a capability similar to a dashboard called a storefront. By giving them access to all the information about an NFT, including its owners, offers, transactions, previews, price history, etc., it draws users to the site.
2. Advanced Token Search
Users can quickly search for available NFT assets with this functionality, according to their preferences. To do that, all assets must be arranged according to several categories. This fantastic feature improves the user experience.
3. NFT Rankings
Here, traders can rank and review NFTs based on their price, trading volume, as well as other characteristics. Other users will benefit from knowing more about the NFTs' ratings and standards thanks to this.
4. NFT Listings
The platform allows all users (creators) who have registered to mint their assets and list them. Customers can then sort assets based on a variety of criteria after this is completed. The prices of their NFTs can be mentioned, and the creators can include descriptions.
5. Listing Status
For someone who offers NFT items and completes their verification process, listing status is crucial. It assists with NFT verification and keeps track of the status of the confirmation procedure.
6. Crypto Wallet Integration
Your NFT platform should provide crypto wallet integration to store & trade NFTs since customers must sign up with a crypto wallet.
7. Selling and Auctioning
Bidding always improves the likelihood of sales and secures the greatest price. As a result, consumers should have access to real-time bidding on your marketplace for NFT assets. The winner of the auction will take possession of the digital asset. They can choose to sell their NFTs for a set price.
How to develop an NFT Marketplace
If you're thinking about developing an NFT marketplace for your company, you must do the following actions:
1. Focus On Your Niche
Your bespoke NFT marketplace design must first match the niche you have chosen. It might be based on video game characters, sports memorabilia, other collectibles, digital artwork, or even a soundtrack. Remember that you'll be in a better position to attract more traffic and expand your client base if you tailor the structure of your NFT platform to meet the needs of your particular target audience.
2. Select the Right Blockchain Network
As we are all aware, a blockchain is a distributed system that records all information related to NFT transactions. NFT creators use NFT platforms and marketplaces to sell their NFTs & collect royalties. In a similar vein, other users purchase, store, & resell NFTs via NFT platforms. These NFT marketplace transactions are all documented on the pertinent blockchains. Blockchain networks must be reliable, secure, scalable, & interoperable for NFT marketplaces. Making the right decision for your blockchain network is therefore the first step in developing the NFT platform. You should take into account some of the most popular blockchain networks, such as Ethereum, Polkadot, Stellar, and Tezos, as well as others. Ethereum is one of the most well-known blockchain networks out of all of these. Before choosing a blockchain, you might consider the following points.
Transaction and NFT development cost

Robustness of smart contracts

How fork-proof is the blockchain

Speed of transaction
3. Choose the Most Advanced, Top-Notch Features
Make sure to integrate all the best features into your NFT platform & enhance its performance. Your NFT marketplace's value in the market can be increased by offering distinctive features that set it apart from competing platforms. Because of this, you must give considerable thought to the features you intend to include while developing your NFT marketplace. Be very clear about the features you wish to include depending on the specifications of your project. Use a range of alternatives in addition to the required capabilities, such as 3D display, interoperability, social media involvement, and others.
4. Build an Intuitive User Interface
You absolutely must have an appealing, simple, and intuitive user experience for your NFT marketplace. To enable secure and trouble-free trading of NFTs without glitches or problems, this is crucial. Additionally, a strong user interface can enhance the perception of your NFT marketplace. Therefore, the secret is to maintain its aesthetic appeal while making sure that it is uncomplicated, responsive, and user-friendly. You can choose to incorporate tutorials and signposts in addition to an intuitive user interface to help new users.
5. Build IPFS & Database Storage
The next step is to create a secure, immutable database that will house all of the user & admin profile's private and sensitive information. Additionally, the database has details regarding their NFTs. Data is stored and shared in distributed files & database systems by the IPFS, or Interplanetary File System. NFTs can represent data in any format and size using IPFS in a distributed, secure manner that will stand the test of time.
6. Integrate Other Third-party Services
Integration with payment gateways, cryptocurrency wallets, social media, and email services are all necessary for an NFT marketplace to be successful. Verify whether these are the only tools you require or whether your platform calls for additional integration. Everything is based on the demands of your business.
7. Build Smart Contracts
You should construct smart contracts at this time to launch transactions & mint NFTs automatically when sales requirements are satisfied. The creation of smart contracts is necessary for several reasons. They are first supported by their dependability and trustworthiness. The smart contract your design needs to be compatible with the tasks that your NFT marketplace is supposed to handle.
8. Testing and Deploying
On a platform, faults and bugs frequently ruin the user experience. Testing is therefore an essential step in ensuring a hassle-free user experience. Once your NFT platform is operational, you can test various parameters. For instance, you can use quality testers to verify the usability, functionality, as well as other components of an NFT marketplace. A thoroughly tested solution that closes all real-time gaps and inconsistencies, both anticipated and unanticipated, is ready for release.
Conclusion
It is not surprising that NFT-verse is growing beyond anyone's wildest dreams. The range of the NFT collectibles, its artists, and most importantly, the desire to promote creativity, are all rising enormously as a result of the best marketing services supporting the NFT marketplace development. Even well-known brands like Nike, Gucci, & Starbucks are joining the stream due to the booming NFT sales volume & tokenization of many new assets. The blog that was mentioned is only the very beginning. The market is considerably more exciting after development, though. If you want to write your own captivating account of the NFT journey because you're an ambitious NFT enthusiast? Hold on tight and start developing nft markletplace!