What is the blockchain development technology all about? It is the new kind of encrypted database that is secure. It creates digital records that are easily available to the public. Moreover, more and more companies are using cryptocurrency and blockchain technology now. But, can our governments grow by integrating blockchain in their digital infrastructure? If yes, then how is it possible? Can our blockchain governments be faster and stronger than ever? How can governments actually adopt blockchain development technology? Keep reading to know the answers to these questions.
Blockchain development technology for public sector
Since 2009, blockchain technology has served as the digital ledger book for Bitcoin. In fact, it has taken the digital world by storm. Since then, businesses have used blockchain development to change the face of industries. It has affected each sector ranging from finance and healthcare to manufacturing. Moreover, organizations across the world have adopted blockchain technology for various uses.
As per Statista, the most popular use cases for blockchain technology used by global organizations as of April 2018 include supply chain, digital currency and voting. Also, 53 per cent of the companies were working on a supply chain use case.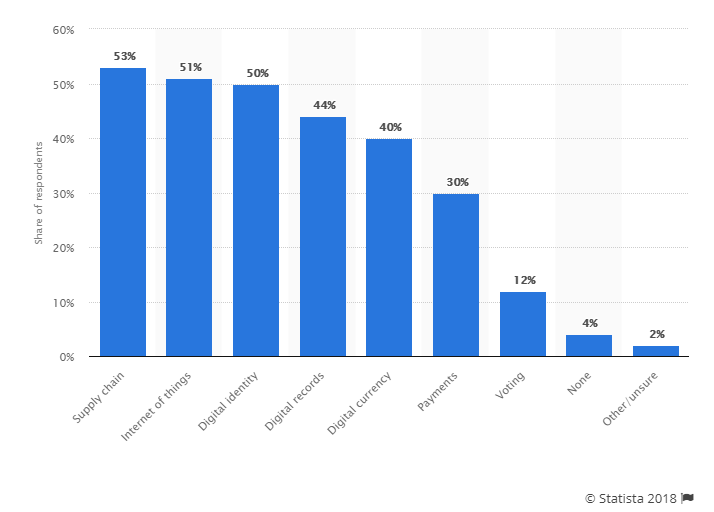 It is evident that numerous organizations and businesses are supporting blockchain. Yet, the government is not welcoming this new technology. The blockchain is the technology of the coming generations. But, the government has always been sceptic about it. Yet, there are many ways in which blockchain-based initiatives can make a difference. They can transform the way governments can function. Let's take a detailed look at these.
Promoting renewable sources of energy
Today, depletion of natural resources is on the rising. There is a  growing demand for clean energy. We need alternative sources of energy to fulfil our basic needs. But, how does blockchain development help in promoting renewable sources of energy?
It helps to allow payment using cryptocurrencies with a transparent exchange.  Exchange can take place without cryptocurrencies too.

Blockchain helps in the dynamic adjusting of electricity rates based on demand and availability. Besides, it also uses machine learning technologies for this purpose.

It allows people to buy and sell energy among consumers. Also, it helps to build a common energy marketplace by eliminating intermediaries.
Moreover, many blockchain companies have come up with different ways to encourage the use of renewable energy sources. For example, the Solarcoin that is a solar energy startup uses blockchain technology.  It is a rewards program for generating solar electricity. In fact, a single SolarCoin is equal to one megawatt-hour of solar energy production. So, if the government wants to get rid of the electrical grid's limitations, it must adopt renewable energy sources. Also, using blockchain technology for this purpose will be helpful for all.
Eradicating biased elections
The most popular controversy of the 2016 U.S. Presidential elections is a hot topic even after so many years. There had been revelations that Russia had planned an intentional attack on the U.S. using a false information campaign too. But, this has resulted in a huge concern. People doubt the integrity of the traditional ballot-box voting systems.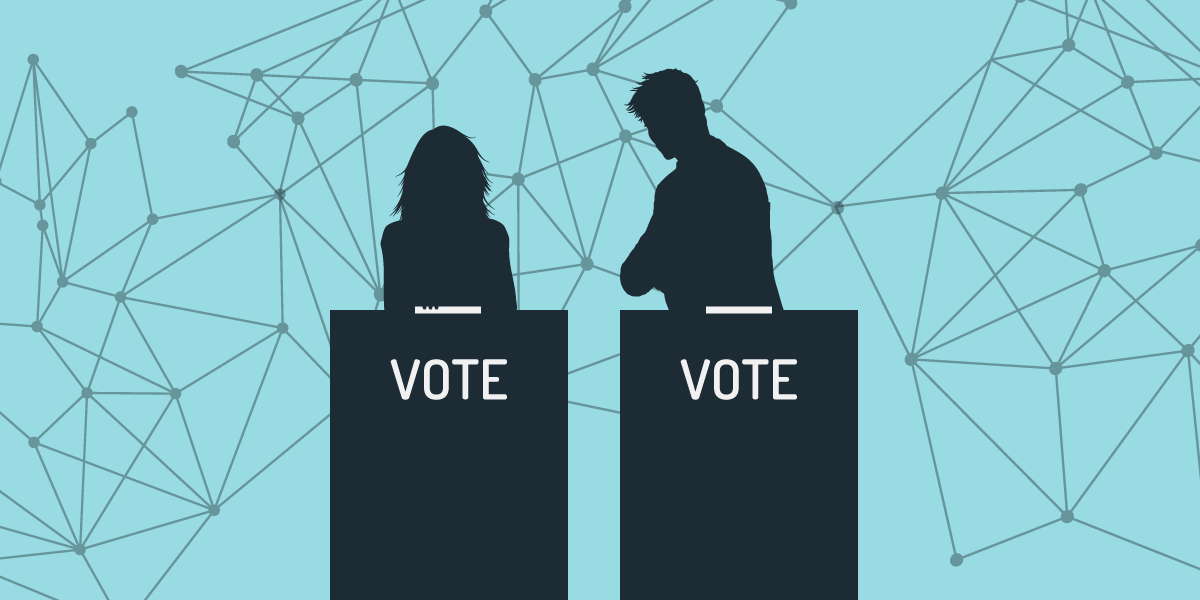 That is why countries like Sierra Leone have adopted blockchain for managing elections. Moreover, the integral part of any democracy is integrity. So, many countries have started supporting digital voting practices too. Moreover, blockchain can actually improve the security of voting systems. But, how is blockchain technology beneficial for present-day democracies?
Blockchain helps in getting rid of issues related to security breaches, fraud, and corruption. These problems have always been a part of paper-based voting systems

Its transparency allows one to follow and count the votes in an easy way.

It maintains the privacy of the voters as all transactions along blockchain are anonymous.

The decentralized network provides security that helps in protecting against any large-scale hacks.
In fact, this is why many companies like the FollowMyVote and Polys are using blockchain. They are helping people by developing platforms for conducting fair elections in all countries.
Developing smart cities
From IoT devices to smart technology, smart operations have become hot now. And that is why smart cities have also become the best option for rapid urban development. From public safety to entertainment, smart cities are better in terms of efficiency and response times. But, how will blockchain help in improving the quality of life of urban people? How can it bring a huge transformation for our cities? Let's know how blockchain will benefit in developing smart cities.
Blockchain technology aids in building a reliable registry of local businesses and service jobs. From a trustworthy local registration system to hiring employees for common services, smart cities can work in a more efficient manner.

It also helps in refining all processes related to trade logistics and finance management. The blockchain-based solutions at the city level can create transparency and save time. They can help in removing the unwanted layers of verification too.

One can use smart contracts for improving management. For setting up smart contracts, one needs to meet only certain pre-set conditions. By this technique, many parties can execute smart contracts without any third parties.

It provides cheap and convenient notary services through web applications like

Stampd.io

. This app uses blockchain to provide notarized proofs of ownership for digital creations.
Moreover, companies like the Waltonchain have used blockchain development technology with IoT too. Waltonchain has used it for developing a smart waste management system. The company even won an award for having the most outstanding product in 2017.
Blockchain use cases aiding the government
Water Ledger:
The Australian blockchain company Civic Ledger has developed Water Ledger that is based on the public blockchain, Ethereum. This platform provides a way to verify all water trades. It also helps in updating the state registries in real time to confirm a water trade. Besides, it aids in showing the location of the trade too. In other words, Water ledger is a peer-to-peer platform that increases the transparency of all activities across borders and jurisdictions.
Food Standards Agency:
The UK's Food Standards Agency (FSA) used the blockchain technology to track the distribution of meat in a cattle slaughterhouse. Also, the FSA claimed that the trial marked the first time when distributed ledger technology has been used for ensuring compliance in the food sector.
HM Land Registry:
The HM Land Registry is another blockchain use case that is helping the UK government. This platform helps in examining if it could improve the land registration and property buy-sell processes.
Signing off…
Altogether, blockchain development technology can offer a thousand ready-made opportunities for governments. Besides, in a world of cyber crimes, trust becomes vital for any organisation and blockchain is all about trust. But, it also has other advantages like security, transparency, credibility and much more. So, governments must think of integrating blockchain development technology and contacting trustworthy blockchain technology companies. This can help them to harness its benefits completely. So, do you know any other ways governments can adopt this next-generation technology? What do you think about blockchain governments? Will they revolutionize our societies?