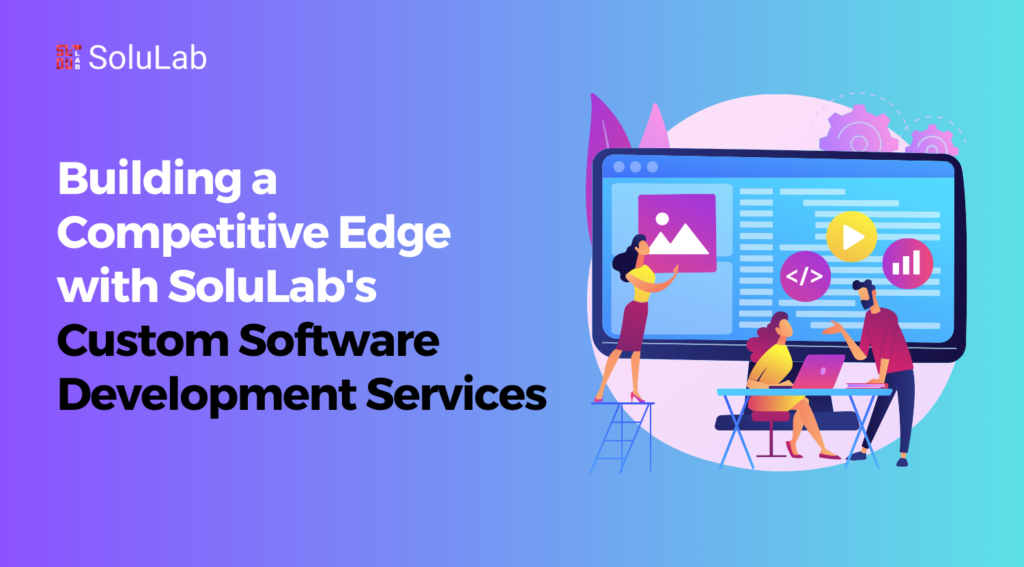 SoluLab, India, June 23, 2023 – SoluLab, the industry leader in custom software development services, is proud to introduce its exceptional solutions to revolutionize your business operations. With a proven track record of success and a team of highly skilled developers, SoluLab is your trusted partner in delivering custom software solutions that drive efficiency, productivity, and innovation.
In today's fast-paced digital landscape, businesses must stay ahead of the curve to thrive and remain competitive. SoluLab, a leading custom software development company, understands technology's critical role in empowering businesses to reach new heights of success. With their unwavering commitment to excellence and comprehensive services, SoluLab blends innovation with custom software development to deliver transformative solutions that address your unique business needs.
SoluLab is a leading provider of software development and digital transformation services. They offer various solutions to help businesses excel in the digital landscape. Their services include application development, cloud services, API integration, UX/UI design, EDI services, test automation, desktop application development, SaaS application development, and digital transformation. With its expertise and cutting-edge technologies, SoluLab empowers businesses to deliver seamless customer experiences, leverage the cloud, streamline operations, ensure reliability, enhance user interfaces, automate processes, and drive digital growth.
SoluLab leverages diverse cutting-edge technologies to deliver innovative solutions. Their expert developers utilize Java, Python, Microsoft, Node.js, PHP, and Go for backend development. On the front end, they employ HTML, CSS, React, JavaScript, and AngularMeteor. They also have extensive experience with leading cloud platforms like AWS, Azure, and Google Cloud. By harnessing the power of these technologies, they empower businesses to achieve their goals and stay ahead in the digital landscape.
SoluLab specializes in custom software development across various sectors, delivering tailored solutions to meet the specific needs of each industry. Here are some sectors where SoluLab focuses its expertise:
E-Commerce: Custom e-commerce software development for user-friendly websites, efficient order management, and secure payment gateways.

Education: Custom education software development for learning management systems, student information systems, and online course delivery platforms.

Human Resources: Custom HR software development for employee data management, recruitment streamlining, and payroll automation.

Hospitality: Custom hospitality software development for customer management, booking engines, and food/beverage systems.

Travel: Custom travel software development for booking engines, itinerary management, and CRM systems.

Media and Entertainment: Custom media and entertainment software development for content management, streaming platforms, and mobile apps.

Energy and Utilities: Custom energy and utilities software development for energy management, production tracking, and equipment monitoring.

Legal: Custom legal software development for case management, document automation, and billing/accounting processes.

Construction: Custom construction software development for project management, bidding/estimation automation, and equipment tracking.
About SoluLab
SoluLab is well-known for its exceptional Blockchain, AI, and IoT services. The company was established by a former VP of Goldman Sachs and Citrix's former principal software architect.
We have 1500+ clients across 30+ countries with a 97% success rate

Some of our clients from the insurance industry are Cigna, Heritage Insurance, MetLife, Swiss Re, New York Life, and 10 more

Ranked 33rd on Deloitte's 2020 Technology Fast 500™ list

Top Blockchain development company by Goodfirms, Clutch, and Gartner in 2020 and 2021

Microsoft Silver Certified Partner, Google Developer Certified Agency, and Hyperledger Certified Service Provider

Video Testimonial of AnrKeyX COO whom we helped in raising 2.2M USD funding through our MVP development – https://bit.ly/44hWne5
Media Contact:
Gursumeet Kaur, Marketing TL