Crypto Mining is a state-of-art e-commerce marketplace for crypto mining devices aimed at bringing global miners and newbies to a single point of interaction.  

A quality-driven platform to scale down intermediary involvement, with low gas fee minting and trading among creators, buyers, and sellers.

This marketplace focuses on selling mining devices with top-notch security and advanced automation systems for improving the ecosystem.

Crypto Mining is a scalable e-commerce blockchain platform for ultrafast and secured buying of minting devices for users around the globe.
To create an immersive and interactive e-commerce platform that can help users easily and quickly become part of the Crypto Mining ecosystem.

The high-end verification and digitization of mining contracts while selling devices to the users of the community.

To create an advanced mining pool and intricate mining farm that can help miners boost their achievement.

To build an industry-leading e-commerce marketplace that introduces a seamless experience while buying mining devices.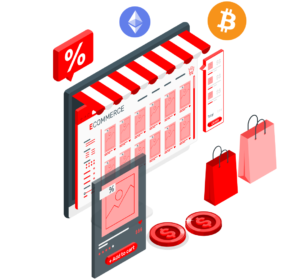 Our Solution
Mining Pool

SoluLab created a mining pool to link a group of cryptocurrency miners with their computing capabilities over a network to increase the likelihood of finding a block and successfully mining for cryptocurrency.

Mining Farm

We at SoluLab developed a mining farm for farming cryptocurrency using advanced tech. This mining farm is a large facility that houses multiple computers devoted to mining multitudes of cryptocurrencies.

Profitability calculator

SoluLab created a cutting-edge crypto mining calculator that helps you to evaluate how much you may benefit from a specific crypto miner. It considers all essential expenditures such as hardware, power, and fees—a round calculator for crypto miners.

Leading-edge Technology

SoluLab distributes incoming application traffic among numerous endpoints in order to conserve bandwidth. We provide three alternative load balancers, each with the fault-tolerant high availability, clever scalability, and strong security that your applications need.

Elastic Load Balancer

SoluLab created a load balancer to accept incoming traffic and monitor the health of its registered targets from clients, and route requests to its registered targets (such as EC2 instances) in one or more Availability Zones.

Real-Time Monitoring

Developing real-time monitoring to maintain and monitor the system from any disruptions or problems that arise in web applications in real-time. This will help resolve any errors or bugs that occur instantly with effectiveness.

Network Latency

For a competitive edge, we scale the rate of transactions sent on a channel shared by numerous peers. The testing step was then completed utilising immutable technology for the platform after the network was up and operating.

Security Strengthening

We develop next-generation blockchain security that functions as a virtual firewall, controlling inbound and outgoing traffic for one or more instances in order to avoid security vulnerabilities and breaches.

Efficient Workflow

SoluLab seamlessly developed a workflow that reduces transaction costs with automated processes and blockchain-native data accessibility with an aim to bring global crypto miners to a single point of interaction.
Project Features
Crypto Mining is an easy-to-use and accessible platform that focuses on selling a secure and authentic mining device to facilitate the unavailability of global miners.

Crypto Mining caters to the hosting of mining servers, thereby celebrating the distinctiveness of the platform globally among its peers.

Crypto Mining uses industry-leading blockchain technology to develop a highly reliable smart contract in the marketplace for easily and securely buying the mining devices.
The proficient experts of SoluLab define the project's comprehensive range and then divide the roles in the E-commerce marketplace. By incorporating the smart contract with the Crypto Mining marketplace, the major intent was to make the working process more seamless, effortless, and reliable.

In the next stage, SoluLab thoroughly develops a project map in order to save time and money while increasing profitability. We create superior user experiences by keeping the UI and UX elements in mind.
Lastly, SoluLab created a user-friendly interface in mind. Lastly, was to perform testing and execution to ensure no mistakes remained. After addressing all concerns, we put the Crypto Mining e-commerce LIVE for use.

Crypto Mining is a revolutionary e-commerce marketplace allowing users the flexibility to buy authentic mining devices at a low cost. This unique platform for miners provides hosting servers for users across the globe at a low transaction fee.
Client Testimonial
"SoluLab is one of the most resilient teams I have ever collaborated with. The best part was the team's regular communication, timely updates, and good technical understanding of each project component and functioning."
Bill Hynes
CEO & Founder, Crypto Mining
Latest Blogs
Neeraj Raisinghani
Discover NFTs in gaming: unlock the power of blockchain for unique and valuable digital assets. Explore the transformative potential now!
Neeraj Raisinghani
NFTs redefine digital ownership and creative expression. Explore their workings and applications in gaming, art, and diverse industries.
Kajol Wadhwani
Learn all about Ethereum and smart contracts and how they revolutionize transactions with decentralization.
Tell Us About Your Project