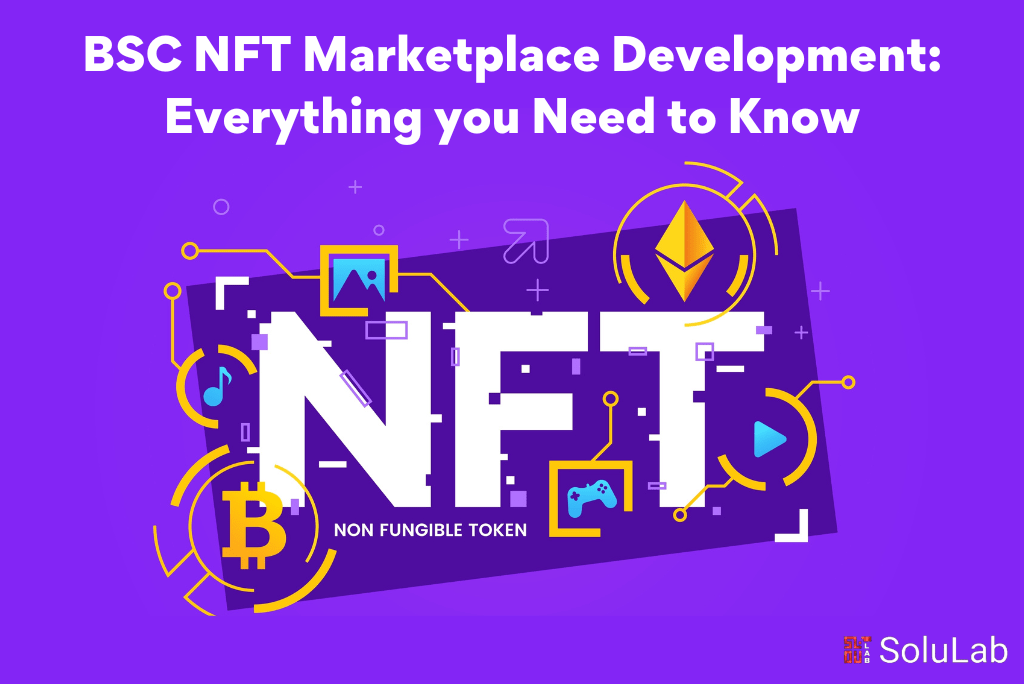 The NFT marketplace will continue to expand due to its exceptional characteristics. To complete a set, investors and NFT enthusiasts will go to every possible extent, which includes buying digital artwork, trading cards, and postcards. The idea of developing an NFT marketplace or launching an NFT app is excellent since it addresses the shortcomings of its target market. However, you should be aware of both the intended use of your platform and the preferences of different collector audiences (buyers and sellers). Understanding the worth of each product offered on your NFT platform is crucial.
NFT: A Unique Opportunity 
The development of the NFT marketplace offers individuals a unique opportunity to display and showcase their treasures to promote efficient digital asset management. The NFT market is growing worldwide and has the most users and transactions. The non-fungible token (NFT) market encourages creators to sell their works as NFTs, which can be any digital asset, including artwork, music, photos, metaverse, films, cards, etc. In the NFT market, users can purchase, sell, or exchange NFTs in return for cryptocurrencies. The majority of them choose to create their NFT marketplace on the BSC based on the benefits of the blockchain network.
What is BSC? 
BSC is a smart contract-based platform that works with various blockchain-based software. They can be created and run on BSC considerably more conveniently and effectively. A white-label platform is being developed as part of the BSC NFT marketplace that enables users to buy, sell, and exchange NFT items using BNB coins and BEP tokens. Here, learn everything related to Binance Smart Chain.
Binance Chains (Home of BNB currencies) have risen to prominence in the cryptocurrency industry more quickly than was anticipated. Binance launched the Binance chain to the public for the first time in 2019. And Binance has since ensured to offer the quickest and most decentralized trading. A fully functional decentralized development environment based on cutting-edge Blockchain technology is offered by Binance Smart Chain.

Additionally, Binance Chain has been designed to facilitate cross-chain compatibility, which ensures users benefit from both chains to the fullest extent possible. 

BSC (a blockchain network) supports the operation of an NFT marketplace. 

Since the BSC is the network of interest for modern business people, many white-label BSC-based NFT marketplace offer first-rate development options and distinctive features.
Interesting Features of BSC
These are several features offered by Binance Smart Chain to build NFT marketplaces.
Network congestion comes from the growing number of NFT marketplaces, which is a bigger risk. Also, that decreases the speed of transactions. However, the BSC-based NFT marketplace significantly reduces congestion and expedites platform transactions. The platform's quick transaction speed is one of its primary features. This will eventually grab the attention of the intended audience.
The security promised to users is a crucial concern with every online transaction. The platform has much to gain from Binance Smart Chain's interoperable functionality. The marketplace is protected from numerous bugs and cyberattacks by the platform's enhanced level of security standards.

Smart Contracts Integration 
The Smart Contract Integration on BSC's NFT marketplace helps to mandate that platform activities take place in a much more secure setting. This update to the NFT project with Appdupe ensures that all hacking and phishing attacks will be completely prevented.

Adaptability to EVM Decentralization is extremely important for the marketplace since it allows individuals to exchange NFT (Non-fungible tokens- digital assets and collectibles) without middlemen, such as digital assets and collectibles (mediator). BSC is also interoperable with the Ethereum Virtual Machine (EVM).

Comparatively Low Gas Prices
The NFT marketplace's primary function is a transaction, and for each such buy or sell, a transaction or gas fee must be paid to the platform. This process is followed only to control the energy used to verify the NFT transactions. Transaction costs for BSC are significantly lower than for Ethereum.

Decentralization and Data History 
Users can conduct transaction effectively with one another in a decentralized marketplace to buy or sell NFTs without the involvement of a third party. Also, it displays all of the digital asset's statistical data going back to the day that particular NFT was first minted till the present day.

With multiple payment gateways, the platform's viability is boosted, and the user can select the method that works best for them. MetaMask, TrustWallet, and several others are just a few of the payment gateways it offers.

The development of the NFT marketplace includes a cryptocurrency wallet that is used for more than just asset exchange. They also work by safely keeping these digital files. The BSC NFT marketplace development enables seamless buy or sell transactions between wallets from all over the world.

Cross-chain Interoperability
One of the key factors contributing to the popularity of BSC is cross-chain interoperability, which has had a significant impact. This facilitates data and value movement between several blockchain networks.

Read more: Things you need to know about NFT Marketplace
Why Build NFT Marketplace on BSC? 
NFT projects encountered delayed transactions and high transaction costs on well-established blockchain networks. The main network that works around all these concerns is BSC. Building the NFT Marketplace in the BSC reduces the time it takes with a cost-efficient approach. The BSC offers strong security for risk management while enabling cross-chain connectivity.
Since NFT increased its customer base, a lot of investors have been able to access the NFT Marketplace, causing platform congestion. Because it substantially benefits both platform owners and users, Binance Smart Chain is the ultimate solution for NFT Marketplace advancement. Successful BSC Network initiatives have a good probability of working with Binance officially. A few MVB winners had previously been added to Binance.

BSC NFT Marketplace has much-simplified functionality. In other words, users must initially sign up with the required information to be specified.

They then need to contribute funds after linking their digital wallet. Sellers or creators must start by minting their NFTs before anything else.

Once this is complete, they can list their NFTs with the necessary criteria, including a description and either a bidding option or a buying option.

When the price is fixed, the counterparty or interested purchasers buy the digital assets directly. Otherwise, they'll be allowed to participate in the auction and purchase NFT.
Interesting Attributes of An NFT Marketplace On BSC
The NFT marketplace is a substantial global market. In other words, there are many possible niches for platform development. They include performing music, athletics, memes, video games, arts, and more. Despite the misunderstanding, it is a reality that three-quarters of the problem can be handled by identifying the appropriate blockchain network.
However, you must adhere to some must-have features to develop an NFT marketplace that will draw customers of the crypto market to your side.
A virtual exhibitory is akin to an NFT marketplace storefront since both are used in eCommerce applications. A storefront's main function is to provide users with access to all the necessary details about the NFTs displayed on the platform. This covers things like bids, owners, pricing histories, and previews.

Smart Filters & Advanced Search
The BSC NFT marketplace has extensive and intelligent filter options that enable users or investors to find the needed NFTs based on product pricing, best-selling status, and many more.

One shall decide whether to sell the digital assets at a set price or a bid price while listing their NFTs. The buyers directly purchase the digital assets when the purchase price is fixed. The new buyers are required to participate in the auction in the reverse case of bidding. After the auction, the bidders who placed the highest bid will get non-fungible tokens.

The integration of users' preferred wallets is supported by the NFT marketplace built on BSC. A wallet is a place where they can keep their digital assets to buy or sell them easily.

Compatibility with Crypto Wallets
A cryptocurrency wallet that enables different wallets for users is being developed for the NFT marketplace. The user will store, buy or sell, and exchange digital assets and other cryptocurrencies via their crypto wallet. Moreover, they may help them from any part of the world due to a wide range of gateways. The platform includes third-party wallets like MetaMask, TrustWallet, MyEtherWallet, and others.

The platform's newly added feature helps the NFTs listed on the marketplace gain more traction. Due to the reviews and rating panel's transparency, the platform is more dependable and trustworthy.

How to create an NFT Marketplace on BSC?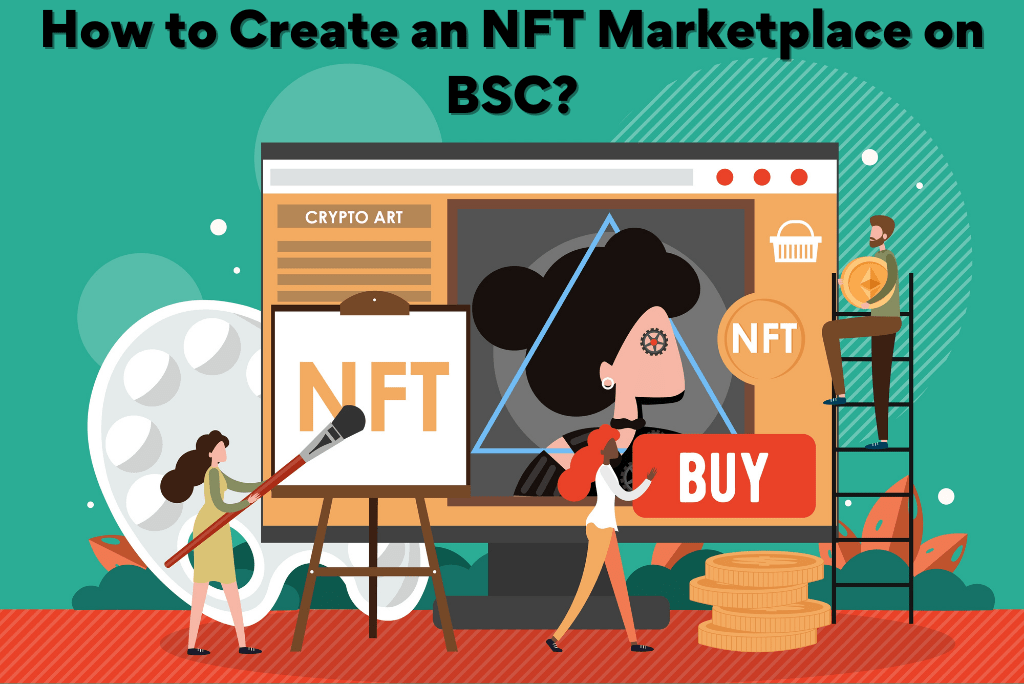 Since the exchange of non-fungible tokens is booming, many people are concentrating on developing their own NFTs. Aspiring business owners can now utilize this by setting up an NFT marketplace on BSC to capitalize on the current trend.
The distinctive qualities Binance Smart Chain has developed inside its network have drawn many NFT enthusiasts. It speeds up transactions and makes cross-chain compatibility possible. Along with facilitating cross-chain compatibility, it also speeds up transactions. Creating an NFT platform on the BSC will enable users to buy and sell their NFTs for BEP and BNB tokens. Similar to this, you have a variety of alternatives when selecting BSC for your NFT platform.
Generally speaking, two different strategies have been used to develop the NFT market. The following explains these;
This approach to development takes more time and costs a significant amount of money. The NFT trading platform must be built from scratch, including designing, programming, testing, and deploying. It will take a lot more time, money, and careful planning and design to build the NFT marketplace. Merging tech stacks and indispensable applications after developing, testing, and launching the area where users must create blockchain networks. They provide users the freedom to experiment successfully even though it takes time.

White-label solutions save time and money while providing the user with a successful platform that is personalized. The procedures for creating new solutions from the pre-made ones are as follows;
First, decide on a niche for the site. The development of your marketplace derives from the necessity for in-depth market and niche-specific marketplace research.

Creating user-friendly interface 
Build a user-friendly, interactive interface for the platform so users can conduct trades smoothly.

Smart Contracts Integration 
Automate processes initiated on the platform by integrating smart contracts, considerably enhancing platform security.
The platform's storage system must be established, which will store the complete database and all of the information from the digital collections. We employ the InterPlanetary File System (IPFS), which is currently under development and has a massive storage capacity.
Work on Platform Programming 
Advance the project to a thorough testing phase after completing the front-end and back-end coding required for platform functionality.

Verify that all flaws and potential problems have been fully resolved once the NFT platform is tested.
The development phase is complete once your BSC-based NFT marketplace appears online and starts to generate revenue. When the produced project receives a periodic update.
Conclusion
Despite the number of NFT markets developed and launched globally, only the best one is noticed by the audience. Several NFT marketplaces have been formed in the cryptocurrency industry on various blockchain networks, but Binance has grown the fastest. You can accomplish this, enter the NFT market, and have more monetization prospects in the NFT marketplace on BSC.