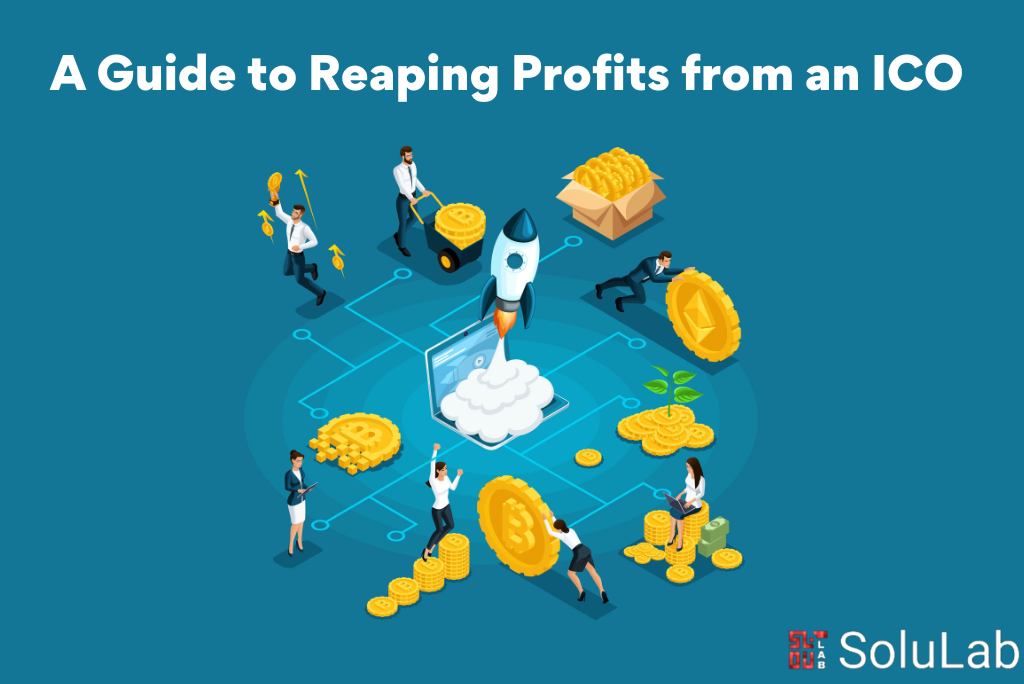 Imagine you invested $100 in Bitcoin (BTC) – (the first and largest cryptocurrency ) in 2011. Or you were investing in Ether (ETH) at the start of 2017 when it was worth less than $10. You would be worth more than $4 million today.  The possibility of these spectacular gains that can earn you a huge amount of fortune is the most exciting quality of the cryptocurrency world. An initial coin offering is a perfect crowdfunding vehicle that is "open, distributed, and liquid." It often aims to raise funds to pay the costs incurred during a blockchain's or coin's development. ICOs provide you with an opportunity to invest in the project at its earliest stage. If it's (the ICO) successful, investors will reap the potentially immense returns. Thus, it's assumed when a person is investing in an ICO and it's the potential to make lots of profits.
Here are some essentials that can help you reap profits on an ICO. 
Research and do the groundwork
It goes without saying that the first fundamental thing one needs to do before any investment is – research. Regarding the ICOs, there are several subsets that you need to consider, like the white paper, team overview, the business case, and tokenomics. A good start to your research is- Reading the project's whitepaper. The whitepaper will give you an idea about the company and people involved in the project, the concept, it's market analysis and value, commercial applications, and everything else. Know that due diligence is extremely significant when it comes to manoeuvring ICOs and finding reliable ones(ICO) that can result in profitability. Next, research the people behind the project and any partners or advisors. 
Identify Good & favourable ICOs.
Identify and choose a good and promising ICO to invest your money in. It is crucial to invest in a good coin.
Always go for projects that have good long-term fundamentals for a prospective investment. Analyse the pros and cons of that ICO project, and assess the vision, whether it aligns with yours or not. 
Promising ICO projects will tend to achieve their objectives and deliverables, which leads to an appreciation of their token's price over the long term.
Watch out for Bonus Offerings
Now watch out for presales(pre-ICO); it's a stage that allows the public to invest before the ICO dates. Usually, investments in the pre-ICO stage are higher than in the actual ICO period because they can produce great returns for free. The bonus tokens collected are directly proportional to the earlier you get involved in the ICO. ICOs deploy a bonus system to reward early investors. The bonuses can range from 10% – 100% depending on certain ICOs, where early investors will receive additional tokens for their contributions.
Read more: How to Raise Capital Through an ICO?
Low Hardcap Coins
Hardcap can be described as the maximum amount raised by the project, usually denominated in USD or ETH value. Say, for instance, if a project wants to lift a maximum of USD 50 million, that would be the project's hard cap. A good project with a low hard cap tends to sell quickly within a few minutes!
Hold, Sell, Repeat
After a cryptocurrency hits the market, its value is bound to grow, provided the token concept is worthy and pragmatic. Once when the ICO tokens are released on an exchange, prices tend to shoot up in value depending on the demand. The demand is usually high because many people just cannot invest during the ICO stage. Most popular ICOs have a whitelisting period; remember to register yourself before the ICO period to book a slot for the actual ICO date.
You must invest in a token that is enabled for trading on crypto exchanges. However, it is advised you do not sell all your tokens immediately. The good idea is to hold at least 50% of your tokens for a few months before you sell them again.
Do not give in to the Herd Instinct.
People often engage in this widely omnipresent phenomenon. Herd mentality/instinct describes people who give in or rely on other opinions more than their own—joining groups and following the actions of others under the assumption that other individuals have already done their research. Within the financial sector, investors show this mentality when they follow what they perceive other investors are doing rather than relying on or doing their own analysis. 
Most individuals fall prey to the herd instinct. An investor has to exhibit his own individuality rather than herd instinct and gravitate toward project investments that cater to and appeal to him. One shouldn't give in to this herd mentality and seek the same or similar investments as others because Herd instinct at a large scale can create asset bubbles or market crashes via panic buying and panic selling. 
Closing remarks
There are ways to gain from an ICO investment, provided you have a concrete understanding of the project and Know the Risks. Get an estimate of the risks involved, and avoid investing in the project if the stakes are way too high. Organisations are considering issuing tokens as they are assumed to be securities. Because unlike holding a stock of a company (whose products a contributor never used), ironically, tokens/coins can be more tangible than securities. On the market end, token buyers try to be more cautious about buying and trading ICO tokens. On the other hand, the cryptocurrency community is putting its best efforts into regulating token sales and conducting due diligence on behalf of the public.
Conduct due diligence and take the help of useful resources and guides such as crypto exchange guides and wallet guides. All this will help you start your journey in the complex crypto world.