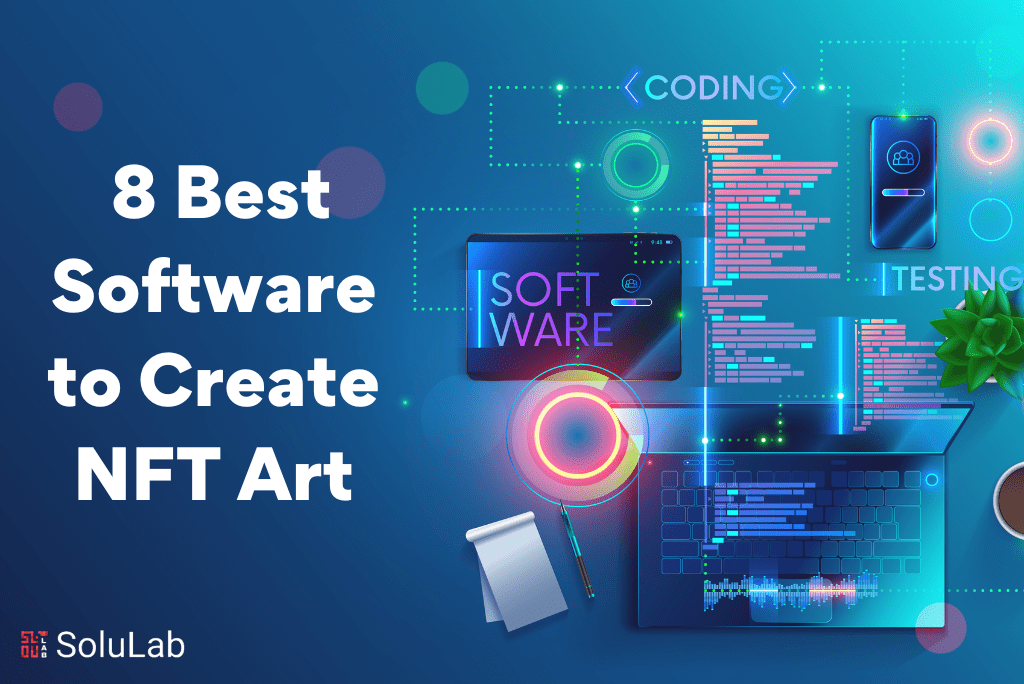 The world is shifting to the NFT digital art hub. For enthusiasts who don't mind taking chances, a whole new and thrilling industry has opened up thanks to the decentralized system which cryptocurrencies have introduced. So, whether you enjoy art or if someone visiting this area wants to make their own work of art, they are in the ideal place. Without further ado, let's look at the list of some of the best software to create NFT art.
Where can I explore and purchase already-created NFT art?
Researching what kinds of NFTs sell and what markets require to mint your NFT will not only have an impact on the path you will need to take before creating your artwork, but it will also help you be aware of what markets might be compatible with your recently created design. This is because the first step when creating any kind of art is to see what the market has to offer.
While some NFT marketplaces only permit access with an invitation from an existing member, others offer a number of components that are expressly targeted toward up-and-coming artists. Each of the several online markets for buying and selling NFT art has distinctive features that will affect the usability and compatibility of your recently produced NFT art.
Select the best NFT marketplace
Consider buying NFTs for yourself if you own Ethereum cryptocurrency and wish to diversify your earning potential. Well, firstly, it is strongly advised that you conduct your homework and learn everything there is to know about cryptocurrencies before making a decision to buy any.
When you're finished, think about which online market you want to use. You may decide to carry out low-value transactions and sell the NFTs quickly, or you could decide to invest in an NFT from a reputable source and hold it for a considerable amount of time as well as wait for its price to rise over time.
There is no ideal approach to adopt in this situation; everything depends on whether you want to preserve the NFTs forever and pass them on to your children or whether you're looking to make a quick profit. When it comes to producing, investing in, and effectively selling NFTs, thorough research on the subject and comprehension of the underlying concepts will offer you a strong chance at doing so.
Read more: How to Turn Physical Art into NFT Art?
What is the best software to create NFT art?
Adobe Illustrator
Another excellent choice for creating NFTs and massive collections is Adobe Illustrator. Illustrator is among the most widely used digital art programs in the world, as you are undoubtedly already aware. It appears to work well for NFTs as well. Illustrator provides the tools necessary to create generative NFTs without the requirement for coding expertise. Illustrator now allows artists a lot of freedom. You can design just about anything using its vast toolkit.
Layering is still a fundamental design-building technique in this case. To achieve final outcomes, you can add or build your own things. Some artists create entirely original works, but you can also use ready-made presets and objects to create original NFTs more quickly. The fact that Adobe accepts the cryptocurrency platform Polygon is another significant point to make. It ought to make it simpler to display and market NFT innovations.
The NFT Generator
NFT Generator is indeed the platform you need if you seek all of the tools you could possibly need to build NFTs. It is a layer-based tool that allows you to construct NFTs without needing to have a strong background in graphic design. You merely need to upload each one of your layers & construct your NFT. As an illustration, you may begin with your background and then layer on other things to get your desired effect.
NFTs can be downloaded and arranged into collections. Setting up attribute rarity, producing metadata, and producing sophisticated collections using categories, blocklists, and other features are all possible using NFT Generator. Users of the NFT generator have complete control over their works; there are no watermarks on collections as a result. You may find some helpful tutorials on the official NFT Generator website that will assist you in using the program and beginning to create NFTs straight away. It is really intuitive and easy to use. Without creating an account, you can use the generator without cost and download your initial sample.
Fotor
Don't you want to easily succeed as an NFT artist? According to the first sentence on their landing page, Fotor is the software that makes it simple for you to produce digital art. You will be able to produce your digital art in a matter of clicks with the aid of cutting-edge AI (Artificial Intelligence) tools. The use of this tool has a little learning curve.
Utilizing Fotor, the creation of NFT is a rather straightforward process. Simply upload the image and choose the art style you want your image to be converted to, and you're done. The remainder will be handled by the software, and you won't need to do much. You don't need to know how to code to generate NFTs thanks to tools like Fotor. With the click of a button, you can add layers, add your unique touch, and improve the art's appearance.
Krita
Another of the best open-source drawing programs you may use to produce your NFT art is Krita. Its availability for free is its best feature. Using the abundance of drawing tools provided by this software, you may produce original digital art that you can then sell in the market of your choice.
Krita is one of the most dependable software programs for producing NFT art because it supports HDR painting and has more than 100 brushes, brush stabilizers, vector tools, etc. You can download brushes from your favored community artists through the Resource Manager feature.
NFT Art Generator
NFT Art Generator is a different web-based NFT art creation tool. Being a web-based utility, it uses minimal resources on your computer. The app's user interface is simple to use, and you will quickly get the hang of it. You can export your digital work in a variety of formats using this program. GIF, PNG, and MP4 formats are a few examples. You can create multi-layered images using NFT Art Generator, just like you do with any other piece of the digital art software.
To begin creating your NFT masterpiece, you do not need to log in. In addition, if you want to use additional features, you can buy the complete version.
NightCafe
Additionally, NightCafe uses cutting-edge AI to make it simple for users to produce beautiful digital art. Neural style transfer is a machine learning method used by the tool. This facilitates the software's conversion of your uploaded photographs into whatever art style you have selected. Digital image creation is a rather easy process.
One of the simplest tools for creating NFT art, all you have to do is upload your image, choose the art style from the tool's many options, and let AI take care of the rest. You can make and download artwork with a high resolution (up to 2.2-megapixel resolution) using NightCafe. Additionally, there is a bulk creation mode that enables you to make hundreds of images at once.
The best feature of NightCafe is that you can create and download up to five watermark-free artworks every day for free across multiple devices.
SketchAR
According to the SketchAR website, it was founded by and for artists. Only the mobile platform is able to access this artistic tool. Its benefit is that you can make your own art while you're on the run because of this. You may use the software to use sophisticated AR to turn your digital artwork or photographs into NFT (Augmented Reality). Use SktechAR's offered drawing tool to easily create digital art & convert it.
If you are chosen as the Creator of the Week, your artwork will be turned into NFT and shared with the large and vibrant SketchAR community. This tool's automatic listing of your artwork on marketplaces like Opensea and Rarible is another benefit.
VoxEdit
VoxEdit is last but not least. It is one of the best programs for producing top-notch NFT artworks. The instrument has a gorgeous design that makes it usable for beginners as well. VoxEdit provides a comprehensive range of tools that make it simple for users to produce their artwork.
Additionally, you may use the timeline to animate your artwork. You can list & sell your art on The Sandbox marketplace once it has been produced. VoxEdit software is available for download on Windows, macOS, and even Linux operating systems. You can get the VoxEdit beta program for free.
Conclusion
Now that you've compiled a list of some of the top programs for producing NFT art and are prepared to advertise your work, it is wise to make a list of some of the drawbacks and dangers as well. The market is booming, therefore it makes sense that people would be drawn to items that are making outrageous sums of money. To begin with, trading NFT calls for some familiarity with cryptocurrencies as well as with the laws and guidelines that govern the market. Speaking of which, you might want to think about using bitcoin conversion apps if you operate with cryptocurrency. In general, you must be thoroughly knowledgeable about all NFT-related matters, whether you plan to build, acquire, or trade one.
Do the necessary study and learn everything there is to know about having the NFT certificate of ownership before you start selling your artwork. We hope you found this information helpful and were able to choose the appropriate tool for the job.