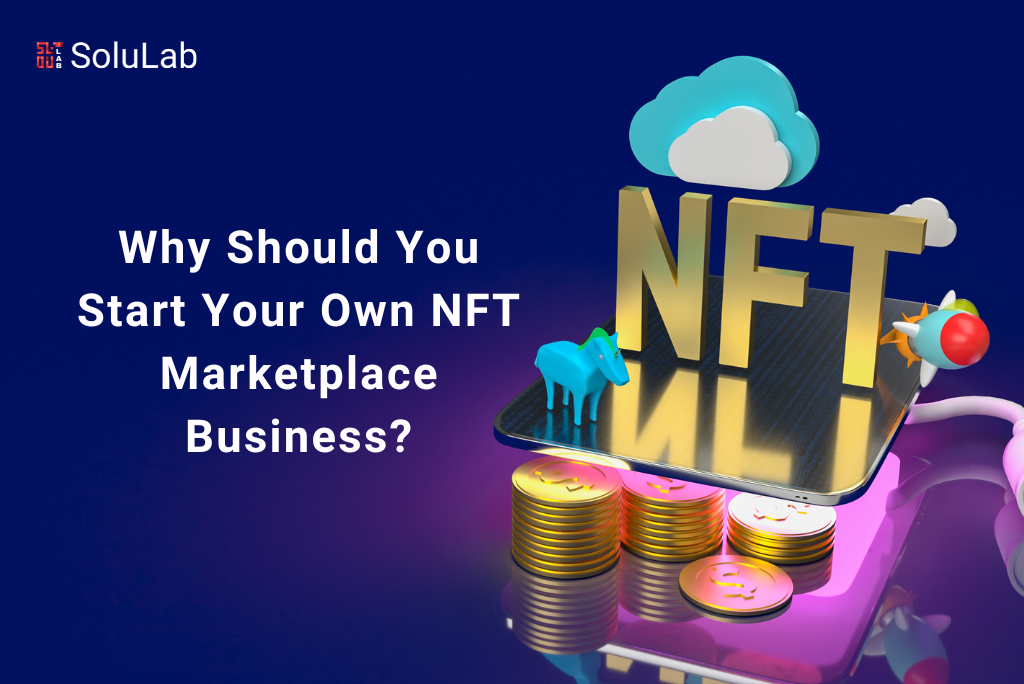 The non-fungible token market has a lot of potential, thus creating an NFT marketplace makes sense. Over the projected period of 2021 to 2026, this market is anticipated to grow at a 35% annual pace, reaching $147 billion.
NFT is already a well-known phenomenon. The expansion of the influencer community, the introduction of new gaming communities, as well as the rise in popularity of digital art all contribute to this tendency.
This market niche can be extremely difficult because there are so many NFT marketplaces already. However, you may create a distinctive, cost-effective platform to draw in new consumers if you have an experienced staff working for you. But how can one build an NFT marketplace? The establishment of the NFT marketplace development, its characteristics, the technology used, as well as the price of creating such a product, will all be covered in this article. 
What Kinds of NFTs Can You Sell on Your Marketplace?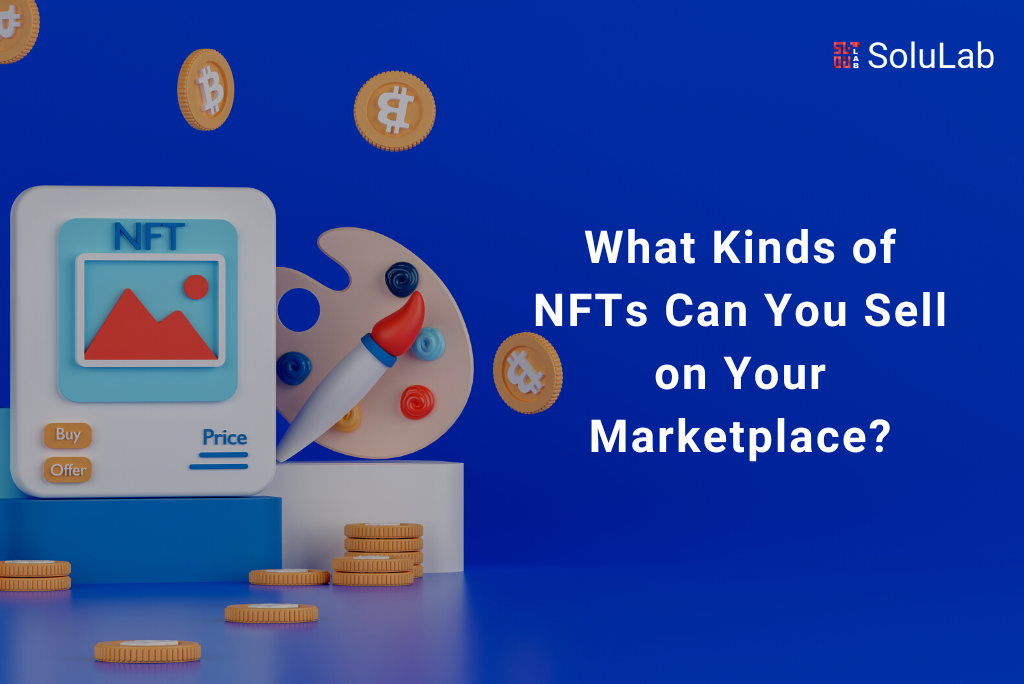 Think of NFTs as digital goods, and your market as an online shop. Similar to eCommerce systems, NFT marketplaces might focus on particular categories like clothing or home furnishings. NFT markets make money by establishing affiliate programs, and charging users setup costs, gas fees, bid fees, and transaction fees.
On the other side, an NFT platform helps to promote the brand, increase the visibility of your company and its offerings, and draw in businesses. NFT technology can be used by a variety of sectors to boost revenue through brand-related NFTs.
Read also: Things you need to know about NFT Marketplace
You can either create a general or a specialized market in this situation. The first will have a variety of NFTs, but the second will only contain one particular type of non-fungible token. Prepare yourself by learning about the many types of non-fungible tokens before you start creating an NFT marketplace.
Media
In the media, NFT makes it considerably simpler to counter fraud and intellectual property theft. Tokenizing enables public figures to validate their content and claim authorship.
Art
These NFTs were developed by digital artists who favor auction sales of their creations while retaining the copyright.
Music 
NFTs in the music business help writers stop piracy and get money from their works.
Gaming
Users of NFT can acquire or purchase in-game assets thanks to the gaming industry. These resources can then be used/sold inside the game after that.
Real Estate
Real estate and virtual lands are tokenized in this kind of NFT. Conflicts over who owns a piece of land or a piece of real estate can be avoided.
Advantages of the NFT Market
NFTs are dependent on blockchain technology, just like cryptocurrencies. Exchanges of non-fungible tokens are also true of this. As a result, your digital Marketplace platform for NFT sales benefits from all of blockchain's features. Let's go over the main advantages.
1. The Individuality of NFT
Each NFT has a unique digital ID in addition to distinguishing features. Through your marketplace, customers can gain instant access to exclusive assets. Indivisible tokens are highly sought after because of how unique they are.
2. Total Transparency
All NFT transactions are now visible in a distributed database thanks to blockchain technology. Consider it as a record of all transactions that instantly displays all deals on your site.
3. Liquidity
The demand for cryptocurrency and NFT services keeps rising. People deliberately profit from digital assets because they value the lack of uniform regulation. As a result, the NFT market is now more liquid, which is being seen by many consumers.
4. High Level of Protection
NFT markets using blockchain technology can benefit from top-notch security features. Examples of such features include consensus algorithms and cryptography.
5. Decentralization
Establishing a white label Creating a decentralized platform for clients to exchange assets willingly without relying on traditional financial organizations, regulators, or groups is what the NFT marketplace entails. Blockchain technology is used to enable this decentralization.
6. Authenticity and distinct holding
Building an NFT marketplace also gives you the potential to win the trust and loyalty of your users. A non-fungible token has a single owner and can be validated if necessary, making it impossible to duplicate an NFT.

Steps to build your own NFT marketplace business 
1. Select a Target Market
Before beginning the NFT marketplace development, there are numerous domains to take into account, so you should be particular about the area you want to concentrate on. By choosing the appropriate specialty, you may give users additional value while drawing attention to the NFT marketplace. Some of the most well-liked NFT market categories are NFT for gaming, NFT for art, NFT for music, NFT for sport, & NFT for avatars.
2. Select Your Blockchain
Choose the blockchain on which your marketplace will be assembled. You can also build your platform to aid multiple blockchains at the same time.
3. Define the integral functions
You differentiate yourself from other NFT platforms with the features that users find appealing. The features that will function best for the platform should be carefully chosen when creating an NFT marketplace. Get these necessary NFT services if you can:
Filters and advanced search options

Auction option

Service desk

Beautifully designed storefront

Listing status

Ratings and reviews for wallets
4. UX/UI Design for Your Project
After deciding on a blockchain and a specialty, you can assess the NFT marketplace structure. You must ensure that your user interface is clear and simple to use.
5. Form a Group
You'll need a group of skilled back-end, front-end, blockchain, & UX/UI developers to create your own distinctive NFT marketplace from the bottom up. Selecting an NFT marketplace development company to take on the project will be easier because they can provide full-cycle NFT marketplace development services and have extensive subject knowledge. From finding crucial information to monitoring every stage of the development of the NFT industry.
6. Examine Your Market by releasing an MVP
Test your NFT marketplace once you've created a basic version. You will be prepared to amend all of your platform's drawbacks and improve your property. It is critical to reducing the possibility of the NFT marketplace development project failing by first developing an MVP (Minimum Viable Product). With this MVP, which includes basic features, you can explain to users what your platform is about and deduce whether your business notion is on the right path.
7. Establish a Complete NFT Marketplace
Your NFT marketplace development project can grow in features as it becomes a success, and you can keep updating it to make it better.
What is the cost of establishing an NFT marketplace?
The cost of developing an NFT marketplace website is determined by the number and complexity of characteristics, the cost of services provided by a specific NFT marketplace development company, and the technologies are chosen.
Estimation, research, design, and discovery
It is executed for conducting a detailed analysis of your business idea to understand the requirements that your NFT product would need. During this phase, you should appoint a team for customer research, formulate the market, define essential and optional NFT services, and build a good prototype. You will have an adequate awareness of your core challenges, goals, scope, and audience after finishing this discovery phase. $11 200 is the estimated cost.
Development of the NFT marketplace 
Developers create architecture and connect databases to data flow, and other features. User interface designers develop the interface for your NFT platform and also incorporate cloud synchronization, which boosts the overall user experience.
Evaluation
When your MVP is complete, you will require QA professionals to check it for bugs. As a result, all discovered problems must be rectified to ensure your product's high quality.
Specialized Documentation and launching 
Take your MVP to the market to watch how customers respond to it. If your marketplace app is successful, you can gradually build its functionality and improve it in any way you can think of. This phase entails creating a document containing all of the relevant info about your application.
Conclusion 
Good development can bring you significant benefits, given the rapid growth of the NFT market. Such marketplaces attract many users because of their decentralization, high level of security, and the ability to own unique digital assets.
Read also: Create Your Own NFT Marketplace In Just 48 Hours With This Nft Website Builder
However, developing an NFT marketplace can be a real challenge. You will have to implement smart contracts, use blockchain as the cornerstone of your project, and take care of secure storage for the personal information of your users and transaction data. Hiring developers who are experienced in creating NFT marketplaces can make your life much easier.