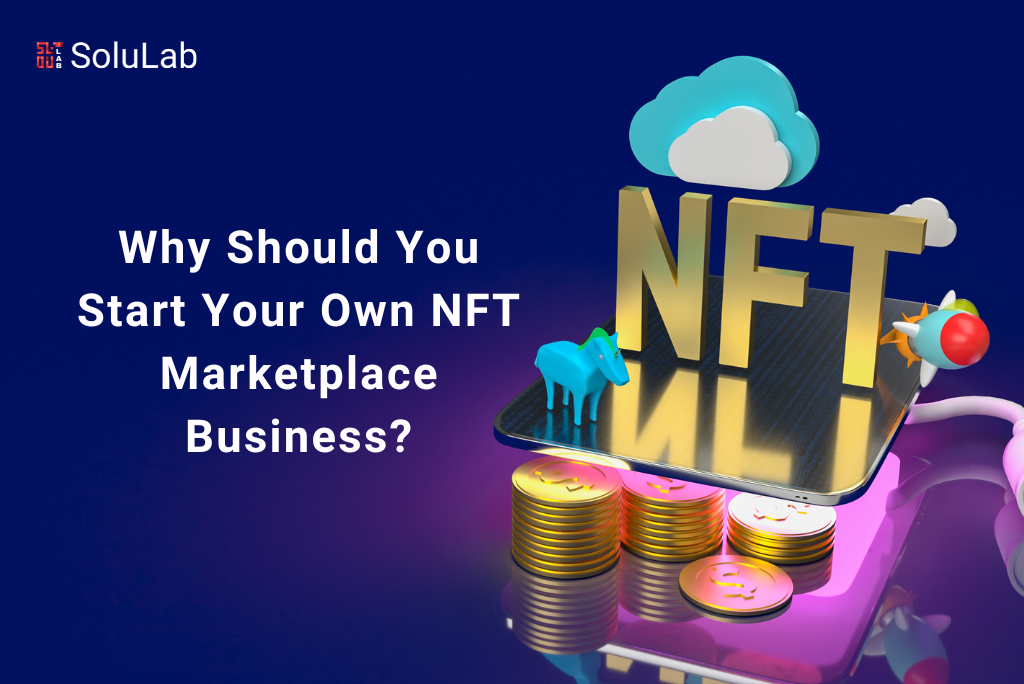 The term non-fungible tokens NFT is already well-known and that can be explained by the heightened interest of influencers, the association of new gaming societies, and the rising need for any type of digital art.
Because there are already multiple NFT marketplaces, this industry might be challenging. However, with skilled employees on your side, you may be able to establish a one-of-a-kind, low-cost platform to entice new clients. But how can one start an NFT marketplace business?
Advantages of the NFT Market
NFTs, like cryptocurrencies, rely on blockchain technology. This is also true for non-fungible token exchanges. As a result, all of the benefits of blockchain apply to your digital platform for NFT sales. Let's go over the primary advantages.
1.
The Individuality of NFT
Each NFT has its digital ID as well as distinctive characteristics. Customers can obtain quick entry to exclusive assets via your marketplace. Indivisible tokens are highly desired due to their distinctiveness.
2.
Total Transparency
Blockchain technology made all NFT transactions observable in a distributed database. Assume it as a book of all transactions that displays all bargains on your platform in substantial moments.
3.
Liquidity
Demand for cryptocurrencies and NFTs services is increasing all the time. People value the absence of standardized regulation, and as a result, they actively capitalize on digital assets. As a result, many consumers are witnessing higher liquidity in the NFT market.
4.
High Level of Protection
Blockchain technologies enable NFT marketplaces to enjoy all of the advantages of first-rate security features. Cryptography and consensus algorithms are examples of such features.
5.
Decentralization
Creating a white-label NFT marketplace encompasses developing a decentralized platform where customers may voluntarily trade assets without depending on conventional financial organizations, regulators, and groups. The usage of blockchain technology allows for this decentralization.
6.
Authenticity and distinct holding
Another advantage of developing an NFT marketplace is the chance to acquire the loyalty and confidence of your users. A non-fungible token has unique ownership and can be validated if essential which results in duplicating an NFT being impossible.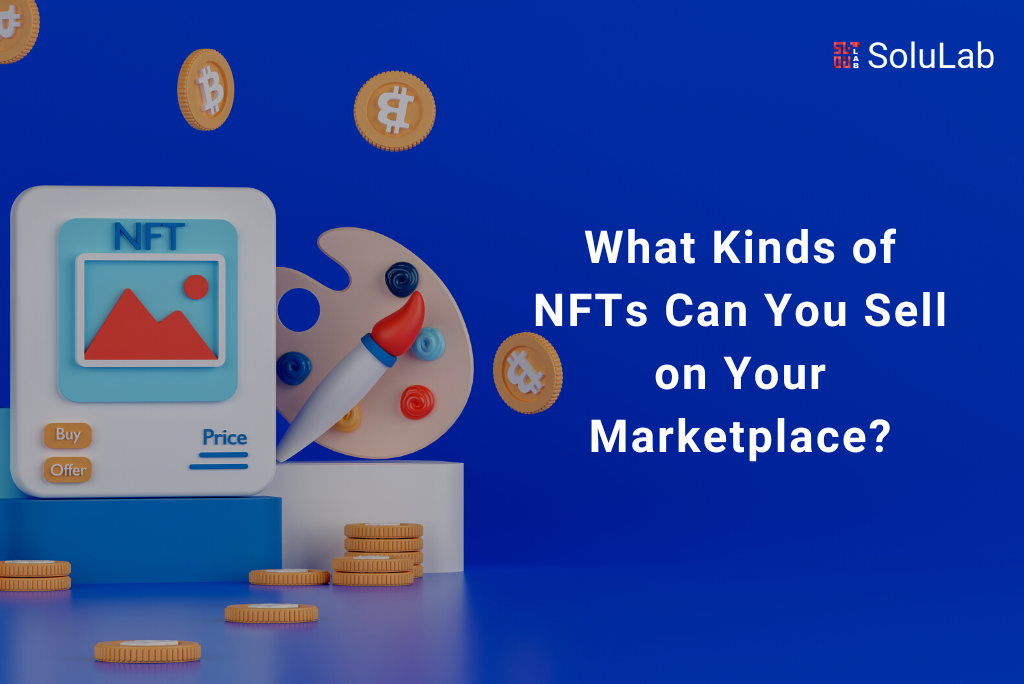 What Kinds of NFTs Can You Sell on Your Marketplace?
Consider NFTs to be digital products, and your marketplace to be an online store. NFT marketplaces, like eCommerce platforms, can target certain niches, such as apparel or home decor. NFT marketplaces earn money by initial setup fees, charging users gas fees, bidding fees, transaction fees, or even establishing affiliate programs.
Read also: 5 Best White Label NFT Marketplaces In The World
Your company can begin by developing an NFT marketplace to profit from the fees mentioned above. On the other hand, an NFT platform aids in bringing attention to the brand, bringing transparency to your business and products as well as attracting enterprises. Many industries can use NFT technology to increase profits through brand-related NFTs.
You have two possibilities here: construct a general marketplace or a specialty marketplace. The first will include several sorts of NFTs, whilst the second will only include a certain form of non-fungible token. So, before you begin developing an NFT marketplace, educate yourself on the various forms of non-fungible tokens.
1.
Media
NFT in the media makes it much easier to tackle fraud or theft of intellectual property. Public figures can tokenize their content to validate it and claim authorization.
2.
Art
These are NFTs built by digital artists who prefer to sell their works at auction while maintaining the copyright.
3.
Music
NFTs in the music industry assist authors in combating piracy and earning money from their compositions.
4.
Gaming
The gaming industry allows NFT users to purchase or procure in-game properties. After that, these assets can be used or sold in the game.
5.
Real Estate
It is a type of NFT in which virtual lands and real estate are tokenized. It allows for the avoidance of land or real estate ownership disputes.

Steps to build your own NFT marketplace business 
1.
Select a Target Market
There are many domains to consider before diving into NFT marketplace development, and you should be specific about which niche you want to focus on. You can provide more value to users and draw attention to your NFT marketplace by selecting the right niche. NFT for games, NFT for art, NFT for music, NFT for sport, and NFT for avatars are some of the most popular NFT marketplace niches.
2.
Select Your Blockchain
Choose the blockchain on which your marketplace will be assembled. You can also build your platform to aid multiple blockchains at the same time.
3.
Define the integral functions
The features that users find appealing are what set you apart from other NFT platforms. When developing an NFT marketplace, you should carefully select some features that will work best for your platform. You might want to get the following NFT services:
Filters and advanced search options

Auction option

Service desk

Beautifully designed storefront

Listing status

Ratings and reviews for wallets
4.
UX/UI Design for Your Project
You can evaluate the NFT marketplace layout after agreeing on a blockchain and a niche. You need to make sure your user interface is logical and easy to operate.
5.
Form a Group
To build your own unique NFT marketplace from the ground up, you'll need a team of experienced back-end, front-end, blockchain, and UX/UI developers. Finding an NFT marketplace development company to take on your project will be simpler because they have widespread domain information and can deliver full-cycle NFT marketplace development services. From identifying key details to tracking all phases of the NFT marketplace's development.
6.
Examine Your Market by releasing an MVP
Test your NFT marketplace once you've created a basic version. You will be prepared to amend all of your platform's drawbacks and improve your property. It is critical to reduce the possibility of the NFT marketplace development project failing by first developing an MVP (Minimum Viable Product). With this MVP, which includes basic features, you can explain to users what your platform is about and deduce whether your business notion is on the right path.
7.
Establish a Complete NFT Marketplace
With the success of your MVP, you can begin adding more and more features to your NFT marketplace development project and keep improving it with frequent updates.
What is the cost of establishing an NFT marketplace?
The cost of developing an NFT marketplace website is determined by the number and complexity of characteristics, the cost of services provided by a specific NFT marketplace development company, and the technologies are chosen.
1. Estimation, research, design, and discovery
It is executed for conducting a detailed analysis of your business idea to understand the requirements that your NFT product would need. During this phase, you should appoint a team for customer research, formulate the market, define essential and optional NFT services, and build a good prototype. You will have an adequate awareness of your core challenges, goals, scope, and audience after finishing this discovery phase. $11 200 is the estimated cost.
2.
Development of NFT marketplace
Developers create architecture and connect databases to data flow, and other features. User interface designers develop the interface for your NFT platform and also incorporate cloud synchronization, which boosts the overall user experience.
3.
Evaluation
When your MVP is complete, you will require QA professionals to check it for bugs. As a result, all discovered problems must be rectified to ensure your product's high quality.
4.
Specialized Documentation and launching
Take your MVP to the market to watch how customers respond to it. If your marketplace app is successful, you can gradually build its functionality and improve it in any way you can think of. This phase entails creating a document containing all of the relevant info about your application.
Conclusion 
Creating an NFT platform can be extremely difficult. You have to execute smart contracts, design blockchain as the core of your project, and ensure secure storage of your customer's private data and transaction information. Hiring developers who are experienced in creating NFT marketplaces can make your life much easier.