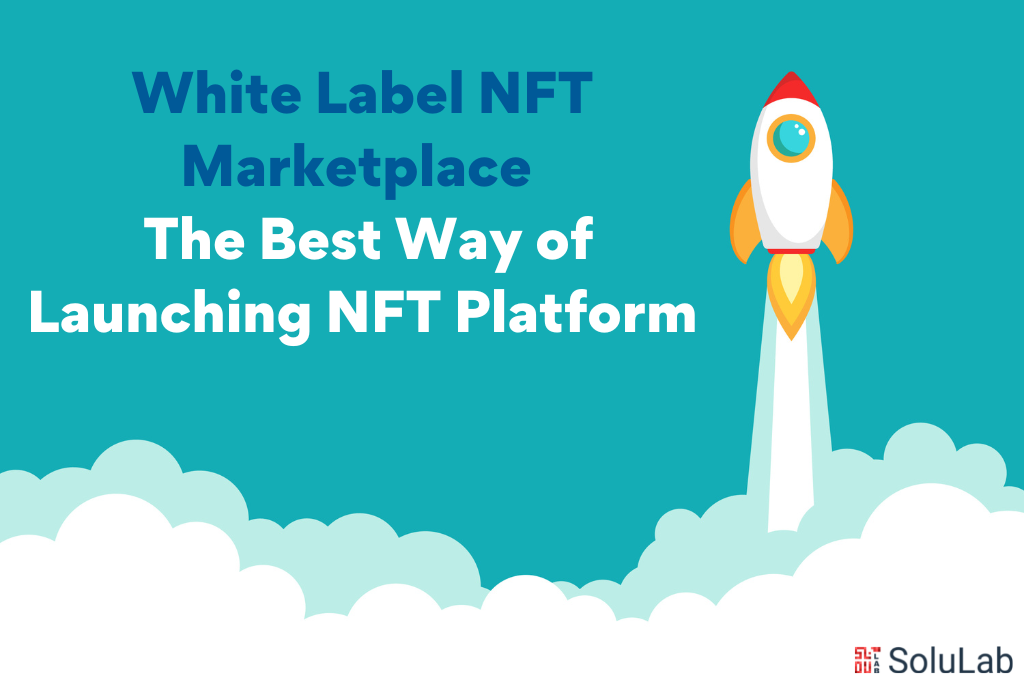 In today's digital age, technology and the most recent breakthroughs are increasing exponentially. NFTs have received a lot of criticism, similar to any other Web3-based technology. The transformation and development of the white label NFT marketplace from an exotic phrase to a watchword for 2022 is just amazing.
These criticisms were unfounded because the NFT market crossed the billion dollar threshold in 2021. For Web3 firms hoping to cash in on the NFT boom, NFT-based business models seem to be the next "big thing."
According to them, the development of the NFT market is more promising than that of other models. This blog will examine the growth of the white label NFT marketplace and explain why it's thought to be a wise move for business owners to enter the profitable NFT industry. Let's spend some time getting to know the white label NFT marketplace development before going into more detail about the subject.
Importance of NFT Marketplaces?
The "NFT marketplace" is a digital platform that allows NFT trading, where members have unlimited freedom to buy, sell, or exchange digital assets according to the forum's structure. Some of the best NFT marketplaces available at the moment include Foundation, OpenSea, Rarible, Binance, Nifty Gateway, and Axie Infinity.
Business Model of NFT Marketplace
Owners of NFT marketplace platforms make money by charging commissions on all transactions that are successful on those platforms. Its ability to produce significant revenue has been the primary impetus for startups and business owners to launch their NFT ventures.
NFT Marketplace Development 
Your strategy will determine the actual cost of creating a feature-rich NFT marketplace. The quantity of features, tech stacks, integration with both a third-party API, development time, developer cost, and amount of customisation are a few noteworthy aspects. To start the process of developing your NFT marketplace, there are two options.
Development From Scratch
Starting a full-fledged NFT marketplace company from scratch is difficult and technically challenging. However, creating such platforms needs ongoing financial support and technical know-how. It might cost between $80K and $100K to construct the market from the ground up (even more). For existing business owners for whom investing extra money is not a concern, this solution is suitable. But this approach is unsuitable for business owners looking for a cost-effective answer. Keep trying; a right fit substitute is out there in the form of the "white label NFT marketplace."
Using White-label Solutions
A pre-made and scalable system, the White Label NFT Marketplace enables the trading of NFTs, including a wide range of collectibles & digital assets. For business owners and entrepreneurs who wish to quickly enter the market with their NFT endeavour, these options make the process simpler.
By selecting this option, one can create a platform that is similar to a well-established NFT marketplace (such as OpenSea, Rarible, etc.), receive all of its features and functionalities, adapt it to suit their company's needs, and launch it to great success.
Essenstial Features of a White label NFT Marketplace
Your NFT marketplace must undoubtedly include eye-catching features if you want it to stand out among industry titans like OpenSea and others and make a good impression on the target market. The following features are a must-have when using the white label NFT marketplace:
Enticing storefront

Enhanced filter option

Advanced token search

Wallet integration

Bidding option

Multiple payment gateways

Fund management

NFT ranking

Fiat currency support

Multi-device compatibility
Read more: White Label NFT Marketplace: Find Out Its Pros And Cons
Why White Label NFT Marketplace is the Right Pick for you
Now let's examine each of the advantages of the white label NFT market individually. Let's begin:
Time and Cost 
By choosing white-label technologies, you can establish an NFT marketplace while saving money and resources. As a result, building a white-label NFT market is less expensive than starting from scratch.
Customizable as per Specifications
The ability to customise it is the key bonus feature that lends white-label NFT marketplace creation more credibility. The platform owner can adjust the platform with the assistance of the development team in accordance with the latter's business requirements. In the eyes of users, the platform becomes much more distinctive as a result.
Impeccable Security Layers are Assured
The white-label NFT marketplace solution has robust security mechanisms (by default) that safeguard it from all kinds of cyberattacks and other vulnerabilities. Moreover, the users who visit your platform feel elated to use it for conducting NFT trading.
Tested Multiple Times
Since the white-label NFT marketplace is a pre-made solution, it would have been tested by subject matter experts thoroughly multiple times, and there is no chance for any bugs and technical hiccups.
Integration Of wallet
The white-label NFT marketplace completely satisfies the platform users by integrating a wallet by default. The feature saves entrepreneurs from shedding more dollars from their pockets to develop a new wallet and integrate it into the platform.
Best White-label NFT platforms of 2023
The white label NFT marketplace solutions that might simplify your marketplace launch procedure must be known in order to leverage the spectacular NFT marketplace business model. The following is a list of white label NFT marketplace solutions available in different countries that consumers highly esteem for their potential and ability to make business operations simpler. Let's get going:
OpenSea Clone

With increasing user traffic and a comparatively high level of market tradability, OpenSea continues to be one of the biggest decentralised NFT marketplace whitelabel ever. It was the first NFT marketplace to cross the $1 billion threshold in the digital arena thanks to an expanding user base. The platform generated well over $3.5 billion in NFT trading in August 2021, shocking NFT enthusiasts around the world. Popular investors like Mark Cuban, Kevin Durant, and others have contributed to the marketplace's valuation reaching over $1 billion, placing it above rival NFT platforms. Due to OpenSea's unparalleled fame, the 20th Century Fox partners produced and marketed an unique edition of Deadpool Two exclusive virtual posters.
Rarible Clone

Developed on the Ethereum blockchain, Rarible launched CryptoKitties in 2017 to enter the cryptocurrency industry. It is also recognised as the world's first and most well-known NFT marketplace. It gave makers and collectors an additional preference and area to collaborate in order to comprehend and adjust to their distinct demands. In addition to that, but despite stiff competition from other marketplaces, Rarible has up until now managed to keep its originality. Technology can advance quickly because to the platform's user-friendly design. Rarible Clone is the most exclusive NFT marketplace with a variety of domains. The Rarible clone has alluring features, such as finding collections, sophisticated filter choices, tailored feeds, etc.
Enjin Clone

Similar to the Enjin platform, an exclusive White Label NFT platform dubbed Enjin Clone enables trading of digital assets from other domains through the Ethereum Blockchain Network. It is a fully-customizable asset trading solution that has the best features. The execution of the required changes by businesspeople with the idea of successfully operating the NFT marketplace as Enjin in the blockchain space will make this ready-made, completely tested solution deployable.
Foundation Clone

The third item on the list is Foundations clone, an easily available option that enables hassle-free buying, selling, and minting of digital assets. It is a practical option for business owners due to the inclusion of major features including digital asset listing, trade performance tracking, & multi-currency compatibility. Additionally, the solution aids business owners in developing an ideal community-focused NFT platform that is comparable to the Foundation NFT marketplace. In terms of choices for producing income, business owners can expand their clone's revenue stream by including new revenue models like service fees, listing fees, as well as sales, which might make their enterprise a complete success.
Create Your Own White label NFT Marketplace In Just 48 Hours With us Solulab
You receive a fully customized NFT marketplace platform with support for different blockchains when you use Solulab's custom NFT marketplace. where you may exchange your NFTs and give the purchasers a seamless bidding and purchasing experience. The main characteristics of the marketplace & reasons for integrating them into your own nft marketplace are listed below:
Features:
Launching an White-label NFT platform can help you increase your online visibility in the world of cryptocurrency trading. Utilize the integrated NFT marketplace to create, list, and sell your favorite works of art.
Admin Dashboard:

Keep track of your buyers & NFT collections, and use powerful analytics to completely control transactional reporting.

Buyer Website and Application:

Centralised setting for viewing and bidding on NFTs. Simple NFT transactions using FIAT money.
Versatility:
Solulab's White-label NFT Marketplace target Tailor-made Solutions for almost Every Business around the market:
Art 

Sports

Digital Collectibles

Games

Accessories

GIFs
Development process
Extend the functionalities of the NFT marketplace platform with various tools to shine bright in the digital asset industry.
Blockchain Networks:

Most stable and reliable multiple blockchain platforms to aid money transfer, process smart contracts, etc.

Smart Contracts:

Implement swift sale agreements with your buyers using different smart contract techniques.

Wallets:

Allow payments for your NFTs through various payment options.
What makes us different?
There are several key attributes of our feature-packed White-label NFT marketplace:
Minimal Gas Fees

Customizable (Centralised & Decentralised)

Royalties

Multiple Blockchain Support

Lazy Minting

Rent Ecosystem

Variable Platform Fees

Multi-Wallet Support
Conclusion
Today, there is a growing acceptance of the possibilities of non-fungible tokens. They have shown themselves to be adaptable and effective, able to inspire and determine the future of practically any business. We haven't even begun to scratch the surface of NFTs' remarkable superpowers, therefore it is reasonable to say that they will be with us for a very long time, possibly forever.
The necessity for as well as interest in the creation of more NFT marketplace platforms to expedite transactions and unite NFT evangelists will also be sparked by the NFTs' increasing popularity. Numerous factors need to be considered while developing an NFT platform, including the target market, key features, development stages, marketplace security, the details and potential of the underlying blockchain technology, etc.