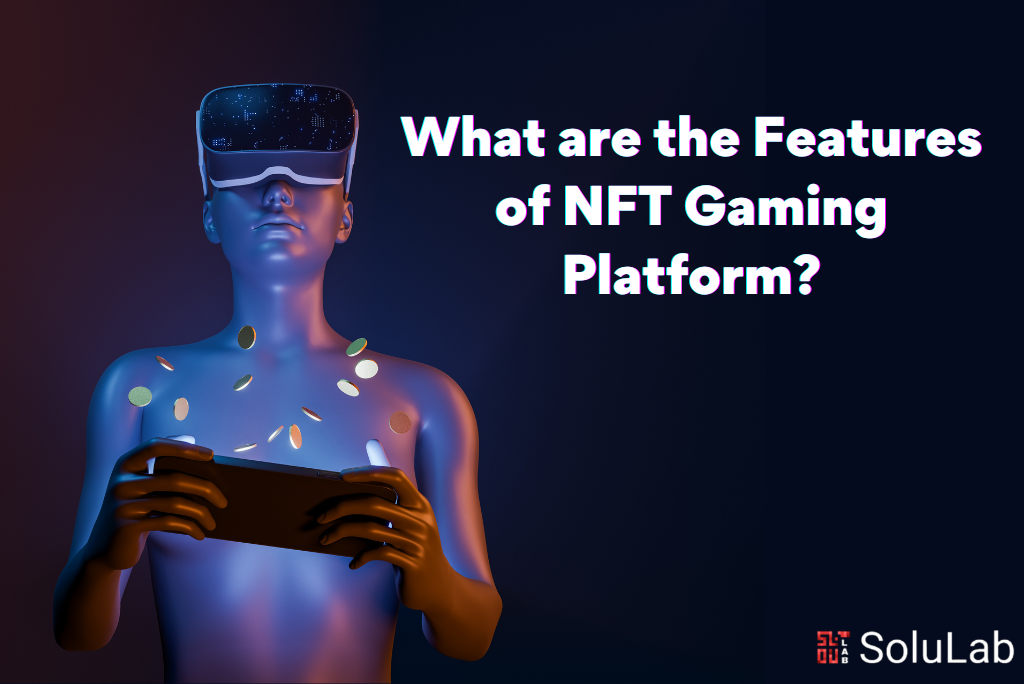 Since its arrival, gaming has demonstrated its adaptability. Greater games meant more evolution was apparent. Currently, games in NFTs are the hottest trend, and each one is receiving awards for topping the charts. The games have also made it very evident that they may be played for both entertainment and financial gain. Yes, you heard correctly! Gamers are clearly affected by the play-to-earn concept.
The popularity of NFT gaming will undoubtedly increase. Non-fungible tokens are digital currencies based on blockchain technology that can track the ownership of an asset and give previous owners the opportunity to resell it. Finding uncommon items, gathering rare trinkets, and unlocking unique artwork and mementos to possess and treasure should be obvious to the 3 billion players worldwide. If you want to know more about these gaming platforms. We got you covered with this blog. Here are a few features/benefits of NFT gaming platforms.
1. NFT gaming will add value
NFTs are the currency that can be used in the gaming industry to unlock and enhance previously completed games. KokoSwap claims that it is only common sense in the gaming industry for players to be able to withdraw their value from a game after investing in it. In order to reward devoted players, Quartz's open-world tactical shooter Ghost Recon Breakpoint offers current users NFTs of brand-new cosmetic items. Users can use NFTs to take possession of an item in the game and retain, trade, or sell it as their own. Even while the concept of players earning money from games is not new, NFTs are more reliable and adaptable.
2. Players will take control
By enabling players to sell stuff and make money from subsequent resales, NFTs give players additional power. For people who grew up trading in their old games for new ones, this is significant in the era of digital games. Skins are now available for a limited time in games like FIFA and Fortnite. Both games have a strong emphasis on scarcity, but NFTs provide players with more control over how items are exchanged and repurchased. Since they are the ones who participate in NFT games by playing, selling, and buying, players have the most control over them.
3. Play-to-Earn games will be huge
A growing number of people are able to support themselves through play-to-earn games. One such game that boldly challenged the gaming industry was Axie Infinity. To the extent that "Play" always takes precedence over "Earn" and they are not money-grab trading apps dressed as cuddly creatures, the roots of Play-to-Earn games are still present for players to engage with.
4. Interoperability
That is a broad idea. You can utilize your NFT collectible in most games, though not all of them. The NFT can be transferred across games utilizing the same blockchain with ease because it is stored on a blockchain, its data and control can be tracked, and it is free from corruption. NFTs provide players access to items that were formerly in the game publisher's possession. The ability to use items won and gained over an NFT blockchain between games is theoretically possible.
Read more: How is gaming contributing to the NFT industry?
5. Meta-verse
For those hoping to benefit from blockchains and the metaverse, games powered by NFT like Splinterlands and Axie Infinity are ahead of the curve. NFTs will act as the link connecting games to the rest of our connected, digital future, which will include the metaverse. The metaverse can be connected through video games in terms of events, music, art, and fashion. NFTs will further the metaverse's development, which is currently beginning.
6. NFT games will mix real and virtual worlds
Take into account how NFTs are used in FIFA. It's possible to use the NFT collectible Spurs shirt you (presumably) unlocked or bought in FIFA for purposes other than merely in-game ego boosts. NFTs are demonstrated to be a cutting-edge method of bridging the physical and digital worlds. As scarcity is created, the value of digital wearables in games can rise, but once the two worlds merge, NFTs can also have a use – in the future, clothing and other objects will be taken from games and made tangible. A jpeg becomes much more when you can combine the two worlds, according to Clarke.
7. Enhanced collectibles
In this sector, major game developers already collaborate with NFTs. When Konami issued a 35th-anniversary collection of Castlevania NFTs, a lot of people were let down. However, those NFTs only brought in an average of $12,000 per, showing that there is still a demand for them. Gamers are accustomed to collecting weird gifts and gaming artifacts. Especially with regard to classic game art and soundtracks, owning a piece of gaming heritage is exciting. As shown in the Konami example, gamers made purchases. The collectibles have undergone extensive improvement and may now be worth more.
8. NFTs -The next Kickstarter
The idea of crowdfunding is not new. Gamers have been able to support the publication of games on Kickstarter for a very long time, but the incentives are typically your name in the game and the opportunity to play it before anybody else. a platform for NFT Indie game creators can use GameStarter to finance their projects by exchanging NFTs for in-game goodies that will go on sale before the campaign ends. It indicates that users can choose an independent game, take part in its development, and buy a stake in it. For this, as with the majority of the modern paradigm of NFTs, some UX love and risk-taking openness will be necessary. NFTs can create entirely new opportunities for crowdfunding video games.
9. Fans getting rewards
It's not just about the game you play; it's also about the gamers you watch, including the well-known esports personalities who make news and the game creators who make games possible. NFTs can be utilized in games as a way for gamers to interact with the individuals and teams responsible for the most well-known titles. Players can use the NFT they gain via in-game purchases as a token to access restricted in-game events. G2 Esports, one of the biggest esports organizations in the world, has unveiled Samurai Army, a group of NFTs that were generated at random and are used to gain entry to a social club featuring gaming and entertainment amenities.
10. Fitness game-The reinvention
Nintendo has made fitness games more accessible with Ring Fit. Imagine earning money while exercising by selling NFTs. Move-to-Earn games function in this manner. One of the earliest is StepN, which rewards players with NFT badges for completing step objectives like the Couch to 5K. The fact that StepN is built on the carbon-free Solana blockchain technology shows how game developers are now considering the big picture. Similar to Pokémon Go, Genopets is a mobile augmented reality game that offers free minting to new users. Typically, minting (creating) NFTs requires petrol money, which is pricy.
Conclusion
It's your turn now; NFT gaming has achieved everything it could. Though it continues unabated and only intensifies, their evolution. In order to start making more money, hire a gaming development team for your NFT game development.