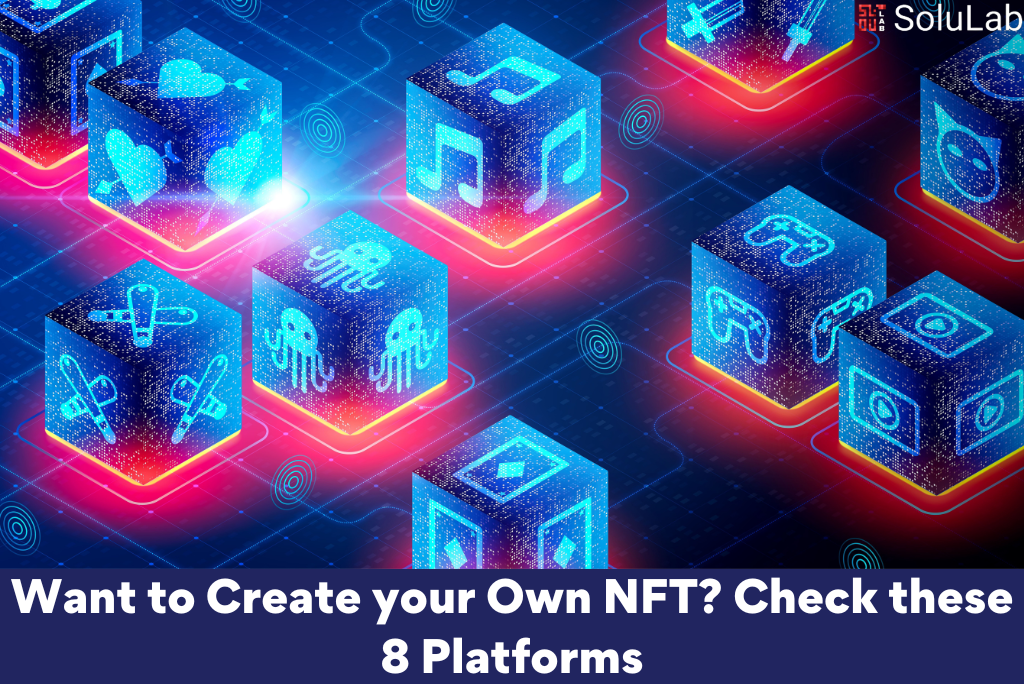 Non-fungible tokens are NFTs. They are special products that are incomparable to other things. For instance, a unique trading card seems to be an NFT since you cannot just swap it out for another card. Your card will become different if you exchange it for another card. These are distinct from fungible things, which are frequently interchangeable. For example, if you exchange one bitcoin for another, you remain in the same situation as when you started. On the other hand, you've done extremely well for yourself if you trade a nearly useless mass-produced baseball card from the late 1980s for one 1909 American Tobacco Company T206 Honus Wagner card, which is worth over $1 million. Nowadays, NFTs platforms are the norm and you can create your own NFT platform For creators, this makes it especially simple to give their supporters something special and rare. In the same way that people have long collected actual paintings, some NFTs, like digital artworks, is now the subject of collectors' interests. Furthermore, a few of these NFTs have sold for astronomical prices. A digital artist by the name of Beeple sold one NFT piece at Christie's for $69 million.
CryptoKitties is an easier-to-understand variation of a contemporary digital NFT. They are a game on the Ethereum blockchain where players may purchase, trade, and breed virtual "cats." Every "cat" is different (just like your real-life pet).
NFTs resemble Bitcoins as well as other cryptocurrencies in some aspects, with the obvious exception that they are non-fungible & non-divisible. The initial NFTs were a part of the Ethereum blockchain, which further maintains digital data to identify their singularity. Now, other blockchains also support NTFs. Not every NFT marketplaces sell and buy every type of NFT since different NFTs use different blockchain technologies. It's common for creators to base their decision on how to create their own NFT platform and support a certain NFC token standard. ERC-721 and ERC-1155 are the two standards that Ethereum has so far produced. Since then, the rival Binance has published standards BEP-721 & BEP-1155. The two "1155" standards are different from the original "721" standards in that they permit the bundling and transaction of numerous NFTs. Now let's see how you can create your own nft platform while walking through some other current options.
1. OpenSea

OpenSea boldly describes itself as being the largest NFT marketplace. It offers a wide range of non-fungible tokens, including art, censorship-resistant domain names, virtual worlds, trading cards, sports, and collectibles. It includes ERC721 and ERC1155 assets. You can buy, sell, and discover exclusive digital assets like Axies, ENS names, CryptoKitties, Decentraland, and more. They feature over 700 different projects, including trading card games, collectible games digital art projects, and name systems like ENS (Ethereum Name Service).
OpenSea adamantly claims to be the largest NFT marketplace. A broad variety of non-fungible tokens are available, including collectibles, censorship-resistant domain names, art, trading cards, sports, and virtual worlds. ERC721 & ERC1155 assets are included. Axies, ENS names, CryptoKitties, Decentraland, and other unique digital assets are available for purchase, sale, and discovery. They offer more than 700 distinct projects, such as digital art projects, trading card games, collectible games, as well as name systems like ENS (Ethereum Name Service).
When selling products on OpenSea, you have the option of setting a fixed price, falling pricing, or an auction price. the largest digital market in the world for non-fungible tokens (NFTs), such as ERC721 and ERC1155, and crypto collectibles. Axies, ENS names, CryptoKitties, Decentraland, as well as other unique digital assets are available for purchase, sale, and discovery.
2. Rarible

The ERC-20 RARI token is what "owners" of the community-owned NFT marketplace Rarible use to transact. Active platform users that buy or sell on the NFT marketplace receive the RARI token from Rarible. Every week, it delivers 75,000 RARI.
The platform gives art materials special attention. Books, music albums, digital artwork, movies, and other types of productions can all be sold by creators using Rarible to "mint" fresh NFTs. Even better, the creator can restrict access to the finished product to the buyer while giving everyone else who visits Rarible a sneak peek.
Rarible buys & sells NFTs in a variety of fields, including memes, metaverses, music, art, photography, games, and more.
3. SuperRare

SuperRare is primarily a marketplace where users can purchase and sell one-of-a-kind, limited-edition digital artworks. Each work of art is truly produced by one of the network's artists & tokenized like a crypto-collectible digital object that you can buy, sell, and possess. They position themselves as a new way to engage with art, culture, & collecting online, as Instagram and Christie's met. Each piece of art on SuperRare is a digital collectible—a digital item protected by encryption and monitored on a blockchain. A social network has been created by SuperRare on top of the marketplace. Digital collectibles are ideal for social settings because they have a transparent ownership history.
Ether, the Ethereum network's native cryptocurrency, is used for all transactions. Currently, SuperRare only collaborates with a select group of carefully chosen artists; however, you can fill out a form to register your artist profile and be included in their list of potential collaborators for their impending full launch.
Read more: NFT Marketplaces and Platforms: A List of the Best
4. Foundation

To further culture, Foundation is a specialized network created to connect digital producers, crypto natives, and collectors. The phrase "new creative economy" describes it. Digital art is its main area of interest.
They made an open invitation for creators to experiment with cryptocurrencies and play with the idea of value in their first blog post on their website, which went live in August 2020. To "hack, disrupt, and alter the value of creative work," they invited creators.
Every time an NFT trades on Foundation, the artist receives 10% of the secondary transaction's value, i.e., they get paid every time a collector sells their piece to someone else for more money.
5. AtomicMarket

Numerous websites use AtomicMarket, a shared liquidity NFTmarket smart contract. When something is listed on one market, it appears on all other markets as having shared liquidity.
It is a marketplace for Atomic Assets, an eosio blockchain standard for non-fungible tokens. Anyone can develop digital assets using the Atomic Asset standard, tokenize them, and use the Atomic Assets marketplace to purchase, sell, and auction them.
On AtomicMarket, you can both create your own listings and search through those that are already there. NFTs from well-known collections are marked with a verification tick, making it simpler to identify genuine NFTs. Collections that are harmful are blacklisted.
6. BakerySwap

BakerySwap is a decentralized exchange (DEX) and automated market maker (AMM) on Binance Smart Chain (BSC). It makes use of a local BakerySwap token (BAKE). A variety of decentralized financial (DeFi) services are available at BakerySwap, which also functions like a crypto launchpad & non-fungible token (NFT) market. In its NFT supermarket, users can purchase digital art, meme contests, and NFT-based games with BAKE tokens. You can utilize NFTs in "combo meals to obtain additional BAKE tokens." Additionally, minting & selling your own artwork is a basic, easy process.
7. KnownOrigin

A market where you can find and acquire unique digital art is called KnownOrigin. Every piece of digital art available on KnownOrigin is genuine and unique. The platform allows creators to sell their products to collectors who value authenticity. The Ethereum blockchain serves as its security.
The KnownOrigin gallery accepts submissions of digital art as JPG or GIF files with all files stored on IPFS.
8. Enjin Marketplace

You can research and exchange blockchain assets using Enjin Marketplace. It serves as the official market for NFTs with an Enjin base. To date, it has made it possible for Enjin Coin transactions totaling $43.8 million and 2.1 billion NFTs to be made on digital assets. There have been 832.7K trades. The Enjin Wallet makes it simple to list and buy collectibles and video game merchandise.
The Projects page showcases Enjin-powered blockchain projects, ranging from gamified reward schemes like Microsoft's Azure Heroes, community-created collectibles, & NFTs by businesses like Binance and Swissborg, to game item collections like the Multiverse as well as games like Age of Rust and The Six Dragons.
Conclusion
NFT is simpler than it might seem, as you can see. The NFT community is expanding daily, indicating that people recognize the true worth of digital art. Everyone is free to test out any new trend or ownership culture to see if they can take advantage of it.
Use the aforementioned platforms to make your digital artwork if you consider yourself a creator. Simply compare the download rates of any NFT platform using tools to see which app is the most popular with consumers. Display your NFT on the market once you have finished your artwork. OpenSea and Rarible are the two most widely used NFT marketplaces. These are the venues where buyers and sellers can connect and exchange information. Utilize the greatest apps to explore the potential of the cryptocurrency world!