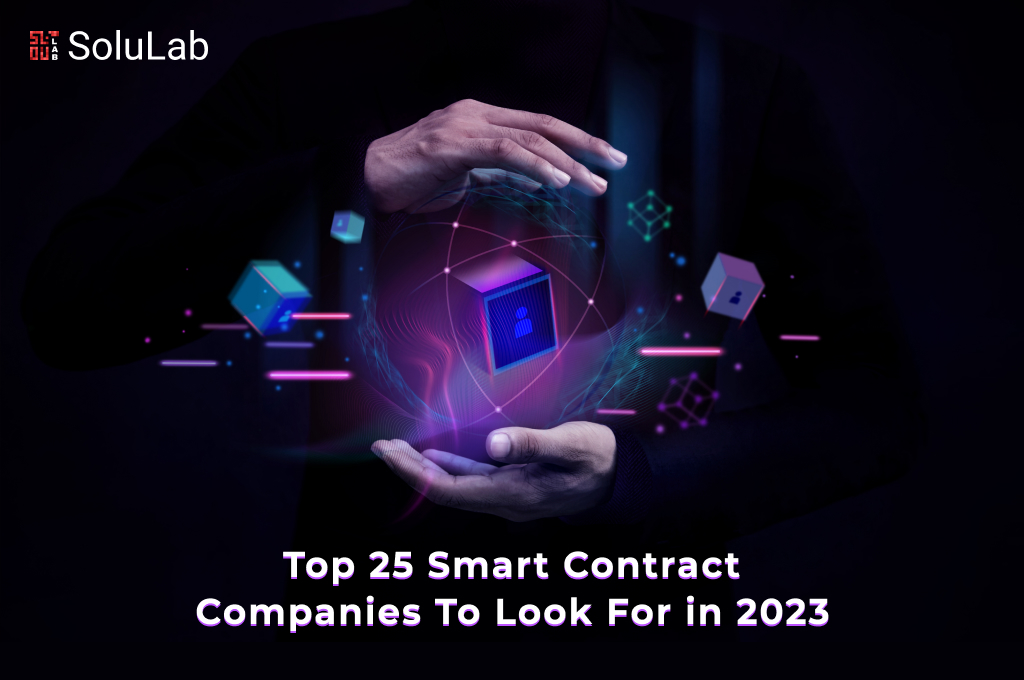 A smart contract happens to be a self-executing contract with the specified agreement terms between the buyer and the seller that are directly written into lines of code. The agreements and the code contained in the same exist across a distributed, decentralized blockchain network. The code plays a significant role in controlling the execution, and the transactions happen to be trackable as well as irreversible in nature. These benefits offered by smart contracts on blockchain have resulted in their increased adoption among various industries.
The increasing rate of adoption of smart contracts has readily elevated the demand for smart contract development services. Different companies belonging to different industries are looking forward to hiring the services of professional, smart contract development services to leverage their potential into businesses for benefit. To make an informed decision regarding the same, it will be ideal for watching out for the top smart contact companies in 2023.
1.  ORS GROUP

ORS GROUP companies offer cross-industry solutions for optimizing and automating business processes using proprietary A.I., Machine Learning, and Big Data Analytics algorithms. ORS GROUP is connecting A.I. and Blockchain through their new product, the Hypersmart Contracts ("HSC"), to provide access to more than 1,000 proprietary algorithms and hundreds of software solutions to the crypto community and to established businesses. They envision a planetary network of entrepreneurs and independent companies empowered by the new digital alphabet: ABC – Artificial Intelligence, blockchain, cryptocurrency.
2.  NEAR Protocol

NEAR Protocol is a scalable blockchain designed to provide the performance and user experience necessary to bridge the gap to mainstream adoption of decentralized applications. Unlike other next-generation blockchains, this network has been built from the ground up to be the easiest in the world for both developers and their end users while still providing the scalability necessary to serve those users.
3.  Raze

Raze Network is a substrate-based, cross-chain privacy protocol built for the growing DeFi and Web 3.0 ecosystem. Applying zkSNARKS to the Zether framework, Raze is an EVM-compatible layer-2 middleware that will enable end-to-end anonymity for decentralized applications running on the Ethereum, Polkadot, and Binance Smart Chain networks. More chain integrations are planned in the near future.
4.  Celer Network

Celer Network is a leading layer-2 blockchain scaling platform that enables fast, secure, and private off-chain transactions for crypto payments and smart contract executions. It allows everyone to easily build and use highly scalable, interactive, and low-cost blockchain applications.
5.  Ontology

Ontology Systems uses graph data and semantic searches to build real-time views of network services and related network elements. Network functions virtualization (NFV) and software-defined networking (SDN) technologies render communications infrastructures highly agile to deploy new services on the fly.
6.  Trust Machines

Trust Machines will build the applications and underlying technology necessary to unleash the true potential of Bitcoin as a final settlement layer. Trust Machines will build upon the success of Stacks, a programming layer for Bitcoin.
7.  CUDOS

Cudos is powering the metaverse bringing together DeFi, NFTs, and gaming experiences to realize the vision of a decentralized Web 3.0, enabling all users to benefit from the growth of the network. They are an interoperable, open platform launchpad that will provide the infrastructure required to meet the 1000x higher computing needs for the creation of fully immersive, gamified digital realities. Cudos is a Layer 1 blockchain and Layer 2 community-governed compute network, designed to ensure decentralized, permissionless access to high-performance computing at scale. Their native utility token CUDOS is the lifeblood of our network and offers an attractive annual yield and liquidity for stakes and holders.
8.  Offchain Labs

Offchain Labs is a New York-based company that is building a suite of scaling solutions for Ethereum. This includes Arbitrum Rollup, the only EVM-compatible rollup that is currently live on an open, public, and full-featured testnet. Arbitrum Rollup instantly scales Dapps, drastically reducing costs and increasing capacity, without sacrificing security. Porting contracts to Arbitrum requires no code changes or downloads, as Arbitrum is fully compatible with all existing Ethereum developer tooling.
9.  Tezos

Tezos is an open-source blockchain protocol for assets and applications backed by a global community of validators, researchers, and builders. The Tezos protocol is secure, upgradeable, and built to last. Tezos was built to facilitate formal verification, a technique that boosts the security of the most sensitive or financially weighted smart contracts by mathematically proving the correctness of the code governing transactions. Also, an innovative consensus protocol, based on Liquid Proof of Stake, empowers all the users to contribute, to secure, and to be reworded.
10.  ANTEX

AntEx provides an ever-growing suite of decentralized services. The objective is to bring value to the DeFi space as a whole by delivering disruptive, flexible, and audit technology. Strengthen your project and reward your communities using our services.
11.  WOWO

Wowoo is a token economy-based ecosystem designed to breathe new value into inspiring projects using blockchain technology. We are the only community in the world, which is truly committed to spreading blockchain technology to create financial value for good deeds of people which is difficult to be credited in our current financial system. We believe with the use of blockchain technology, the world will be a better place as various projects can be promoted in a reasonable way.
12.  OpenZeppelin

OpenZeppelin builds developer tools and performs security audits for distributed systems that power multimillion-dollar economies. Founded in 2015, OpenZeppelin has set industry standards for building secure distributed systems. Their services help you reduce barriers to entry by securely implementing blockchain-based technologies, using standard developer tools and platforms. Offerings include the most widely used Solidity smart contracts library, a command-line tool for managing.
13.  Symbiont

Symbiont is a leading technology company focused on solving complex global finance problems using a novel enterprise blockchain solution. An early pioneer of smart contracts and distributed ledger technologies, Symbiont's Assembly™ blockchain is the first enterprise platform developed to remove operational friction from the life cycle of financial instruments while enabling real-time data sharing with optimal security and privacy. Founded in New York with a global footprint, Symbiont is composed of a team of capital markets experts and engineers located all over the world with the common goal of creating market efficiencies to power the next generation of financial market innovation.
14.  ArcBlock

ArcBlock is transforming the way blockchain-enabled dApps and services are developed, managed, and deployed by reimagining how these services are going to be created in the years ahead. ArcBlock is the easiest way to build, run and use dApps and is comprised of a team of industry experts, developers, technologists, and leaders who are focused on creating successful outcomes by enabling teams and businesses. ArcBlock has created a powerful, but easy, to use development platform utilizing the power of blockchain in combination with cloud computing allowing developers and businesses to achieve their goals successfully. 
15.  Ferrum Network

Ferrum Network is a pioneer in ushering in the era of Interoperability 2.0. Powered by the Quantum Portal, Ferrum Network's mainnet nodes and related infrastructure will bring value, data, and functional interoperability to every chain in the industry. Ferrum builds white-label blockchain solutions that power Startups and established organizations, enabling them to get their product to market faster.
16.  Avalanche

Avalanche is the fastest smart contracts platform in the blockchain industry, as measured by time-to-finality, and has the most validators securing its activity of any proof-of-stake protocol. Avalanche is blazingly fast, low-cost, and green. Any smart contract-enabled application can outperform its competition on Avalanche.
17.  Optimism Lab

The Optimism Foundation is a nonprofit organization dedicated to growing the Optimism Collective. Not only are they writing software that scales Ethereum technology, but they are also scaling Ethereum values by creating the rails for highly impactful projects that don't have a business model to succeed.
18.  Phala Network

Phala Network is a Substrate-based interoperable cross-chain confidential smart contract platform, aiming to provide privacy computing and data confidentiality services for all users and companies. Empowered by the computing powers of TEEs.
Phala Network will be a para chain on Polkadot and the infrastructure of next-generation privacy protection.
19.  Peaq

Peaq is the Web3 network powering the Economy of Things (EoT). Peaq enables people to build decentralized applications (dApps) for vehicles, robots, and devices while empowering dApp builders and dApp users to govern and earn from machines providing goods and services to people and other machines. 
The peaq network leverages Machine DeFi and Machine NFTs to align the incentives of all stakeholders in the Economy of Things. peaq is designed to solve some of the most pressing societal and economic challenges of our time, ensuring that people earn more as machine-associated job automation increases. 
20.  Clover Finance (CLV)

CLV (Clover) is a Substrate-based, EVM-compatible blockchain infrastructure platform, that focuses on multi- and cross-chain compatibility for DeFi applications and interoperability between different blockchains
21.  DeXe Network

DeXe Network is an online, decentralized and autonomous cryptocurrency assets portfolio environment that operates via autonomous smart contracts, that includes tools for virtual currency allocation, and automatic rebalancing and eliminates the risks of transferring digital wallet details such as private keys and API or any virtual currency data to a third party, as well as fixing the absence of decentralized interconnection between users and successful traders within the framework of DeFi.
22.  Tenderly

Tenderly provides an end-to-end developer platform for teams and companies looking to build innovative blockchain products. We strive to set the standard of quality and versatility in the Web3 developer tooling space. By providing a full-fledged platform with a comprehensive dashboard and a multifaceted API, we want to enable developers to focus on their projects whether they are just starting out with Smart Contracts or building a complex DeFi platform.
23.  Superblocks

Swedish startup Superblocks automates the development process of blockchain applications and makes them more efficient. The startup provides complex applications that have customizable scripts and procedures required to successfully develop and launch dApps. The automation results in the reduction of skill-based errors that are otherwise a hindrance at almost every stage of development.
24.  Aurora Labs

Aurora is a Bridge + EVM Scaling Solution for Ethereum built on top of NEAR Protocol as a smart contract. A decentralized network for creating blockchain-enabled products. It provides tools for developing explorers, NFTs, and data indexes. Oracle, and more. It features AuroraDAO, a decentralized autonomous organization for governing the Aurora protocol.
25.  Moonbeam Network

Moonbeam is a smart contract platform for building connected applications that can access users, assets, and services on any chain. By uniting functionality from Ethereum, Cosmos, Polkadot, and more into a single platform, Moonbeam solves today's fragmented user experience — unlocking true interoperability and paving the way for the next generation of applications. The Moonbeam platform uses integrated cross-chain messaging to allow developers to create smart contracts that access services across many remote blockchains. This approach, plus Moonbeam's developer-friendly EVM platform, vast tool support, and modern Substrate architecture, creates the ideal development environment for building connected applications.
Conclusion 
When you have the list of the top-performing smart contract companies with you, it becomes quite easier and more convenient to make the correct decision of choosing the most suitable company. All these companies mentioned in the post have made significant contributions in the field by making the best use of blockchain technology and are expected to do more in the time to come.