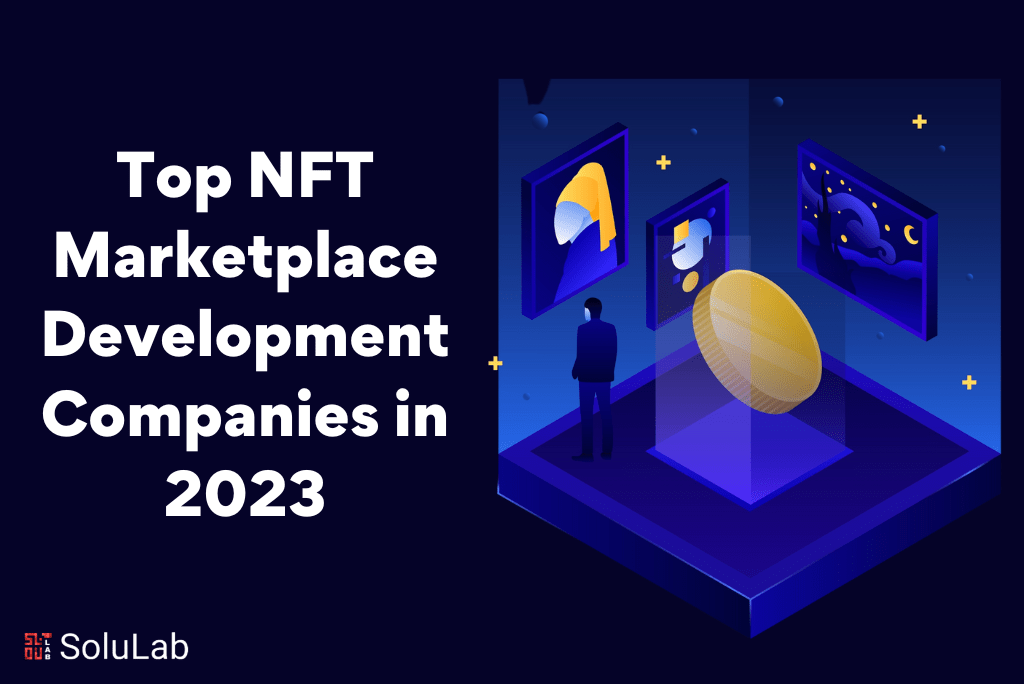 The non-fungible token (NFT) market was estimated to be worth 15.70 billion in 2021, and by 2028, it is expected to have grown at an annual compound growth rate of 34.10%, reaching US$ 122.43 billion.
NFTs are now widely used. The Beeple NFT, a premium NFT that purchased for $69 million, is one of the most well-known NFT transactions. The NFT revolution has gained increased importance in this area. Not only in 2021, but also in the first part of 2022, numerous such remarkable NFTs were introduced and sold.
NFT marketplaces are a result of NFTs' rising popularity. Some of the most well-known NFT marketplace development platforms in the area are OpenSea, Rarible, SuperRare, Foundation, & Nifty Gateway. Due to the fact that NFT fans depend on them to buy and sell non-fungible tokens, these have a sizable trading sales volume. Today in this blog, we'll look at a few top NFT marketplace development companies for the year 2023, with a focus on getting a better understanding of the NFT market and its features. Let's get going.
NFT and NFT Marketplace
A digital asset that is non-interchangeable and can't be swapped is referred to as an NFT, or Non-Fungible Token, as each one has a distinct identification code. On the blockchain, it is kept. The NFT marketplace is a platform where it can be traded.
The NFT marketplace is nothing more than trading platform for non-fungible tokens, such as collectible cryptocurrencies. The integrated NFT wallet, which will hold NFTs and ensure receiving and sending NFTs in a safe path, plays a crucial role. Learn the functionalities before developing the NFT Marketplace.
How Do The NFT Marketplaces Development Platform Work?
These marketplaces operate a little bit differently when dealing with NFT assets because of their digital nature. As was already said, in order to store all of the NFTs after acquiring them, it is essential to have a crypto wallet or an NFT wallet.
In addition to the wallet, one also has to have some cryptocurrency, including the NFT they want to purchase. Although few use Tezos (XTZ), FLOW, Solana (SOL), and other digital currencies, the majority of the marketplaces do advertise NFTs in ETH. The marketplaces provide three main services as far as they operate:
Buying NFTs:

NFTs may be bought by an investor through an auction or a fixed-price listing. The ownership of the NFT will be given to the buyer after the transaction.

Minting NFTs:

Users can mint their own NFTs on many NFT marketplaces. To do this, their creation is transformed into a digital item stored on a blockchain.

Selling NFTs:

Finally, these NFT markets give sellers the option to advertise their NFTs for sale. Although many platforms do give royalties for sales in the secondary market, once a product is sold, the sellers will be required to pay the NFT selling platforms a percentage of the proceeds received as a fee.
Read more: How will White-Label NFT Marketplace Development Benefit your Business?
Top NFT Marketplace Development Companies To Look Forward in 2023
Whereas this market is saturated with businesses offering to convert digital artwork into NFTs and build a trading platform for NFTs, you may be unsure of which business to pick. Not to worry. Let's look at the leading NFT development companies in this section right away. Choose carefully!
1. SoluLab

Within minutes, launch and manage your NFT business. Despite being out there for a while, the Solulab NFT Marketplace is gradually becoming popular thanks to its great feature selection and simple onboarding process.
When using the platform for the first time, you'll be astounded by how many templates are offered, as well as how engaging the UI/UX is. Solulab is ranked also as the best NFT marketplace development firm solulab has successfully collaborated with a number of companies, including Cigna, Centene, Merck, Biosplice, Quest Diagnostics, City Block Health, and others, demonstrating its expertise through notable launches like NFT Marketplace, CEX/DEX, etc.
2. INORU

INORU is among the finest and most well-known NFT development businesses in the blockchain industry, with a proven track record of providing first-rate client service. The organisation strives to offer the greatest services possible, making sure that they meet all corporate needs. The excellent services they provide include the ones listed below.
The company offers ready-made solutions for NFT marketplace development that are appropriate for a variety of genres, including art, music, fashion, photography, games, sports, & numerous others. Additionally, you might benefit from readily available NFT marketplace creation tools such as  OpenSea Clone, Rarible Clone, SuperRare Clone, Decentraland Clone, and so on.
INORU is renowned for completing projects on schedule without sacrificing quality, being transparent in the service it offers, having a knowledgeable team with many years of expertise, doing it at a reasonable cost, keeping data private, and offering quick support and maintenance.
3. Blockchain App Factory

Blockchain App Factory is a leader in the NFT, cryptocurrency, and blockchain industries. The superiority of this organisation in these domains is matched by its superiority in providing a high-quality solution within the allotted time. The development of the NFT token favours producers, such as musicians and artists, who can tokenize their digital creations into NFTs that can be created on whatever blockchain you want. The NFT marketplace will also be constructed utilising reliable technology and has a substantial customisation feature, ensuring adjustments for varied personal needs.
4. AppDupe

With a team of blockchain developers and more than 7 years of competence, AppDupe is a reputable NFT development business. The business provides a tailored NFT development solution that will perfectly fit. Without a doubt, the introduction of NFTs will meet the needs of business.
On the blockchain platform of your choice, the development team will have practical experience building the non-fungible token. Ethereum, Binance Smart Chain, TRON, Polygon, Cardano, Solana, EOS, and several other blockchain networks are a few of the most well-known ones.
5. Chaincella

One of the original businesses that succeeded in the NFT industry was Chaincella. They provide end-to-end NFT development services that adhere to business requirements and are backed by exceptional technological skills. This includes NFT for gaming, art, music, memes, and real estate, among many other things.
They utilised TRON, Stellar, Binance Chain, Ethereum, Matic, Flow, & Harmony as its blockchain technologies. The amazing thing is that they also provide white-label NFT development services, which will allow businesspeople like you to enter the NFT market more quickly.
6. TurnkeyTown

TurnkeyTown is a well-known NFT development business that excels in the blockchain industry. The company concentrates on delivering the greatest possible finished product at a competitive price. They will handle practically everything, from information gathering to how they desire the NFT marketplace to appear, including design, functionality, etc. The solution they offer will, most crucially, be free of bugs and problems, providing greater performance.
7. Orion eSolutions

One of the best NFT development businesses, Orion eSolutions works with clients in the US and India. They have already completed 200 projects to the delight of their customers. This organisation is renowned for its open communication, prompt updates, customised solutions for client needs, and adherence to NDA. The NFT marketplace will be carefully designed, infused with key features, and constructed on a blockchain network. This would be considerably better suited to meet the needs of each individual.
8. PixelPlex

PixelPlex is an NFT development and consulting company with a track record of pleased and delighted customers who received NFT development solutions without any technical problems. They'll be sorted and discarded if any are discovered. The organisation continues to offer support and maintenance even after the NFT platform has been deployed for a specific amount of time.
Some Vital Tips for Choosing an NFT Marketplace
Never forget that Non-Fungible Token (NFT) denotes asset ownership. Therefore, choose the type of digital asset you want to buy, sell, or generate before choosing an NFT marketplace. On the blockchain, anything digital can be tokenized, particularly Ethereum, which is the most popular blockchain network for creating NFTs. It could take the form of a written word, a video game, artwork, a film, collectibles, etc. The kind of tokens that are accepted on a marketplace is another thing to bear in mind, as some may support a wide range of tokens while others may be restricted marketplaces that utilize a particular proprietary token.
Make doubly sure to charge your blockchain wallets with the appropriate cryptocurrency or token before creating an NFT marketplace account so that you may engage in the site's activities. You'll be asked to link your wallet towards the NFT marketplace after creating an account. Along with this, make sure to look into the marketplace's security measures and any past concerns.
Conclusion
The aforesaid information allows us to draw the conclusion and see that NFTs are the present and the future of the digital world. Since investment into them will be viewed as a smart move, keep a watch on the trading activity and try to rule the NFT world. Make your way to the aforementioned NFT marketplaces to start investing on digital assets, works of art, and collectibles. Prior to choosing, be sure to choose the market that best meets your buying & storage needs based on the kind of NFT you want to buy and the cryptocurrency you want to use for transactions.
Additionally, keep in mind that this is an young industry and is therefore very speculative. Occasionally, a select few NFTs will skyrocket in value, there is no assurance. Remember that value of digital collectibles and the arts works similarly to the value of physical collectibles and the arts: Value is based on a variety of subjective criteria, including uniqueness and the reputation of the person who made it. Consider your overall financial strategy, net worth, & investing time horizon while making purchases.