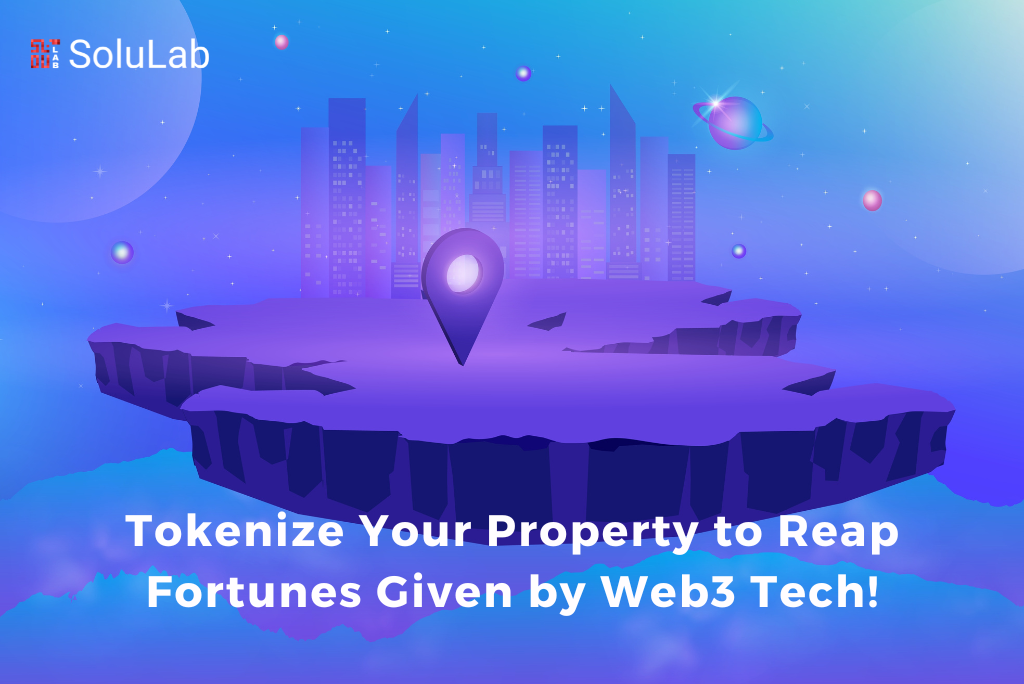 Just two decades have passed in the 21st century, and we have already witnessed great levels of innovation and technological growth. While the internet revolutionized our lives for the first two decades, Web3, based on blockchain technology, is all set to turn the tables for at least the next two decades. The aspect of including more real-world applications for blockchains has been making sure that the previous statement will come true sooner than anticipated. Real estate tokenization has been one such use case of Web3 technology that has been raising many eyebrows recently. Let us see more about it as we progress.
Real Estate Tokenization: A Snippet
Real estate tokenization is where real estate properties are "tokenized" or registered as tokens on the blockchain. These tokens can be either fungible (similar to cryptocurrencies, such as Bitcoin) or non-fungible (similar to NFTs, such as CryptoPunks). The process helps real estate asset holders and people who aspire to invest in real estate property in multiple ways. Real estate tokenization today is still emerging, as there are a lot of regulations that require it to be modified to fit the new-generation process, alongside other restrictions, typically from skeptics who fear their "businesses" might die.
Read also: Real Estate Tokenization: Step-by-Step Guidance
Inherent Problems Present in Contemporary Real Estate
High Entry Barriers

restrict most people from investing in real estate assets as prices accelerate higher and higher without particular reasons.

More Intermediaries

tend to put the real estate sector into their hands and determine the industry's flow according to their interests. Adding to the fire, their presence aggregates the costs involved in real estate investment.

While the

Presence of Central Authorities

might look safe (or we might have been tuned to such thoughts), having data gathered at a place is not safe at all times. With the presence of powerful intermediaries, central authorities tend to work hand in hand with those (in most cases) to safeguard their interests.

Finding Investors

has been a huge issue since there are demographic restrictions for geographic assets that do not allow people from certain regions to purchase land in certain places. Such atypical limits, even in the era of globalization, make real estate assets illiquid.

The

Possibility of Fraudulent Activities

is higher in the current real estate sector irrespective of digitization, since power and money tend to reign ultimately, leaving unsuspecting commoners to suffer by accident. One can witness staggering numbers while researching court battles relating to real estate assets.
"Tokenize Your Property:" Whether This will Solve the Problems?
A solution that might help if you are a property holder will be to tokenize your property. This can save you from unwanted hassles and waste of valuable resources. Tokenizing your assets can also help you with finding buyers for the property, as the price cap will be economical enough for retail investors to get a hand in hot real estate assets. Also, with minimal paperwork, the documentation time taken will be lesser, enabling you to liquidate your assets faster. It will be a good idea to tokenize your assets if you are looking to raise quick funds.
Tokenize Your Assets Through These Token Types
Utility Tokens

provide digital access rights to applications or services related to the property. These are beneficial in the case of ventures that raise funds through Security Token Offerings (STO).

 

Equity Tokens

offer shares of the real estate asset to investors, which can pay them dividends if in use through rent collected. Like traditional exchange stocks, the proportion of profits gained depends on the number of shares held by an investor.

Debt-like Tokens

play the role of collateral for loans if borrowed from multiple people. The issuer has an obligation to pay back the loan with interest to the token holders; failing to do so will result in the loss of their property.

Participation Tokens

can give participatory rights and revenue without dividends but with zero equity. That means that investors can gain benefits but cannot claim a stake in the underlying venture if there is a failure.

Crypto Tokens are popular real estate tokenization products as they offer fractionalized assets as fungible tokens that can be exchanged for other cryptocurrencies or fiat tender. These can be used as a means of payment by the asset holder.
Offering Concluding Insights
Hence, it will be wise to tokenize your property if you want to sell it or raise funds for a new business. Real estate tokenization ensures that raising funds through such assets is made easier than ever, and there are expert firms that can help you to tokenize your assets. The process typically involved smart contracts, which are blockchain-based programs that serve as proof of transactions (similar to real estate documents). Such firms will also have expert consultants who can assist you in clearing any doubts that can further augment real estate tokenization for you.
Blog Credits: Medium