SoLulab has moved to a new office at 812-16, Times Square 1, Opp. Baghban Party Plot, Thaltej, Ahmedabad, 380059, which is an 8,000 sq. ft office space. The office space is still expanding on the same floor. A small celebration took place to make this occasion memorable. The event commenced with ribbon cutting ceremony by the co-founders Mr. Chintan Thakkar & Mr. Rajat Lala who visualized this day right from the time when the company was founded in 2015.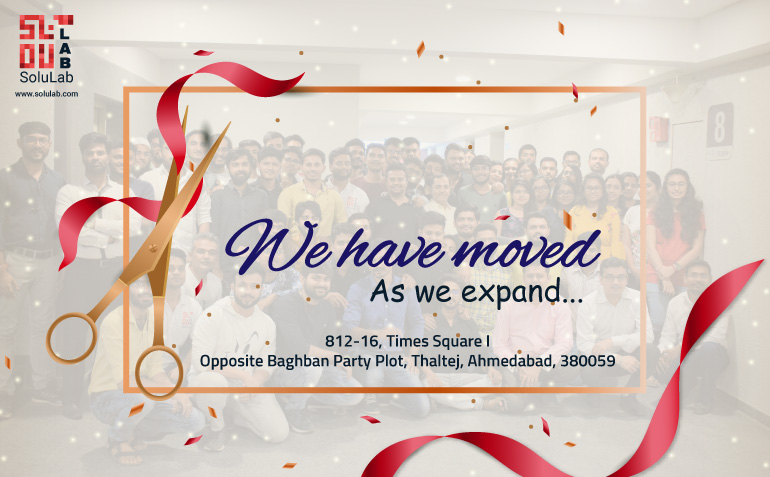 The employees actively took part in decorating the new office premises with balloons and other party items. The co-founders, project managers, and other stakeholders talked about their vision about the growth of the company, future plans, and general announcements. They talked about how the company was started with 10 employees and how it became a 150+ employee company in 2019. The company envisions to reach a 1000+ employees at the end of 2024 and go public with an IPO. Solulab is hiring more skilled employees for various roles.
The company expanded its reach by opening up offices in Canada and Dubai in 2018. offerings and started a new division for Artificial Intelligence, Machine Learning, Internet Of Things (IoT) and Data Science. Solulab was awarded the Best ICT company of 2019 and also won CES Innovation award in the same year.
Milestones achieved:
2015 : Company founded with 10 employees.
2016 : Expanded horizons in the USA and reached 40+ employees.
2017 : New development services across USA & Canada.
2018 : Expanded footprint in Canada & Dubai and had a team strength of 100+ employees.
2019 : Expanded offerings IoT, ML, AI & Data Science.
Our Vision:
2020 : Launch SoLulab product family for B2B segment and reach 200+ members.
2021 : Set up office in the UK and explore European Market.
2022 : Shift to Solulab corporate house and hire 500+ employees.
2023 : Add 10+ Fortune 500 Clients to our clientele list.
2024 : IPO with 1 Billion USD market cap with a team of 1000+ members.
Having said that, they also added that they would be expanding their client base in new countries in the coming few years. They are looking for new business partnerships in the countries and long term associations with clients across the globe. We are grateful to the team and clients who helped us reach this milestone.