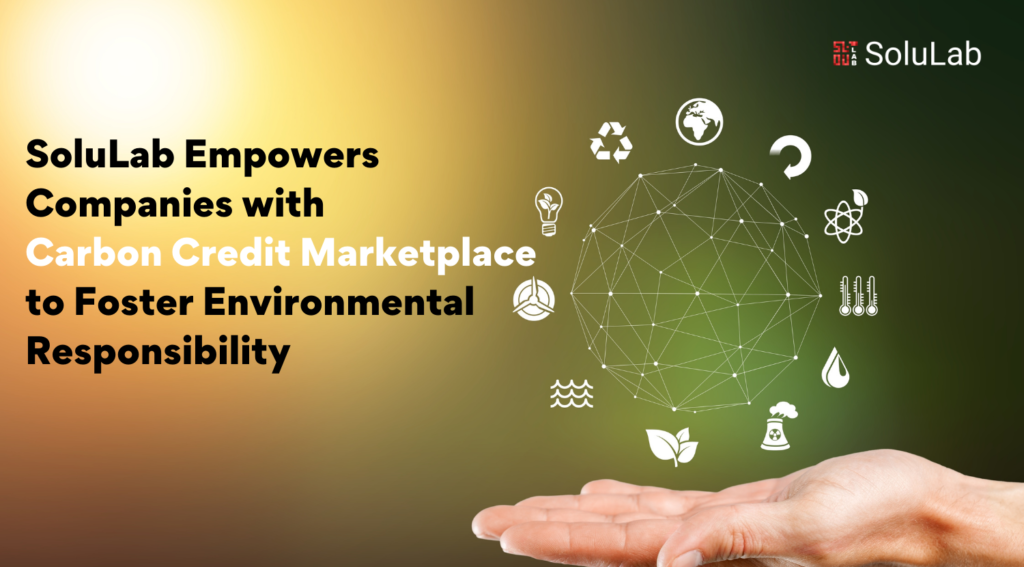 SoluLab, India, July 14, 2023 – SoluLab launches innovative Carbon Credit NFT Marketplace, empowering users to combat climate change. This groundbreaking platform aims to revolutionize how individuals and organizations participate in the fight against climate change and pollution.
SoluLab's Carbon Credit NFT Marketplace provides a secure and transparent ecosystem for the trading of carbon credits. By leveraging blockchain technology, SoluLab enables users to contribute to the global efforts of reducing carbon emissions while ensuring fairness and accountability in the marketplace.
The marketplace revolutionizes carbon credit trading, bringing transparency, efficiency, and global accessibility to individuals and organizations passionate about environmental preservation.
With SoluLab's Carbon Credit NFT Marketplace, users can actively participate in the global fight against climate change, empowering a sustainable future for generations to come.
Key Features of SoluLab's Carbon Credit NFT Marketplace:
Enhanced Search Functionality:

Empowers traders to quickly locate and acquire specific NFTs through an advanced search calibrator.

Listing and Positioning NFTs:

Dynamically ranks NFTs based on trading volume and the number of owners, providing valuable insights for trading decisions.

Auction Gateway:

Enables smooth transactions through bidding fees, initial bid amounts, and expiration dates set by sellers.

Storefront Functionality:

Allows sellers to provide detailed descriptions, prices, and essential information to assist purchasers in making informed decisions.

NFT Staking Option:

Provides token holders the ability to stake their NFTs, earning rewards based on the duration of their stake and promoting long-term engagement.

Secure Crypto Wallet:

Safely stores the cryptocurrencies required for trading, along with the NFTs acquired by users.

Trading & Auction Mechanisms:

Offers various trading options, including fixed-price listings, auctions, and decentralized exchanges, to accommodate different buying and selling preferences.

Smart Contract Functionality:

Facilitates seamless transfer of NFTs, executes carbon credit trades, calculates carbon offset values, and enforces marketplace terms and conditions.
Why Should One Choose SoluLab for Carbon Credit Marketplace Development?
Tailor-made Solutions:

Rapid delivery of customized solutions tailored to the target audience's needs.

Expertise in Blockchain Technologies:

Extensive knowledge and experience in diverse blockchain technologies, ensuring a solid foundation for the marketplace.

Comprehensive Post-Delivery Services:

Ongoing support and maintenance to focus on business growth while SoluLab takes care of the marketplace's continued success.

Agile Development Process:

Flexibility, adaptability, and efficient project management throughout the development lifecycle.

Security and Data Privacy:

Robust security measures, best practices, and cutting-edge technologies to safeguard the platform and user information.

User-Friendly Interface:

Intuitive and engaging user experience, making carbon credit trading accessible for buyers, sellers, and other participants.
About SoluLab
SoluLab Inc is well-known for its exceptional Blockchain, AI, and IoT services. The company was established by a former VP of Goldman Sachs and Citrix's former principal software architect.
We have 1500+ clients across 30+ countries with a 97% success rate

Some of our clients from the insurance industry are Cigna, Heritage Insurance, MetLife, Swiss Re, New York Life, and 10 more

Ranked 33rd on Deloitte's 2020 Technology Fast 500™ list

Top Blockchain development company by Goodfirms, Clutch, and Gartner in 2020 and 2021

Microsoft Silver Certified Partner, Google Developer Certified Agency, and Hyperledger Certified Service Provider

Video Testimonial of AnrKeyX COO whom we helped in raising 2.2M USD funding through our MVP development –

https://bit.ly/44hWne5
Media Contact:
Gursumeet Kaur, Marketing TL