The Ultimate Guide to Generative AI: Unlocking the Power of Artificial Creativity
To venture into the dynamic convergence of generative AI, this eBook will uncover its impact in the real world and the various applications associated with AI. Our exploration reveals how its revolutionary capabilities can bring forth unparalleled levels of creativity, innovation, and transformation in various domains.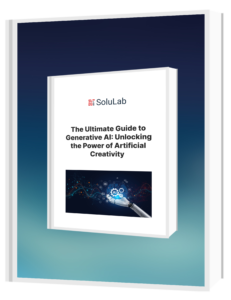 What will you find in this eBook?
Introduction

Generative vs. Discriminative Models

Specialized Generative AI Development Services

Applications of Generative AI Solutions

Generative AI Trends: Shaping the Future of AI Innovation

Role of Generative AI Development Companies

Impact of Generative AI Development

Generative AI Technology: Creative Potential of Artificial Intelligence

The Importance of Generative AI for the Future

Overview of SoluLab as a Leading Technology Development Company
Frequently Asked Questions