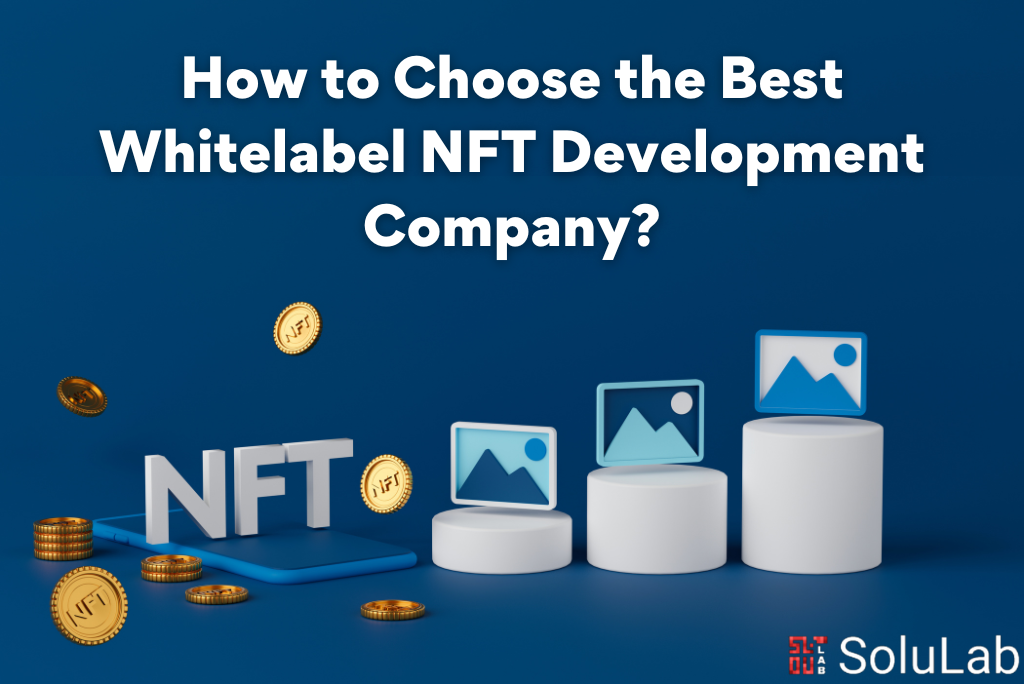 Stuart Greenfield said, "when technology changes, things happen fast, people do things differently, laws are changed and whole markets appear." And just like that Whitelabel NFT markets have conveniently made an appearance and their presence known worldwide.
Creators, collectors, and traders now have a digital marketplace to monetize their artwork by converting them into non fungible tokens and trading those.
Whitelabel NFT marketplace takes NFT marketplace a notch higher by making these marketplaces off-the-shelf, and ready-to-deploy. It is pre-build and integrated with vital features to support buyers, sellers, and creators, who then can freely buy, trade, sell and create NFTs respectively. NFT marketplaces are chiefly developed via blockchain networks such as Ethereum, Binance smart chain, Solana, Cardano, polygon, etc.
People are attracted to the Whitelabel NFT marketplace because of the less development cost and time(it requires), as opposed to building an NFT platform. 
But how will you determine what is the best in this plethora of Whitelabel NFT marketplace development companies?
Don't fret, we have curated a list of essentials that'll help you navigate the Whitelabel NFT development companies and choose the best accordingly.
Security
A must-fulfil requirement of a good Whitelabel NFT is deploying robust defence security. Encryption and real-time monitoring of the blockchain network are vital pertaining to security. Your development company's services should offer you end-to-end encryption and real-time surveillance. 
Two-factor authentication or dual verification is a security process that immediately neutralises the risk which comes with compromised passwords.Thus an authenticator is a requisite for the smooth launch of your NFT platform.
Whitelabel development services encapsulate domains such as art, music, sports, fantasy games, accessories, real estate, infrastructure development,  and photography. Also, there are little to no laws or regulations for NFTs, which makes NFTs perfect for hiding illegal money. To tackle such problems and not let a hacker gain access to your NFTs or crypto tokens, you need a Whitelabel solution that detects any suspicious intrusion instantly.
Wallet Structure
Your company should use NFT hardware wallets purchased only from official manufacturers. Hard wallets are preferred more than hot wallets as they offer more security. They are not connected to the internet until the user plugs them into the computer.
Decentralised System>Centralised System
NFT markets should not possess access to private keys and should be decentralised. Centralised platforms are risky because all private keys remain stored inside the platform. Hence, we suggest Whitelabel NFT development companies that access NFT through multi-signature.
Customization
People opt for Whitelabel NFT development company because not only its pre-build but also with little customization, the user can give his own personality to the NFT branding. For that tailored solution, your Whitelabel NFT company should offer multi-language support. The NFT Marketplace brings creators, crypto natives, collectors, and traders into one place. Thus, contributing to the mixing of cultures. A solution that offers multiple languages is an added advantage.
Fast token search Features
We recommend going for the NFT marketplace platform that would allow you to search for items or tokens as needed. As a result, your consumer experience will increase.
Compatible Blockchain Solution
Since an NFT marketplace facilitates NFT minting and trading at a global scale, blockchain (its underlying technology) should ensure transparency and rigid documentation of the digital asset tokenization and trading process. A good Whitelabel NFT development company should provide cost-effective solutions and microtransactions. The Token development cost should also be reasonable. NFT Marketplace needs to be built on fork-proof blockchains as asset proprietorship is at stake.
Read also: Why Should You Start Your Own NFT Marketplace Business?
Api Integration
Integration of the Application Programming Interface into the NFT marketplace platform is imperative. As it helps in extracting and sorting through unstructured data sets. Integrating API helps to source Nft metaverse, ownership data, and price history from the token's host blockchain.APIs aid developers perform queries across different NFT smart contracts,  extracting information from as many blockchains. This ensures better management of time, effort, and money. 
Multi- Cryptocurrency
You will be able to manage your digital assets easily if the Whitelabel development company offers a wallet that supports different chains on the same application. Firstly, you'll not have to install too many apps, and secondly trading different types of crypto-currencies with each other will be seamless. A multichain wallet feature will allow a user-friendly interface and faster transactions via advancing cross-chain transfers.
Storage Platform
A good Whitelabel marketplace development company should host NFTs on the Interplanetary File System (IPFS) rather than regular cloud services. A large quantity of storage space is required by the NFTs as the media files cannot be stored directly on the blockchain. Hence, IPES becomes a more viable option for storing pictures and videos.This solution excludes the need for an intermediary and enables content creators, offline book publishers, story writers, and journalists to mint, manage, and transmit their writings through NFTs freely. Also, the NFT Storage Development Service ensures anti duplication.
Entities/Exclusive Collectibles
The storefront for the NFT marketplace solution should be engaging and user-friendly. It must encompass previews, pricing history, and information on the owner. Assets play a larger role in people's digital identities. Thus, their collectible and wearable NFTs become valuable and unique. The growth of this market will rely on a marketplace's guarantee of accessibility to rare assets, liquidity, and trustworthiness. Personal collection is often more consequential and scalable. So, we would suggest going for a Whitelabel NFT development company that would cater to your exclusive collectible. One should go for a company that cares about their requirements. NFTs have now enhanced into rich ecosystems of different assets and projects, not just existing as one-off NFTs like digital art pieces. Fostering and expanding your own niche is critical. 
Conclusion 
In conclusion, throughout the development process, it's suggested that the developers keep you informed. The team provides technical assistance in case of issues during the launch of your marketplace with the functionalities. Any Whitelabel NFT development company that provides you with all these features is good to go.
Anticipating you now have a better understanding of what is the best Whitelabel NFT development company for you. Long ago, it was not easy to build/launch an NFT market