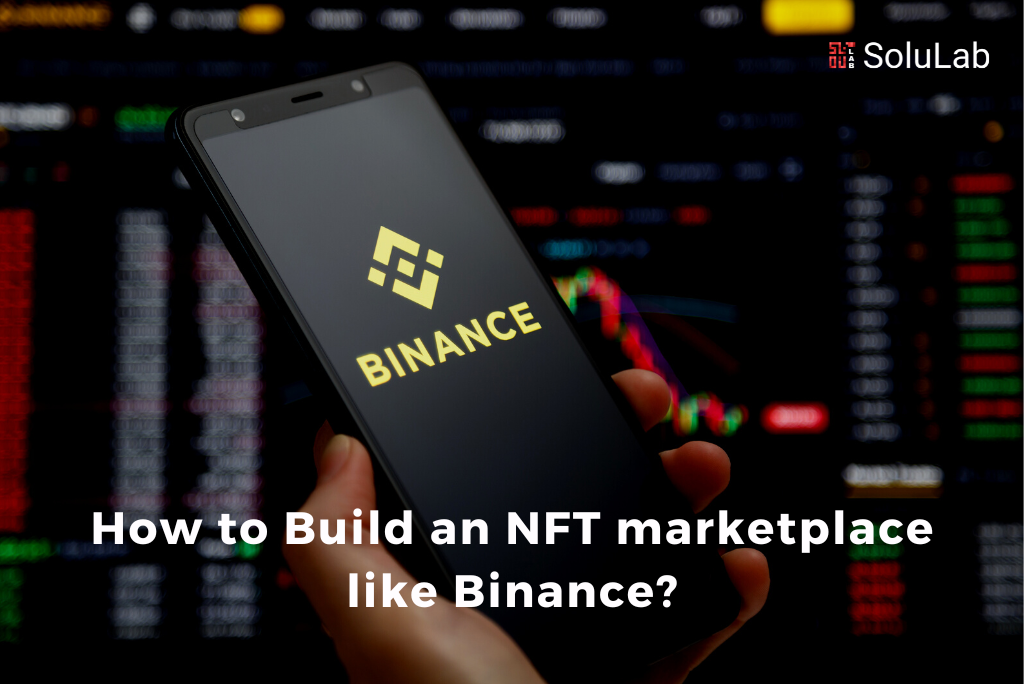 Binance is a well-known cryptocurrency exchange that combines traditionalism and modernism to create an epic exchange that allows traders to trade and swap on various metrics efficiently and quickly. Every move of binance has been watched by millions. Thus the intervention of Binance in the NFT marketplace spontaneously raises hope for NFTs.
They update their website regularly. It is based on cryptocurrency updates and developments. This is how they supply users with excellent services.
Let us take a deep dive into this blog to understand the concept behind building an NFT Marketplace like Binance. 
A Background Study Of Binance
The NFT medium in current times. It has attracted complete crypto enthusiasts and entrepreneurs to join the crypto domain. How would it be if you created an NFT marketplace based on the Binance network? Binance has established a benchmark in blockchain history since 2017 and is still more viable for crypto users.   
Generally, this Binance NFT marketplace lets crypto users experience an effortless and fastest trading segment. And when people compare it with the Ethereum medium, the gas cost is less and delivers an inexpensive solution for the customers. 
So, this NFT medium functions similarly to any other platform created on Polygon, Ethereum, Solana, Cardano, etc. The crypto customers will reach forth to determine their chosen digital assets and move to buy them. They can select a purchasing method that varies from one NFT to another. Furthermore, with the native non-fungible token, they can buy a digital asset. With fewer trade prices, crypto clients benefit from using such a medium.
What sets Binance NFT Marketplace stand apart?
Initially, the Binance NFT marketplace is operated by Binance, the world's most extensive cryptocurrency exchange that only draws the major players. In addition, Binance smart chains have proven quick, safe, and inexpensive. It has not been in a vulnerable position yet, and the price is reasonable when you settle with BUSD or BNB. And the best part is the Binance Coin(BNB) delivers over 1.4 million transactions per second.
Binance NFT Marketplace Architecture
Binance NFT Marketplace presents a comprehensive structure and predominantly focuses on exhibiting curated NFT in the sports, visual arts, music, and gaming segments. Furthermore, Binance NFT will serve as a dual chain network in terms of its architecture, indicating it will incorporate both the Ethereum network and Binance Smart Chain (BSC) into its infrastructure. 
Although it is predominantly programmed to operate on Binance Smart Chain (BSC), given its exceptionally low gas costs compared to ETH networks, this dual architecture will allow customers to consider Ethereum-based NFT in their online Binance wallet. In addition, Binance online NFT Marketplace will transfer the same accounting system as Binance.com, letting participants communicate with the NFT medium and other proposals from the Binance ecosystem.
Read also: How to Create your own NFT Marketplace: Step-by-Step Guide
Binance NFT will be split into two primary segments: Premium Event and Trading Market. The trading market will permit users to portray their NFT for a 1% processing cost and obtain a 1% royalty from the profits. On the contrary, the bonus event will feature a choice of curated NFT and sole exhibits for which Binance NFT will award developers a 10% fee and 90% earnings.
The architectural features summarized above will accompany Binance NFT in its search to redesign the non-fungible token market and, over time, streamline the procedure of becoming a world-class NFT trailblazer and hub in space.
Binance NFT Marketplace Clone Script
The Binance NFT Marketplace clone script is an identical clone of the Binance NFT marketplace that allows anybody to launch their own NFT marketplace similar to Binance without infringing on Binance's copyrights. 
Binance has created its token standard, BEP-20, after revealing the ineffectiveness of the Ethereum token standards. Individuals can use the token bar to design their token and launch their Binance NFT Marketplace using the token standard.
Read also: Things you need to know about NFT Marketplace
Binance NFT Marketplace is developed on Binance Smart Chain, Binance's native blockchain; however, you can create a replica of Binance NFT Marketplace on any blockchain network that meets your business needs.
Binance NFT Marketplace Development
Binance NFT Marketplace Clone Script is the kind of well-coded ready-made package of NFT marketplace source code encrypted with strong security features and integrated APIs. This script is designed so that you can compile it instantly and build your own.
You can perform the following operations in your software if you create your Binance like the NFT marketplace. It has the top three sections events, marketplace, and mystery boxes.
Events:  Events section is exclusively for premium, unique and rare collectibles.
Marketplace: Where anyone can mint, buy, and sell NFTs.
Mystery Box: It's a program that lets users win rare, unique collectibles.
Challenges Handled In Binance Smart Chain
The Binance Smart Chain network is way past its time for individuals. The BSC marketplace will facilitate users to exchange their NFTs in exchange for their BEP and BNB tokens. 
In BSC, the customers can make their blocks within only three seconds. The primary cause for designers to seek networks outside of Ethereum is because of their increased transaction expenses. 

BSC overcomes the challenges in its network and maintains a deep understanding of choosing BSC for your NFT marketplace. The rate of transactions is excellent in BSC and allows users to process their trades accurately. 

In Ethereum, customers must spend considerable time processing their transactions; by then, they will begin losing interest. So establishing an NFT medium on BSC will assist you in getting a lot of clients for your venture. 

The gas cost is one of the significant problems spotted in Ethereum. This challenge causes NFT dealers to change their perspectives. In Binance Smart Chain, the trade cost is much lesser than in any other blockchain network.

BSC maintains high-end safety for the non-fungible tokens as interoperability is the most significant factor for NFTs, and Binance Smart Chain will even support cross-chain interoperability. 
The Binance Smart Chain supports EVM, an important element for creating decentralized apps. The smart contracts indicated in the BSC will evaluate the actions within the NFT marketplace. It will control the platform from manipulation and hacking. The Binance chain wallet will assign the one-stop online assets to the medium, and the NFT enthusiasts can review their balance and transmit the finances.
How to Launch an NFT Marketplace Clone Like Binance?
Start your own NFT marketplace, similar to the Binance NFT marketplace, if you want the finest NFT marketplace. Instead of planning and waiting for a lengthy time, this clone script just starts with a ready-made element of action. The Binance NFT marketplace clone script can be adjusted to meet your specific needs and requirements while replicating all of the benefits of the Binance NFT marketplace.
Features of Binance NFT Marketplace Clone Script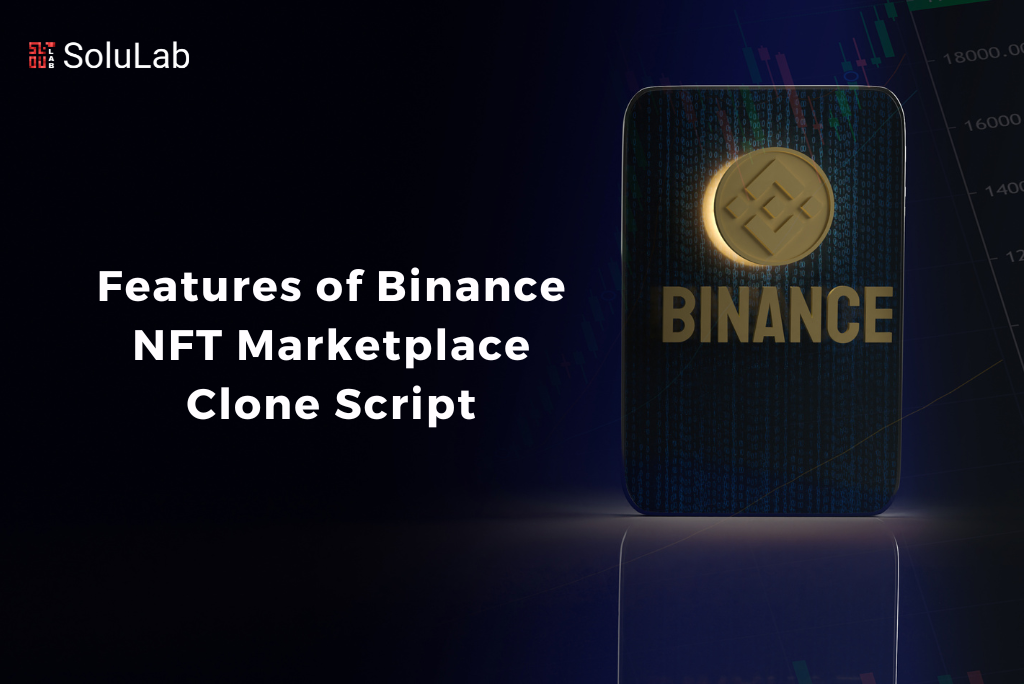 Binance NFT Marketplace: Clone Script features are not only components that help to improve the user experience and interactivity, but they also include several noticeable features that let everyone develop and engage with the Binance NFT marketplace. The platform's distinct components make accessibility simple.
Reward: This feature is purely to gain publicity in the NFT marketplace. Having a separate " rewards " section for the user when they make successful trades keeps them returning and engaged.
The finest User Interaction and Experience: A person can win in the trade with the best User Interaction and Experience. Its NFT markets will provide the most convenient access throughout the application.
Low for High: The processing cost is only 1%, regardless of how many high-volume transactions you have.
Simple to locate: This is a basic function built for the best user experience to eliminate the state of uncertainty while searching for assets in the listings, which have been simplified and sorted in a way that is easily understandable.
Powered with Blockchain: You can exclusively build your NFT Marketplace on your desired Blockchain network.
NFT Wallet: Integrated NFT wallet that supports a variety of Tokens, Collectibles, etc.
Native Token Governance: You can create your native token to provide rewards for your NFT Marketplace.
Royalty Payment Support: Royalty payment support to grab various users
Storefront: Attractive Storefront design to display the listed NFTs
Search option with Filters: Enabling search option with filters to make users search precise 
NFT Creation: NFT Creation process is simple and transparent with easy uploading options
Ratings: Ratings for each user to tag their performance
Listing Status: Listing Status lets creators know the status of the listing
We can also add up features in binance NFT like Binance Mystery Box, and the 100 Creators program, based upon the choices.
Types of NFTs on Binance NFT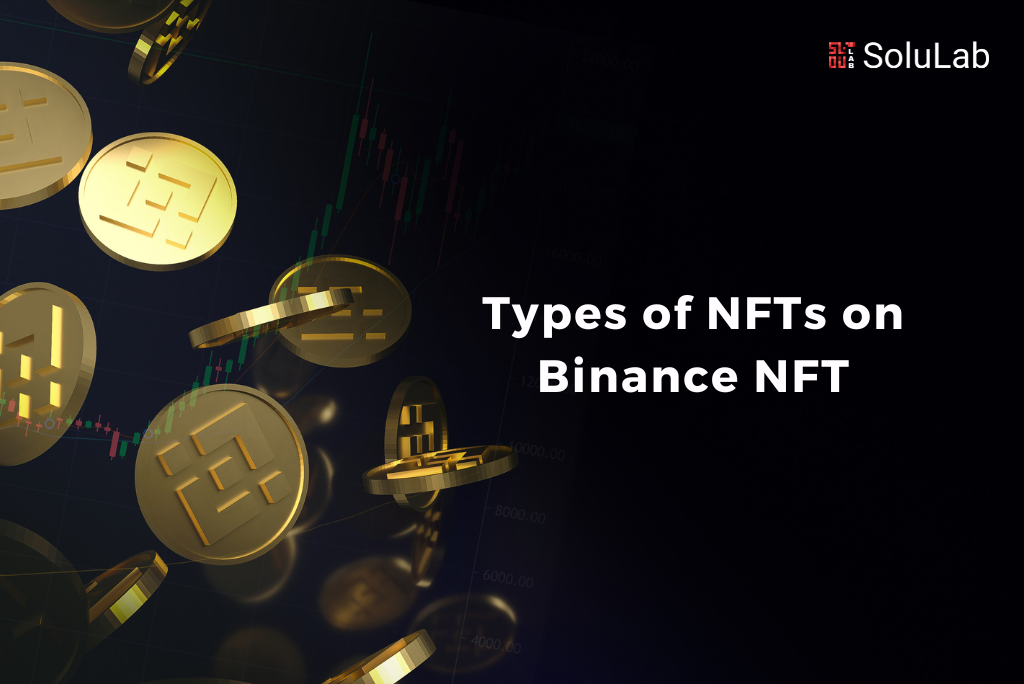 Binance NFT offers seven categories of NFTs, plus a mystery box:
Art: The art category features artwork from both known and unknown artists. Krista Kim, Ali Sabet, Kefan404, Palm Instinct, and Joseba Elorza are some of the most popular artists who have their works listed in this category.
Collectibles: Designated for collectible NFTs, this section features a range of collectible digital assets. The Nyan Sum Cards by Mighty Jaxx are some of the items in the collectibles category.
Entertainment: Two-time BRIT Award winner Lewis Capaldi is one individual whose work you might find in the entertainment category. Lil Yachty and Kyle are other popular musicians who have their work listed in this category.
E-sports: The e-sports category lists esports items and content. E-sports team eStarPro is one of the first e-sports teams to have its content listed in this category.
Gaming: The gaming category features gaming-related items from creators all over the world. There are hundreds of gaming items for purchase from the platform.
Premium: This category features premium NFTs. For example, the State Hermitage Museum launched a premium NFT Auction Collection on the Binance NFT Marketplace over one week in August and September 2021.
Sports: The sports category, as the name suggests, is all about sports items. For example, digital assets related to sporting greats such as Michael Owen, José María Gutiérrez Hernández, and Alphonso Davies are listed within this category. NFT tickets are also listed.
NFT Mystery Box: These have a surprise NFT. On the navigation bar of Binance NFT, select Mystery Box to browse the collections. After you buy one, you're redirected to the product page where you can select Click to Reveal.
Conclusion
The Binance Blockchain is used to power the NFT Marketplace clone script that Binance offers. Simply connecting to the name "Binance " is enough to get significant players to participate in your Binance-themed NFT Marketplace. In addition, the Binance Smart Chain has been designed to be lightning-quick, foolproof, and cost-effective.