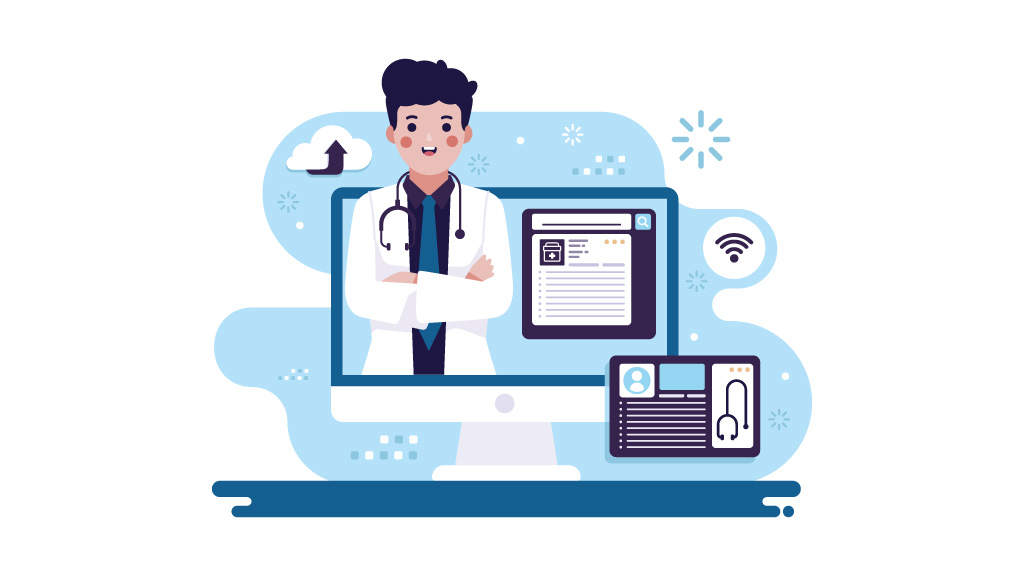 Blockchain Opportunities for healthcare: A new model for health information exchanges
​Blockchain technology has the potential to transform health care, placing the patient at the center of the healthcare ecosystem and increasing the security, privacy, and interoperability of health data. This technology could provide a new model for health information exchanges (HIE) by making electronic medical records more efficient, disintermediated, and secure. While it is not a panacea, this new, rapidly evolving field provides fertile ground for experimentation, investment, and proof-of-concept testing.​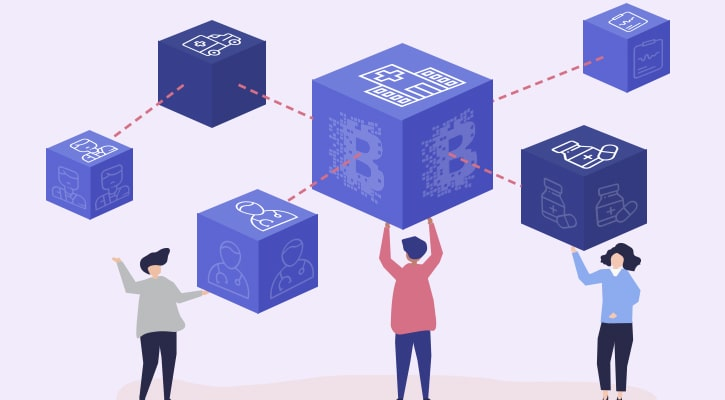 What is Blockchain?
At its core, blockchain is a distributed system recording and storing transaction records. More specifically, blockchain is a shared, immutable record of peer-to-peer transactions built from linked transaction blocks and stored in a digital ledger. Blockchain relies on established cryptographic techniques to allow each participant in a network to interact (e.g. store, exchange, and view information), without preexisting trust between the parties. In a blockchain system, there is no central authority; instead, transaction records are stored and distributed across all network participants. Interactions with the blockchain become known to all participants and require verification by the network before information is added, enabling trustless collaboration between network participants while recording an immutable audit trail of all interactions.
How Blockchain provides opportunities for healthcare?
​A blockchain powered health information exchange could unlock the true value of interoperability. Blockchain-based systems have the potential to reduce or eliminate the friction and costs of current intermediaries.
The promise of blockchain has widespread implications for stakeholders in the healthcare ecosystem. Capitalizing on this technology has the potential to connect fragmented systems to generate insights and to better assess the value of care. In the long term, a nationwide blockchain network for electronic medical records may improve efficiencies and support better health outcomes for patients.
Blockchain as an enabler of nationwide interoperability
The Office of the National Coordinator for Health Information Technology issued a shared nationwide interoperability roadmap, which defines critical policy and technical components needed for nationwide interoperability, including:
Ubiquitous, secure network infrastructure

Verifiable identity and authentication of all participants

Consistent representation of authorization to access electronic health information, and several other requirements.
However, current technologies do not fully address these requirements, because they face limitations related to security, privacy, and full ecosystem interoperability.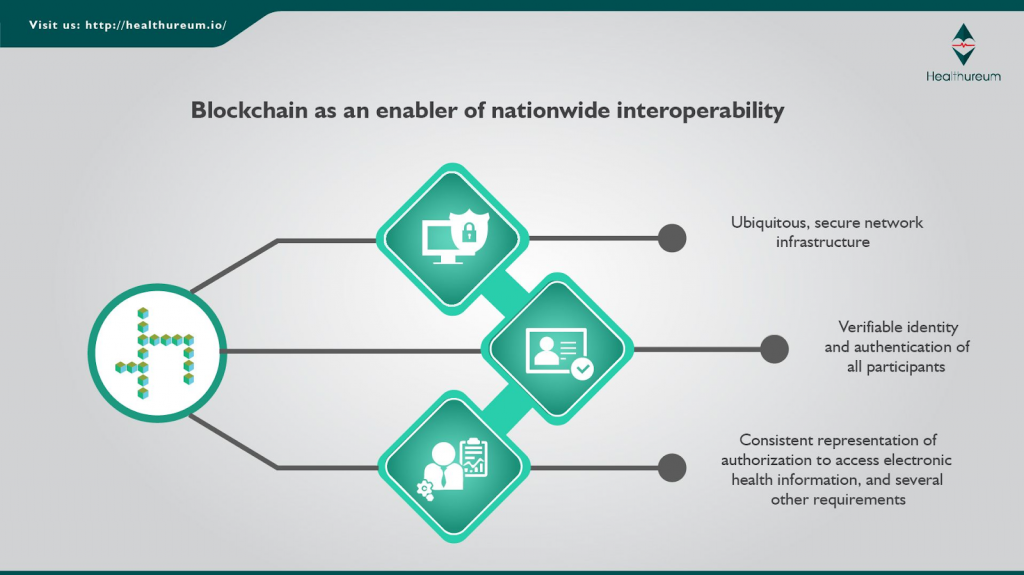 Key potential blockchain use cases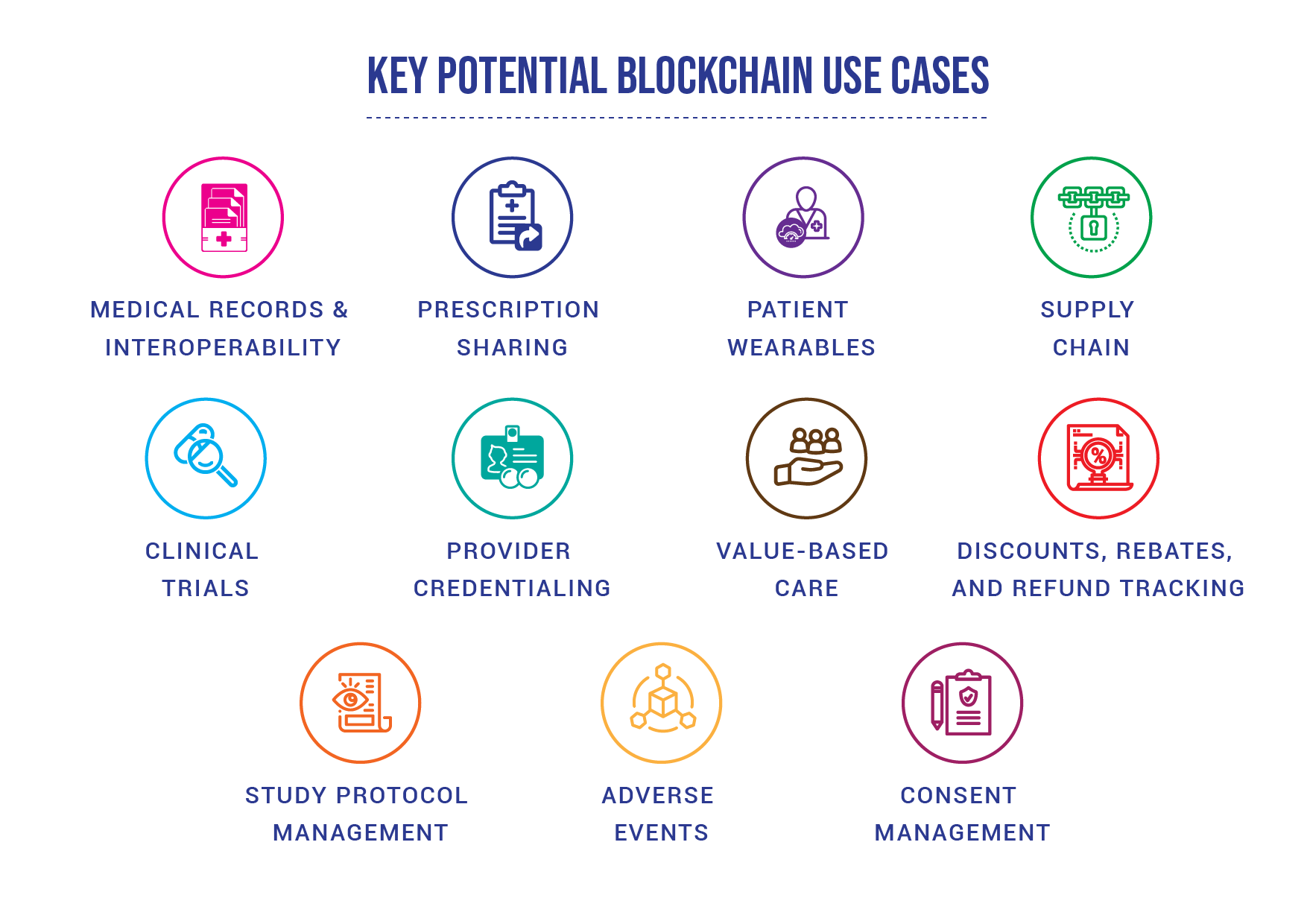 Medical records and interoperability
A patient's medical history that is spread across providers, payers, etc., could be centralized in a blockchain, where the patient has visibility and control over their medical record. Providers, patients, insurers could see the relevant health information needed for enhanced patient care and experience.
A patient could provide consent to have personal prescriptions tracked and operated on the blockchain to improve transparency and data validation.
A connected device that broadcasts patient information could offer a real-time, scalable solution for monitoring and treating patient outcomes.
Blockchain supply chain recording could begin at the manufacturer, undergo updates by intermediaries, and be authenticated by the buyer.
The tracking and reporting of results could be directed to a blockchain to improve the efficiency of drug development.
Credentialing organizations could accrue data to the blockchain ledger and make it available to other organizations, potentially expediting the provider credentialing process.
Tracking a patient's episode of care and related medical events on a blockchain could be used to determine quality of care over time.
Discounts, rebates, and refund tracking
Blockchain could be used to help clear and settle transactions between drug manufacturers and intermediaries to track financial rebates and other incentives tied to drugs.
Study protocol management
The complete history of changes could be immutably tracked through blockchain to enforce controls and streamline adherence.
A blockchain solution could enable an incubation group of companies to securely share adverse events data, permissioned such that only contributing members could view others' data.
A blockchain solution could manage and track informed consent across multiple sites, systems, and protocols. The consent and use could be tracked forward in research.
Implementation challenges and considerations
Blockchain technology presents numerous opportunities for health care; however, it is not fully mature today nor a panacea that can be immediately applied. Several technical, organizational, and behavioral economics challenges must be addressed before a healthcare blockchain can be adopted by organizations nationwide.
Shaping the Blockchain future
Blockchain technology creates unique opportunities to reduce complexity, enable trustless collaboration, and create secure and immutable information. HHS is right to track this rapidly evolving field to identify trends and sense areas where government support may be needed for the technology to realize its full potential in health care. To shape blockchain's future, HHS should consider mapping and convening the blockchain ecosystem, establishing a blockchain framework to coordinate early-adopters, and supporting a consortium for dialogue and discovery.​