E-wallet is an electronic digital card that provides users with the ability to make transactions through online medium via various digital devices. E-wallets are more commonly used today because the need and demand for it has increased faster in the digital market. E-wallets allow users to monitor and control transactions in real-time with security and privacy. This is why you need you to develop e-wallet mobile app today. 
E-wallet app development cost depends upon the features developed, the quality of the development process, customer support provided, etc. In order to understand the e-wallet app development cost, first you must understand how an e-wallet operates. 
Understanding The Functionality of e-Wallet Mobile App
The two important components that every e-wallet development company should focus on is the protection of data and software behind every function. The software part is responsible for providing and enhancing the security of the data stored with appropriate encryption. Further, some of the commonly used encryption methods are SSL, Caesar Cipher, TLS, etc. The information part is responsible for storing data such as customer demographics, bank account details, etc. 
On successful installation of the e-wallet mobile app on the user's device, they have to provide all necessary and relevant details required by the e-wallet. When a user wants to purchase something online using e-wallet, their digital account details will be automatically filled. This is accomplished using the information provided by the user that had been stored during registration. Users must, also, be able to use the relevant security password or biometric  scan created for them in their device to make digital payments instantly.  
Important Features That Contribute The e-wallet Mobile App Development Cost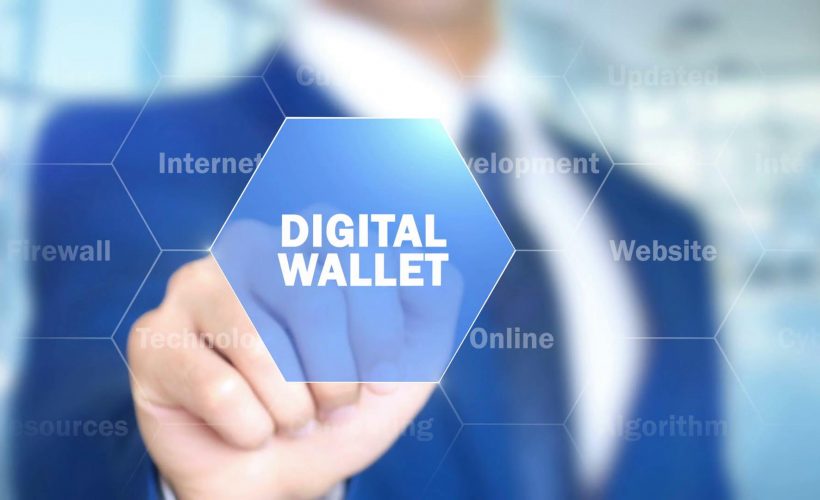 Features That Are Focused On The User 
Registration features 
The process of registration must be simple, easily understandable and convenient for the user. Allow users to register themselves using phone numbers, social media accounts or bank accounts. 
Linking and authorizing bank accounts 
Users must be able to link their bank account with your e-wallet either through Unified Payment Interface (UPI). They should also be able to conveniently add their bank account details  to one of the payment options. 
Adding money to the e-wallet mobile app
Provide accessibility to users for successfully completing different kinds of transactions as per their requirement. These transactions include adding money to their e-wallet through their own bank accounts, receive money from other bank accounts or from e-wallets of other users. 
View transaction history 
Enable users to track completed financial transactions, view past history transactions with ease. To accomplish ease of viewing transaction history, develop various filtering features. These filters must comprise of filtering transactions based on date, day, time, month, year, category of transaction, etc. 
Features That Are Focused On The Administration 
Analytical Dashboard
Provide a single dashboard to the admins to visually display every data and information stored in the e-wallet. This will help the admin to use data analytics to analyze the behavior of users. This also helps them in generating appropriate monthly reports regarding a particular user's transaction per month. This dashboard should also contain features such as notifications, alerts and reminders.
User management 
Admins must be able to monitor and control transactions in real-time to ensure that safety and security. By allowing transactions to pass through a payment gateway, admins can protect user's data against DDOS attacks or any other such digital threats and thefts. 
e-wallet mobile app control 
This is one of the important  features that administration should have. Admins must be able to add a user  remove or block user accordingly. This supports the e-wallet app to be maintained with privacy. Admins must also be able to authorize and unauthorize transactions to ensure that there is no fraudulent activity within the e-wallet app. 
Additional Features That Add More Value To The e-Wallet
Syncing data 
The e-wallet that you develop must be well-performing and seamlessly integrate users bank account details with appropriate features in your e-wallet. This ensures efficiency of your e-wallet too. Data sync helps in communication of data between e-wallets and the bank service provider.
Global Positioning System (GPS) 
Location-based tracking features is one of the important to-be-developed features. This is because today, many service-based businesses use geo-fencing and GPS features will come in handy in such circumstances. Users will be able to locate nearby shops that accept your e-wallet as a payment option. 
In-app camera 
Develop camera functionality too as it will support two important actions. One is to send receipts and bills. Second is to scar QR codes and make payments instantly without the need to carry a wallet. 
Trending Features You Can Incorporate in An e-Wallet Mobile App 
Beacon technology 
Use the wireless transmitting technology such as bluetooth to complete transactions and payments between users within close proximity. The devices of users close to each other will acts a beacon to make payments.
QR code 
Provide cashless and contactless payment approach to the users through QR code scanning. Making payments this way generally work by scanning a QR code displayed by the users or merchants through the e-wallet app.
Blockchain payments 
Blockchain technology provides the means to make transactions securely, faster and also the processing fee for using blockchain services is very low. This is due to the decentralized operating system of blockchain. 
Passbook statements 
Viewing, controlling and monitoring transactions can be accessed through the passbook. Passbook provides transactions statements on a monthly basis or a customized periodical basis. 
Encryption of Secure Element (SE) 
Safety and privacy of transactions can be ensured by integrating the e-wallet security features with the embedded secure element functionalities. These secure element chips are typically in-built with every smart device. 
Cost of Developing e-Wallet Apps 
Following is the approximate cost incurred in developing an e-wallet mobile app based on the platform. 
| | |
| --- | --- |
| Platform | Cost |
| iOS  | USD 28k + |
| Windows  | USD 18k + |
| Android  | USD 23k + |
 Following is the cost charged at each stage of development of an e-wallet mobile app.
| | |
| --- | --- |
| Development Stage  | Cost  |
| UI/UX Design | USD 30k to USD 42k + |
| Coding | USD 37k to USD 90k + |
| Testing | USD 12k to USD 18k + |
Time taken at each of the above mentioned developing stages is as follows. 
| | |
| --- | --- |
| Development Stage  | Time Taken |
| UI/UX Design | 200 to 280 hours  |
| Coding | 250 to 600 hours  |
| Testing | 80 to 120 hours  |
Conclusion: E-wallet Apps Making Banking Services More Trustworthy And Convenient 
E-wallet apps are safer than browsers as they protect data with biometric scans and two-factor authentications. Developing e-wallets automates the form filling of online shopping and encourages faster checkout of orders. Most of all, it allows users to use e-wallets as a one-stop platform to secure and sync all bank details in one device for multiple purposes. 
Encourage users to say goodbye to debit, credit cards and instead let them pay on-the-go with e-wallets. Are you looking for software development companies in Chicago to build your own e-Wallet Mobile App? We are just a click way. Get in touch with us to get a free quotation.