Blockchain Applications: 10 Killer Ideas You Can Do (2020)
In 2008, a person or group of people called Satoshi Nakamoto came up with the whitepaper explaining Blockchain and Bitcoin. Blockchain is disrupting technology and it has now become a buzzword due to the endless advancements in this technology. People have started using Blockchain technology with other technologies like IOT, AI, Extended reality and game development for creating useful applications. Blockchain technology could be the next important technology after the Internet. You will be surprised to know that several businesses use different applications of Blockchain to transform their traditional business models. This blog will help you get the best Blockchain app ideas to create new opportunities for making your business grow.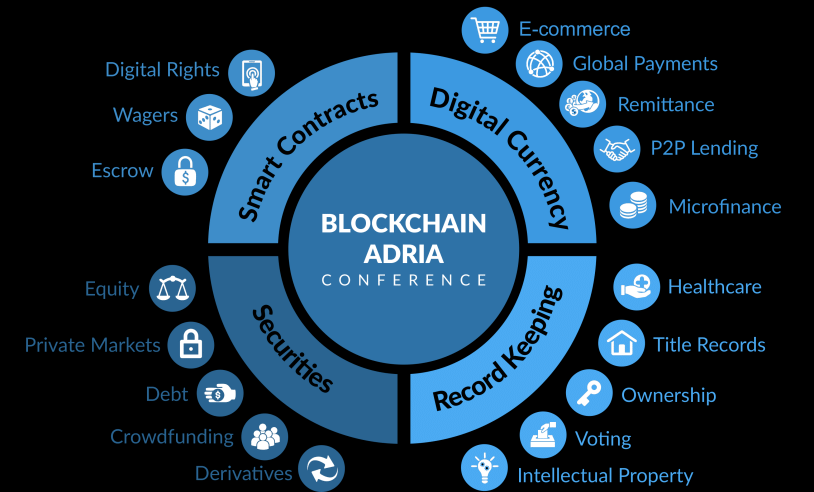 Why Blockchain technology has become such an important topic for people?
According to a recent research, a global Blockchain market would see a huge rise and it would be worth around $20 billion industry by the year 2027. Blockchain technology has opened various doors for all of us by transforming the way in which we operate businesses.
According to a survey conducted by McKinsey, people are spending a huge amount of money on Blockchain technology. Entrepreneurs all over the world are looking for great Blockchain app ideas 2020 to enjoy the business benefits. For example in 2018, people spent around billions of dollars for Blockchain-based applications. Also in 2019, the amount spent is around $2.9 billion that will turn to $12.4 billion by 2022. Companies like IBM have invested a huge amount of money for Blockchain-based solutions in the IOT industry and have been enjoying the amazing benefits already.
Also, various developing countries believe that Blockchain would give them a competitive advantage over others. If we look into a study done by Tata communications, it has been shown that many developing countries would make use of the latest technologies like IOT, Blockchain, and AI for simplifying peer-to-peer and B2B transactions. Various business leaders in countries like India, Saudi Arabia, and the UAE are convinced with the idea of integrating Blockchain into their infrastructure.
Here are some reasons why Blockchain has become an important topic.
It records and validates all the transactions and hence it is very secure and reliable.
It does not need any third party for confirming or approving the transactions.
Various users are in control of all the transactions and information.
It has features like accuracy, timeliness, consistency, and completeness.
This technology ensures greater transparency.
Blockchain reduces the transaction times.
It is a decentralized system; hence it is very less prone to hacking.
Blockchain technology has huge potential and it could be used in various industries where data is needed to be secured. Various industries that are affected by Blockchain are:
Healthcare Industry
Blockchain is used to provide transparency and automation of all the data transfer. This technology can be used for healthcare for storing and updating important patient data and track records. Doctors can monitor the patients 24×7 and alert the nurses or caretakers in case of emergency.
Even the pharmaceutical companies can use Blockchain platform to collect the data in real-time, and offer customized medical products and treatments to the patients.
Third party systems can be integrated with Blockchain technology to create useful healthcare apps.
Digital Identity of passports
Blockchain technology can transform the future of passport or visa verification. This tamper-proof technological innovation can reduce the paperwork and counterfeit all fake IDs
Using Blockchain, the data can be encoded and it can be accessed with the help of unique fingerprint scanning. Digital passports and visas generated by Blockchain can help to reduce the dangers of criminals and terrorists creating fake documents.
Government can save time, efforts, and money by identifying and preventing fraudulent activities using Blockchain apps.
Voting systems
Voting security is a highly debated topic. With Blockchain, a secure system for voting can be created.
Blockchain technology ensures transparency in voting processes. Fraud and corruption can be prevented with the help of Blockchain for voting.
It can prevent any kind of manipulations and fraudulent activities for voting.
Smart contracts can be used to automate the transactions without the need for any third party application.
They can be used for simplifying monetary transactions.
Smart contracts help businesses build direct and transparent relationships with customers.
Agreements can be automatically executed and enforced using Smart Contracts. Such agreements are immutable and unbreakable.
All contract transactions are stored in chronological order in Blockchain. They can be accessed with a complete audit trail.
IOT or internet of things.
It has a huge ability to secure IOT applications since all transactions would take place in a Blockchain network.
Blockchain offers a scalable decentralized environment for IoT devices and platforms.
Integrating Blockchain in IoT devices can help you save costs on installing and managing servers for IoT network. It also ensures the security and confidentiality of data.
Agreements can be automatically executed and enforced using Smart Contracts. Such agreements are immutable and unbreakable.
All contract transactions are stored in chronological order in Blockchain. They can be accessed with a complete audit trail.
For many people, various questions would be coming in mind. Don't worry, we have answers to your questions.
How blockchain could be used in businesses?
Various companies have started using Blockchain technology and they are finding trying to look for the best Blockchain app ideas 2020 to transform their existing processes. Blockchain technology can help to streamline the processes and ensure the security of the data. It would help them to create an advantage and stay competitive in the industry. Blockchain has the potential to revolutionize the whole business or a few sectors within an organization. Many companies are still scratching their heads wondering about various applications of Blockchain. Do some research and look out for the latest Blockchain mobile app ideas for your business.
Who will gain the maximum benefits from Blockchain technology?
Blockchain and its application is a trending topic on the internet. With the development of the Ethereum platform, many companies have begun to develop decentralized applications on the Ethereum platform. A lot of business owners have started to use Blockchain as it has the potential to establish efficient methods for secure transactions. Blockchain can benefit various industries like banks, Voting, real estate, retail, Healthcare and many more as discussed above.
How is the future of blockchain technology for different businesses?
Many people remember the world before emails, smartphones, and the internet. The Internet has proved to be a revolutionary technology since the last few decaces. Similarly, Blockchain would revolutionize if it comes into implementation since it is all about decentralization and centralization processes. It makes things more transparent and people can get real-time insights for money matters.
What are new types of businesses which will emerge with Blockchain technology?
Blockchain could bring various drastic changes. There will be an application but fully decentralized. Various industries such as banks and many more would look for the best Blockchain companies for transforming their Blockchain app ideas to a reality. Whether you want to prevent fraudulent claims for insurance or wish to make global payments less error-prone for banks, Blockchain technology can be the right fit. Supply chain industry can use sensors to get accurate data on location and condition of the supplies. Blockchain can also help healthcare providers to store and encode the patients' data and deliver better treatments. Blockchain and smart contracts technology can help to protect the rights and ownership for the music industry. Blockchain can also facilitate