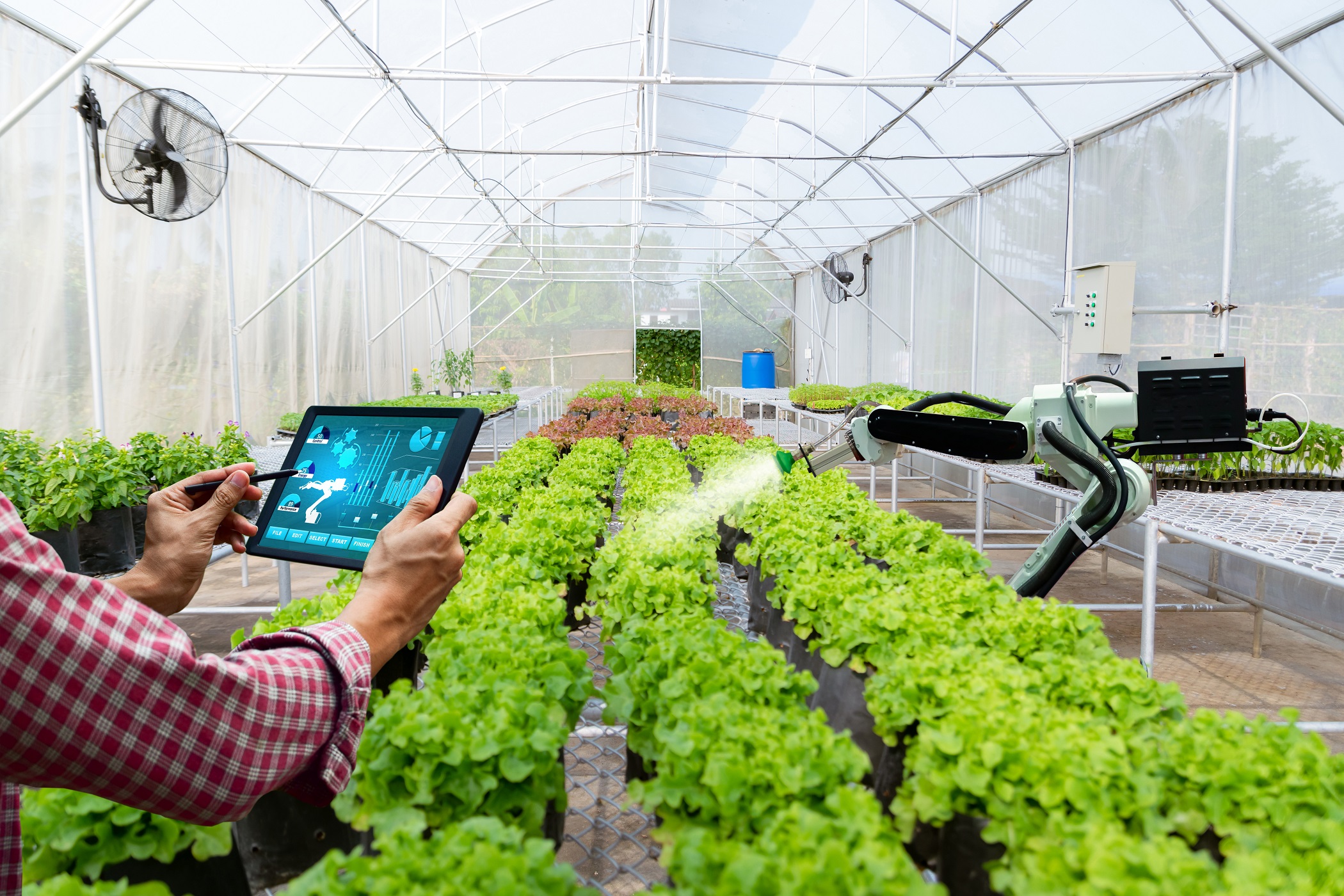 Now, you can know where your food comes from by the use of Blockchain; a technology that has shaken the Agricultural industry of the 21st Century. Blockchain is an emerging technology that not only conforms to cryptocurrency. But it has made swooping changes in the agricultural sector. Here's the answer to all your questions.
What is Blockchain?
Blockchain is a ledger of accounts and transactions stored by all participants in a network. Blockchain is built on Distributed Ledger Technology (DLT), allowing any kind of information to be recorded and shared among the participants in a network. Any alterations made on the blockchain must be approved by all the users in the Peer-to-Peer Network. 
Blockchain technology eliminates the need for middlemen in transactions resulting in transparency; data is accessible by all users. It also allows users to create their own digital identity, which can ease their trouble in providing financial services, social benefits, healthcare, political and legal rights and many more. 
Because of Blockchain's unique characteristics and the perks it provides, many companies of different sectors now increasingly demand Blockchain technology to be implemented in their services. 
Blending Blockchain in Agriculture Sector
One such sector is the Agricultural industry. It is said that 6.7% of the economical production of the world is represented by agriculture, and nearly 40% of the world's population is engaged in the agricultural economy. 
However, in developing countries, the agricultural sector is still lacking and confines conventional methods of agriculture from producing crops until the shelving of products in stores. 
Some of the promising benefits over the years that have been observed by implementing Blockchain are:
 Agricultural Insurance:

The process of validating claims by insurance providers are complicated and painstakingly long. Moreover, the risk of corruption and alteration of insurance policies are some limitations that farmers are apprehensive about. The introduction of smart contracts from Blockchain eliminates these risks making it simpler, faster and transparent.

Land legitimacy:

Blockchain technology is famous in the real estate business. In the same way, implementation of Blockchain for land records linked to ID can be proved without having to take trips to government offices, especially after incidents of natural disasters or wars.

Agricultural supply chains:

Blockchain can assist in providing an immutable record from the initial stages of crop growth and processing to the retail store of a product. This can elevate the consumer's trust in the products that they buy.

Traceability: Blockchain enables companies to track their products and see where they have been disbursed. In the process of tracking unsafe products, the data stored through the use of Blockchain makes it easier to locate their products. It has been claimed that, with the help of the Blockchain system, we can now trace the path of food from farm to the stores in just a few seconds. 
Goods Management

: Almost all the companies face the issues of data management, delay in payments etc. However, with the use of Blockchain Technology, they are able to keep track of organized data which is incorruptible.

E-Marketplace Creation:

Producers may not know the market and trending prices or which areas have the most larger number of customers. Thus, it creates a digital market for producers to connect them directly to their buyers. 
The knowledge of financial transactions, farm inputs, demands of crops in the market, market-rate supply chain land holding etc. can be procured and analysed from Blockchain-based platforms. 
Access to Capital:

Small scale farmers, shareholders, might find it difficult to procure loans for start-up businesses because of limitations like credit history, land ownership and so on. 
However, Blockchain provides investment tokens and funds for their business to pay for raw materials and machinery. 
Food safety:

As consumers take precautionary measures, producers can provide a number of information through data that is stored. It gives out the info of quality and what goes into their food, ensuring quality. It also monitors storage conditions. 

Environmental sustainability:

All industries related to producing commodities are concerned with the number of toxic substances that their industries release.
Policies are also tailored, keeping in mind the environmental sustainability. The crucial problem here is the degradation of land, soil and water where food is being produced.
In this context, the sustainable development, proper management and rational use of agricultural fields, water resources and soils are of utmost importance. Tracing this information via the supply chain, making it visible to the public, is essential for putting public pressure to producers and policy-makers on the aspect of how the food is produced in a sustainable manner.
FUN FACT: 'Plastic Bank' based in Canada has been successfully set up for developing countries producing wastes. With every batch of plastic brought to recycle, they are awarded Blockchain digital tokens.
Subsidiary Disbursement:

Agricultural-driven countries can have access to all information regarding financial help distributed under Government schemes. It ensures transparency on the correct and uncorrupted distribution of capital. 
In addition, the application of Blockchain results in:
Simplified stages of the supply chain from farmland to store shelf

Informed consumers who are aware and satisfied

Decreased dependency on intermediaries or agencies

Elimination of fraud and promoting an inclusive trade

Improved quality of products

Lesser risks of food-borne diseases
If you're still perplexed of how Blockchain takes place in the agricultural sector, or driven by curiosity, explained below are the stages of the mechanism of Blockchain in Agriculture:
Data storing:

Smart farming has enabled farmers to use IoT sensors and devices to track the temperature, water level, soil quality and other factors that affect the growth of crops. This information gathered is then structured to make it comprehensive. 

Value Data:

before updating the collected information into Blockchains, more value and quality is added to the information in two ways: adding timestamps and demographics. Secondly, the product information is made sure that it follows strict security measures.

Insightful Information:

To add more value, with the help of algorithms, the quality of the crop, identification and demand predictions in the market are made. In this way, farmers and stakeholders can make decisions to improve their irrigation system. All of this information is transparent for growers, producers, service producers and retailers. 

 

Interplanetary File System(IPFS)

: the data is then stored in a distributed platform called IPFS and is stored in a blockchain. It then produces a smart contract which includes rules to facilitate storage of data, and it's accessibility to the participants in the system.
Blockchain in Food Supply Chain
Data storage:

Above, we have learned the process of how food is grown and under what conditions.

 

Distribution: the food processing companies now on the bidding platform. After this is validated, the food is transported to refineries in IoT enabled vehicles where the required storage temperature is maintained. Every process that takes place in the refineries is recorded, ensuring retailers to give out the proper information on the quality of products.

 

Supplying

: Supply of processed food is then again, transported in IoT enabled vehicles.

Consumers

can now procure information by scanning the QR code like the batch number, data on food processing, expiry date, price, etc. 
Platforms applying Blockchain Technology for Agriculture and supply chain. 
AgUnity

provides solutions to digital identity and financial inclusivity to empower poor farmers. The AgUnity App helps small farmers plan, trade and track everyday transactions. By using Blockchain, AgUnity ensures that all transactions users and clients are securely recorded on an incorruptible Blockchain ledger. The AgUnity app provides people living in remote areas accessible tools to connect with each other and establish effective lines of communication trade.

FARMS ( Financial and Agricultural Risk Management for Small Holders)

is based on the concept of Blockchain virtual currency platform, ensuring transparent transactions. One speciality is that farmers can buy digital currency and add it into their virtual wallets. They can redeem or withdraw these vouchers and coins. 

AgriDigital

is digitizing and growing grain supply chains connecting farmers, buyers, investors through a single platform, allowing them to contract, deliver and make payments securely and in real-time.

BanQu

is another Blockchain platform for agriculture that allows farmers to use their smartphones to record their personal information and transaction history. Furthermore, these digital identities can be used to apply for credit while they search for financial aid in the future.  

Hello Tractor

connects tractor owners to smallholder farmers in need of tractor services. 

TE-FOOD

provides backtracking of product serialization to the information of custom protocols carried out to the consumers building trust between the producers and the consumers.
Despite its initial development, Blockchain has a growing impact on different sectors replacing many financial institutions, banks, education, health care system, educational system and above all, as discussed, it has significantly brought changes in the dimension of agriculture. It has brought Transparency, security, providing streamlined operations, a greater degree of analytics and a more efficient consumer engagement. 
Consumer safety is ensured as Blockchain technology unfolds unique transformations in ensuring quality-controlled food, providing storage conditions and also empowered many farmers to be insured. One of the most important features it brings is environmental sustainability which is the need of the hour. 
The use of data is the crux to improve productivity and sustainability as people can track the progress of crop growth according to the environmental conditions and needs. Blockchain has also reduced the need for agents who deducts 5-10℅ of brokerage fee and also has reduced the trouble to trace the delivery of their products to stores. 
Blockchain has empowered many small-scale farmers to elevate themselves as there's no hassle to find brokers and allows them to effectively connect to their consumers and retailers. 
Also, farmers can have access to data related to seed and soil quality, pH level, payments, demands, and efficiently supply their products with fair pricing, which was once controlled by big MNCs. 
Although it may seem like a cake and ale task to do, Blockchain technology has a long way to go parallel to the developing countries. Because not all, farmers are smartphone-literate in the third world. The apprehension, because of the cost of implementing Blockchain, has created doubt among farmers. But all it takes is a bit of education, a zeal to innovate and a bigger scope in life. Nevertheless, Blockchain has provided promising results and innovatively changed different sectors.