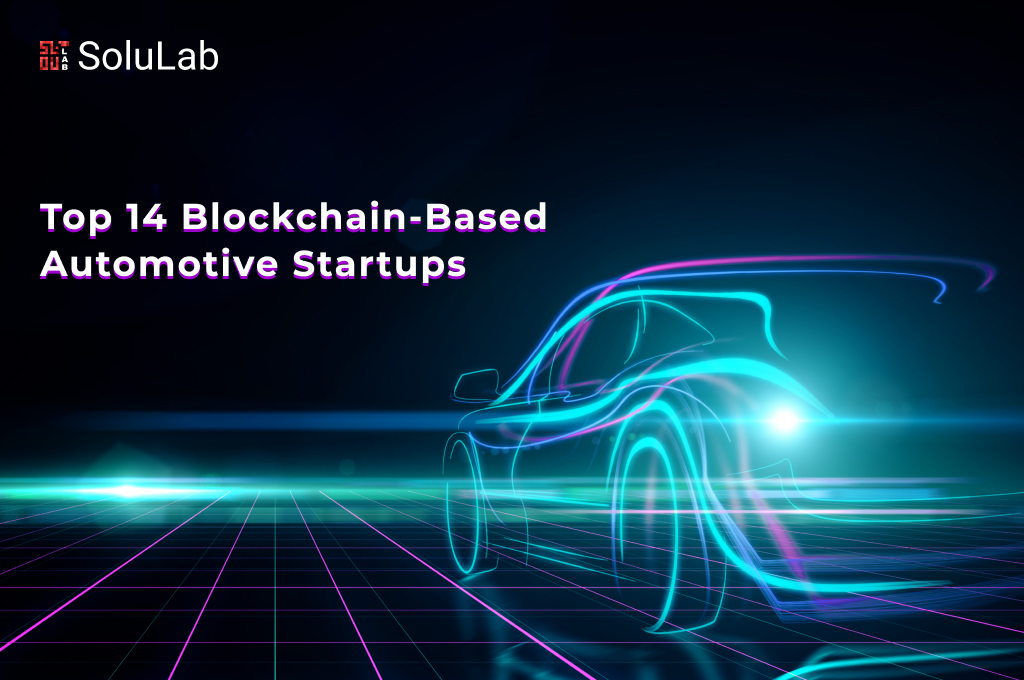 The use of blockchain technology has spread into industries of all niches & genres, and the automotive industry is not an exception. The automotive industry has embraced blockchain technology to leverage its potential to the fullest and enjoy the benefits it offers. The integration of blockchain technology offers multiple benefits to the automotive industry starting from payments and easy-to-track operations to tamper-proof transactions, along with a number of others. It is precisely the reason why we see an increasing demand for blockchain development services in the automotive industry.
The rising rate of adoption of blockchain technology in the automotive industry has resulted in increasing the demand for blockchain services. To cope with the increasing demand for the same. A huge number of blockchain-based startups have formed to serve the automotive industry with great zeal. To help you gain a better idea about the startups, here we have prepared a list of the top 14 members.
1.  PARKGENE

PARKGENE purports to make the parking experience easier and more affordable. It uses the blockchain to circumnavigate fee-sucking centralized services — the owner of a parking space and the driver alike can make out with more cash in their pockets. They aim to do this by utilizing short-term and long-term parking spot rental contracts that automatically pay out using smart contracts.
2.  CarVertical

CarVertical is attempting to make CARFAX a thing of the past by building a more detailed, trustworthy vehicle registry on blockchain technology. They acquire information from private and national registries, as well as from onboard diagnostic devices to ensure that information is abundant and trusted.
3.  Helbiz
Helbiz began by deploying their electric shared service – made up of e-scooters, e-bikes, and e-mopeds – worldwide, solving the problem of the first and last mile in town. Helbiz is a car rental service built with ease of access in mind. You can browse their fleet of electric vehicles on their platform, which informs users of vehicles available in their area. The app then lets users unlock the car, and the push-to-start feature of Helbiz's vehicles means users can simply get in and go. The blockchain automatically handles payments when the trip is complete.
4.  AMO

AMO Labs is the team behind the car data blockchain infrastructure project, AMO is a blockchain-connected database that curates and optimizes vehicle data while simultaneously granting the user control of which information they provide to the platform. This concept is a way for individuals to make money from all the driving they're going to be doing anyway. Data provided with owner consent can be traded or purchased by anyone who wants it. 
5.  VINchain

VINchain is a decentralized marketplace for trustworthy vehicle data. Their global database is centered on data authenticity and transparency, two aspects that are made more possible by blockchain. Users can implement vehicle tracking data to put more-accurate information in the database and be rewarded via VINchain tokens. The goal of VINchain is to eliminate falsified, incomplete data from the process of buying a used car.
6.  Mass Vehicle Ledger (MVL)

MVL is a new incentive-based blockchain mobility ecosystem. It records key data such as transactions, movements, accidents, and maintenance of people and vehicles in many fields, connecting them together in a single ecosystem.
Participants in the MVL ecosystem will be able to enjoy various benefits according to their MVL point level and be able to exchange MVL points for MVL coins as well.
7.  SHIFT Mobility Inc.

SHIFTMobility's Automotive Blockchain Platform offers connected services to seamlessly integrate data from vehicles, repair shops, parts suppliers, and manufacturers into innovative mobile solutions and communication hubs.
8.  Gluon

Gluon brings the entire automotive and mobility ecosystem to your fingertips. Gluon's technology platform brings the power of Cloud, IoT, and Advanced Analytics to establish an interconnected network of vehicles, fuel stations, and auto parts where individuals and businesses can monitor, track and diagnose their vehicles, and understand and buy cost-effective parts all using their mobile devices. 
9.  ARxIUM

ARxIUM delivers best-in-class technology and unparalleled expertise focused on helping pharmacies of all sizes and types improve safety, productivity, and efficiency. It provides comprehensive and scalable pharmacy solutions for every segment of the pharmacy market – health systems, long-term care, retail, and central fill – designed with category-leading automation hardware and workflow software, and supported by unmatched industry knowledge.
10.  Cube Intelligence

CUBE, Autonomous Vehicles Security Platform based on Blockchain. Autonomous cars rely heavily on wireless communication techniques, such as vehicle-to-vehicle, navigation route information, GPS, and other driving data. Autonomous cars continuously communicate with various sites to remotely monitor their internal and outside states. These various network accesses increase the risk of malicious attacks on autonomous vehicles. Cube solves the problem of these autonomous vehicles' security by using blockchain technologies, AI-based deep learning, and quantum hash cryptography.
11.  BigchainDB
BigChainDB – Develops an ownership transfer service called CarPass in an effort to centralize all information about a vehicle to fight fraud. The pass includes title, service providers, prior damage, maintenance, and inspection history.
12.  DAV

DAV is building a decentralized infrastructure to revolutionize the transportation industry on the blockchain . DAV's protocol allows anyone to utilize transportation services or put their own manned or autonomous vehicles on the network, creating a decentralized peer-to-peer transportation ecosystem.
13.  Second State

Second State builds the next generation open source "operating system" for the cloud, automobiles, and the decentralized web. The WasmEdge is high-performance universal runtime for edge computing. It allows 3rd party serverless functions to run on automobiles, SaaS, and the edge cloud. 
14. Elocity

Elocity is transforming the transportation electrification journey for electric utilities, cities, and businesses. With their smart and intuitive technology, we provide tools to our customers for managed EV charging while supporting national and local ambitions for cleaner and sustainable energy systems and helping in decarbonizing the grid.
Conclusion
After going through the list, the picture becomes much clearer about the top-performing blockchain-based startups in the automotive industry. The integration of blockchain technology can have far-reaching effects in the industry and overcome a lot of challenges previously existing. However, the fullest potential of blockchain technology has not yet been utilized, but it is certainly expected in the time to come. With the evolution or advancement of blockchain technology over time, it is quite certain to transform the automotive industry to a great extent.