What is the secret sauce to rule the market and win customers with popular food delivery apps like the Deliveroo, GrubHub or Postmates? In order to go for online food ordering app development that results in maximum customer satisfaction, you must delve deeper into the details about what the customers need from your app. The winning factor of a mobile application lies in the research. A company can use the findings to establish its brand in today's competitive market.
So, if you are thinking of developing a food ordering app, knowing your customers is very crucial. What are the expectations of customers? Why do they choose food apps?
Need for Food Ordering App Development
As per Statista, the on-demand food delivery market will show an annual growth rate of 17.7% resulting in the market volume of a whopping $234,206 million in 2022.
Also, if we have to talk about the largest segment of food delivery, it is 'Online Takeaway' with a market sizeof $110,044 million in 2018.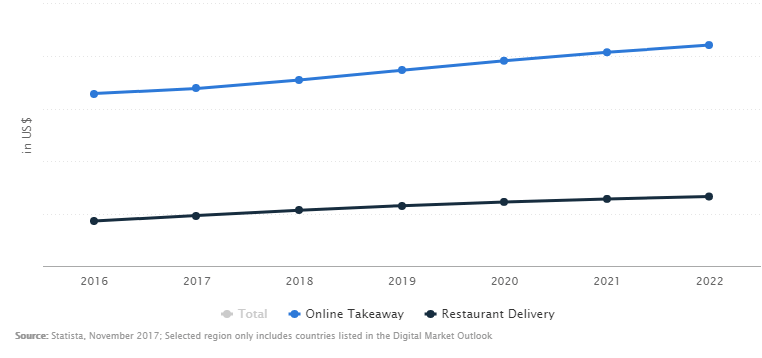 The food delivery market has an immense potential for robust growth. Besides, there are never-ending opportunities if startups and entrepreneurs are planning to invest in food delivery apps. But, let us know what customers need from such apps.
What Customers Expect From Your Food Delivery App?
The face of any business comprises of how you meet the expectations of the customers in an efficient way. The right on-demand food ordering app solution is what customers need the most. So, any food app development company must have the right food delivery app so that consumers can connect with restaurants and food outlets at any time.
Further, below are the expectations of users from an online food delivery app which also impacts  the success of any online food ordering app development company.
A simple user interface
An easy to use and simple user interface for users to browse through everything is what they want. Customers wish to see what you have in the restaurant, make online payments and place online orders that drive their appetite.
A simple user profile with the ability to login and maintain an account is a mandatory part of an app. Users should also be able to access the list restaurant of restaurants. Moreover, every user will like to save their favorite restaurants or dishes for easier access.
In fact, even chatbots with a user-friendly UI can make it easier for customers to place orders or clear any doubts. These are computer programs which behave just like human beings. Customers can have conversations with chatbots to get a solution to basic queries like giving answers for FAQs. They can actually make the lives of customers easier by answering basic questions instead of being an answering machine.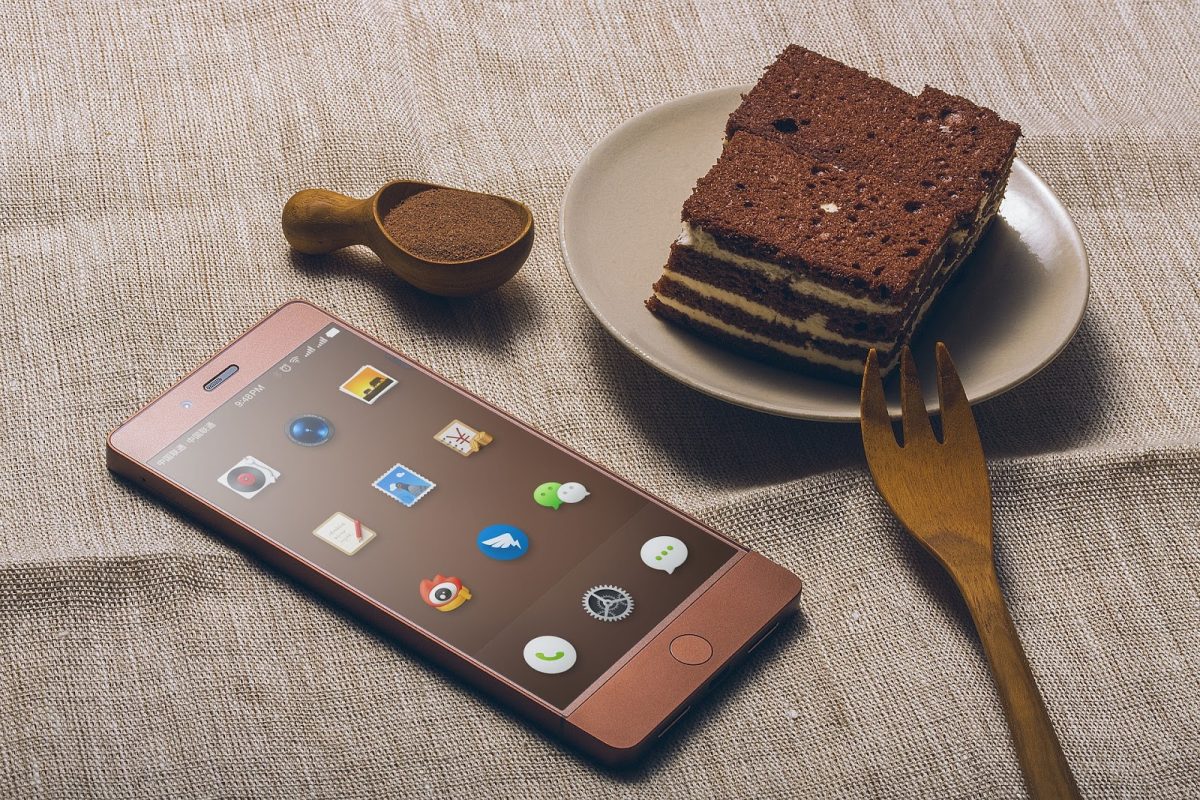 Today, any restaurant app development company has access to APIs, plugins, and other features that can improve the approach-ability of their app. For instance, iOS developers can make use of Siri to allow users to control the app with their voice. Even Android developers can use inbuilt features like GPS and Bluetooth to place their orders or locate the restaurants. Customers can share the reviews of the food even via messages in an animated and stylish way that can appeal the recipients. Besides, the emoji feature can make communication more personal and vibrant.
Easy placement of orders
Easy order placement is one of the basic features that every customer expects from a food delivery app. Apps must be able to get rid of the various issues that arise while placing orders via a phone call. A full updated version of a digital menu card will also let the customers know what types of cuisine a restaurant is offering. This will help them place orders in a faster manner. Customers don't need to waste time asking the restaurants about what they are offering.
Reservation – advance table booking
Customers always want a table reservation option for their favourite restaurants. Whether it is high-end eatery or a small restaurant, they must not find it difficult to get a table at walk-in. Not getting a table at the right time can make users feel frustrated and embarrassed.  Thus, the long waits to get a table must never be there. In fact, advanced reservation booking gives them an opportunity to plan their evening well. Moreover, it's also beneficial for potential diners to consider the wait time and get themselves on the list.
Geo-location map facility
A geo-location map feature is the most important part of a food delivery app. When customers want to identify their favourite restaurants to order food, this technology can help to notify app users when they are near the restaurant. Also, it can help in persuading them with in-app messages about various special offers and discounts.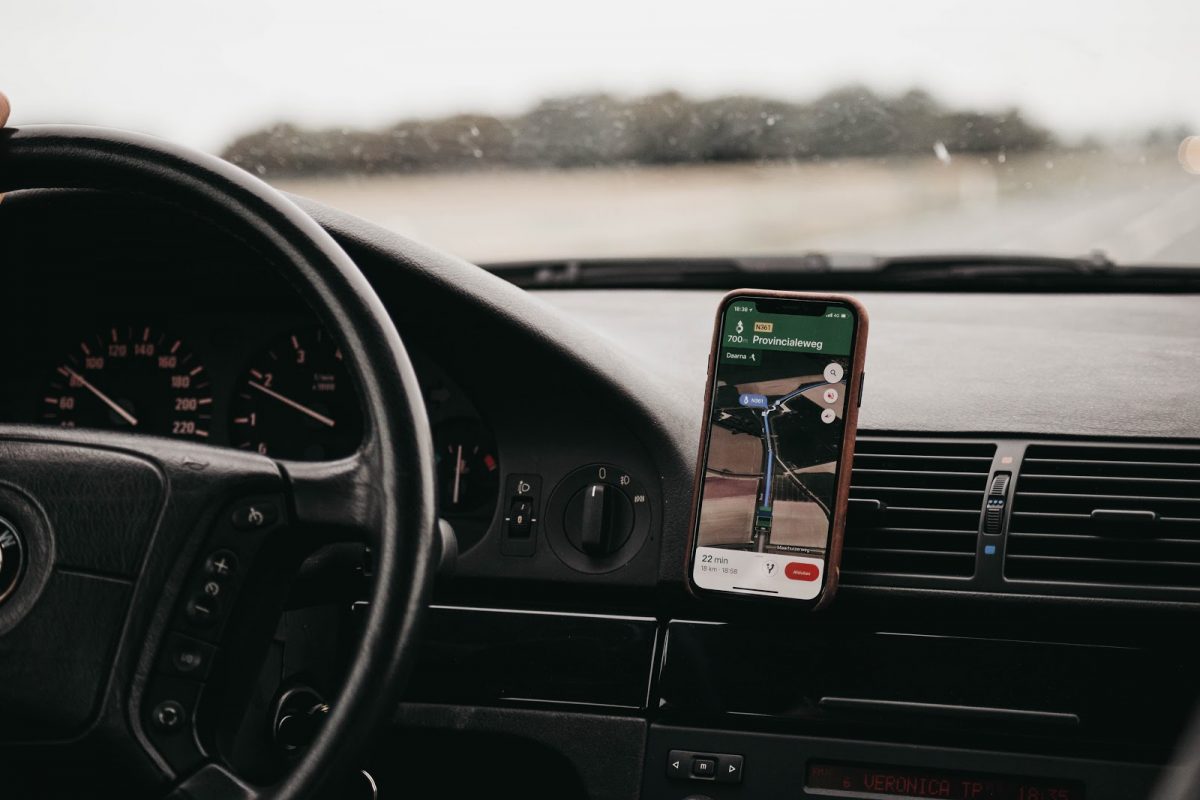 Apart from this, location-based services like beacons and geo-fencing have benefitted top restaurant brands like anything. Brands like the McDonalds have benefitted a lot by including beacons in their restaurants. Also, restaurants can attract customers through apps like Bookatable. They are now able to engage with potential customers, even before customers step into the restaurants.
Loyalty referral programs
One might argue that the food and the ambience of a restaurant are the only driving forces for getting customers for a lifetime. But, what is that forces a customer to return? Of course, loyalty referral and reward programs. They are the keys to a loyalist customer base. Also, customers want everything to be convenient. So, your food ordering app must store every detail of the customer. This includes their order history, food preferences and favourite lists of restaurants.
Moreover, the loyalty programs should be able to give the frequent customers some added value. The rewards can be anything from a  free meal to cheap movie tickets. Meal deals and vouchers can also serve the purpose as consumers can redeem mobile vouchers at restaurants. Thus, loyalty reward programs suitable for your brand image will be very beneficial for your company.
Easy options for payment
Which is the part of the food ordering process that customers dread the most? The payment option.
According to a survey conducted by Statista, 42% of the online shoppers worldwide say that they prefer to pay via credit card. Also, 39% of the online payment users prefer electronic payment mode and 28% opt for debit cards.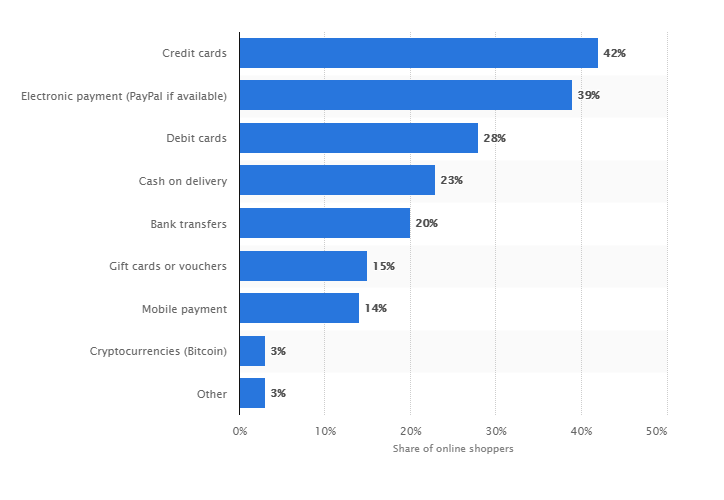 Thus, a food delivery app development company must keep in mind that most of the customers prefer easy methods of payment. This includes net banking, credit cards, debit cards, cash on delivery, mobile wallets etc. Though 39% of the online payment mode lovers prefer electronic payment methods, they only want Paypal. It is clear that customers are afraid of hackers that may hamper the transaction process. So, proper security measures are necessary to safeguard all transactions. Cash on delivery is also an easy payment option that must be convenient for the users.
Online tracking and fast delivery
The whole process of food delivery doesn't end after receiving, packing and dispatching an order. The most vital part is when customers must have the information about where the food has reached. When a food delivery app development company offers real-time tracking options, customers appreciate. In fact,  those who place their food orders while travelling find this feature very useful. Moreover, it can save time as customers can guide the delivery agents about the best routes too.
Customization and personalization
If you are choosing on-demand food delivery app development, two features are very crucial. These are personalization and customization. Everyone will like their apps to look more familiar to them. And that is why personalization is a key feature. Most of the customers appreciate it too. This is because you save them from the trouble of searching for their favourite cuisines. With least efforts, customers can get what they need. Moreover, it helps restaurants in building better relationships with their customers.
Also, a good food ordering mobile app must let customers customize their orders as per their choice. . Be it, the toppings on a pizza or the amount of spice in your dish, customization makes customers' lives easier and tongues tastier. Giving them what they are searching for is what a food delivery app must do. Customization makes customers feel special. It also helps them in relishing various dishes the way they wish to. In fact, the order history and suggestions of customers help a lot too. They make things easier for the app development companies.
Signing off…
To sum up, one must know that customers are the backbone for any business to flourish. No doubt, the on-demand food delivery app development companies have a promising future. But, it is futile unless your app is actually fulfilling all the needs of the consumers. So, what are you thinking? Would you consider the above features while developing your own food ordering app? What will be your approach for online food ordering add development?