Apptoto – Appointment reminder and messaging service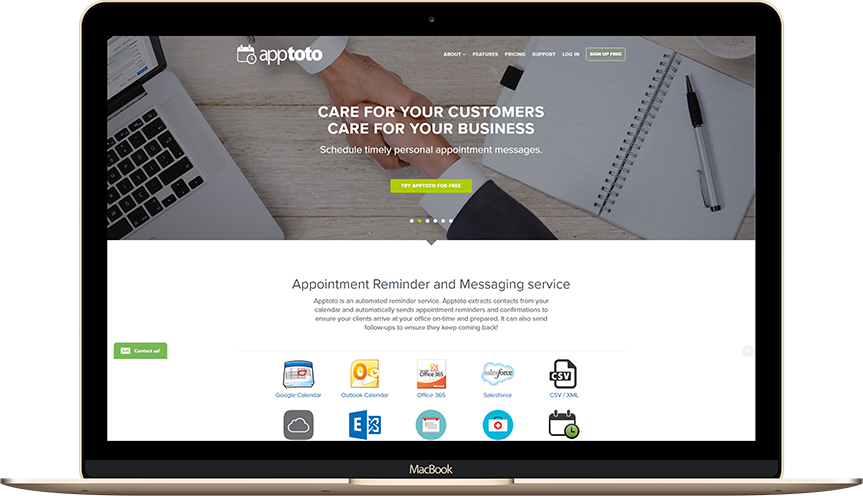 This came as a very first web development project of SoluLab. Nonetheless, it was not a normal website development. In fact, it is a system that reminds you of your appointment and sends respective messages to respective parties. Our client approaches us with their crystal clear vision to develop a must-have application for any professional.
They conveyed their vision of creating an easy to use, and affordable, automated appointment messaging system that works with users' existing calendar, CRM, and scheduling software in order to grow their revenue as well as improve bottom lines. Their vision was translated into a perfect understanding by our developers. The particular solution was developed keeping in mind the frustration of missing appointments on both ends.
With so many competitive products available in the market, it was quite challenging to build a website for the product that stands out in the crowd. We have to completely understand their system that extracts contacts from users' calendar and automatically sends appointment reminders and confirmations to ensure their clients arrive at your office on-time and come prepared. Also, it sends follow-ups to ensure client retention!
Our enthusiastic development team developed creative website based of CRO principles and SEO disciplines. We highlighted all benefits that Apptoto was expected to provide to its users like automated appointment messaging service that not only helps users in decreasing scheduling confusion, but also to a great extent eliminates it. Further, it can also eliminate the staff support and expenses required to maintain the schedule. The service is an incredible value. A sneak peak into the process of website we developed:
Information gathering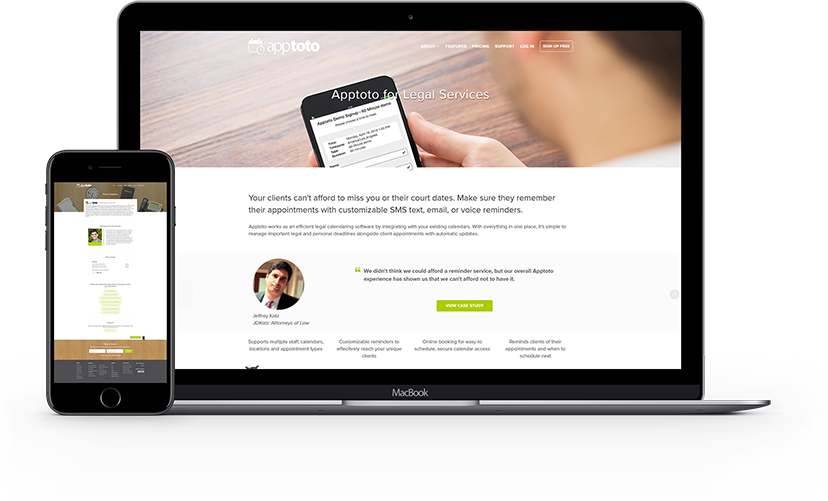 We gathered information through a well crafted questionnaire that helps to develop the best strategy for further project management.
Planning and wireframes
On the basis of gathered information, we created wireframes and sitemap which got approved by our client in the first go. Our visual representation of user interface that we were going to create worked well.
Designing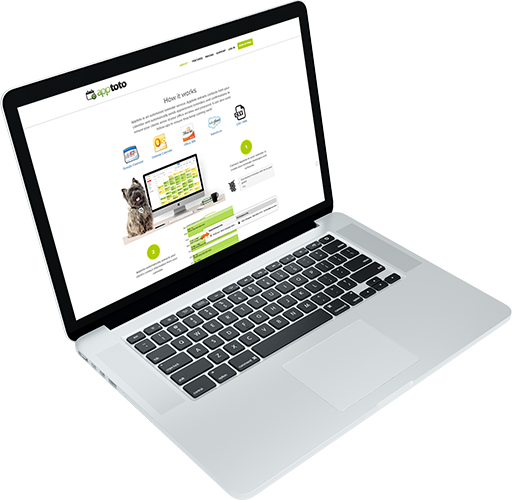 This phase ran for an average 12 weeks wherein we got approvals of final designs, graphics and layouts. There were few rounds of revisions but it helped us better in understanding their target audience. Its resultant impact was more user friendly website.
Development
Here comes coding! Graphic elements that have been designed during the previous stages were used to create an actual website. Other works involved were installation of CMS plugins, SEO optimization of various elements, testing, reviewing and finally, launch! Well, website development is not a product, it is a service; and hence, till date we have ensured regular support and maintenance for our client.
Technology Stack
Technology

CSS3

Jscript

HTML5

PHP7
Website conversion rate – 1.85%
Bounce rate – 30%
Work speaks louder than words