Revolutionize Your Business with Metaverse Solutions San Francisco's Leading Development Company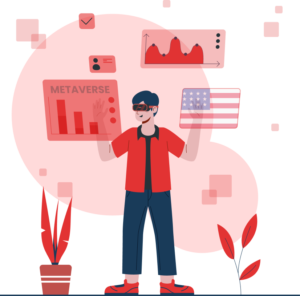 As a leading metaverse development company in San Francisco, we are dedicated to helping you unlock the potential of the metaverse. With our expertise, we can assist you in creating virtual storefronts, virtual events, and virtual customer service experiences that are seamless and captivating. Our team of skilled developers can design and develop virtual experiences that cater to the unique needs of your business, enabling you to tap into new revenue streams such as virtual goods and services, virtual advertising, and virtual real estate ownership.
Join us on this revolutionary journey and revolutionize your business with our innovative Metaverse solutions!
Reason Why We're the Perfect Fit for Your Business
As the San Francisco's leading Metaverse development company, we are the best choice for businesses looking to revolutionize their operations with blockchain technology. With our deep expertise in Metaverse solutions, we are uniquely positioned to help businesses in the San Francisco stay at the forefront of this rapidly evolving industry. With our in-depth knowledge of the San Francisco market and regulations, we are uniquely positioned to provide tailored Metaverse solutions that comply with local laws and regulations.
Here's what you will be offered:
In-depth knowledge about Metaverse
Use of next-gen tools and technology
State of the art infrastructure
Superior client satisfaction rate
9+ years of professional experience
Our Metaverse Development Services

As a leading metaverse development company in San Francisco, we offer businesses comprehensive consulting and metaverse software development services across various industries. With our team of experts, we can guide businesses in unlocking the full potential of the metaverse, leveraging its capabilities to drive growth and innovation. From conceptualization to implementation, we provide end-to-end solutions that cater to the unique needs of each business.

Metaverse Consulting

SoluLab's top-notch Metaverse consulting services come in handy to offer detailed insights into any Metaverse project to enhance its quality, functionality, and usability.

Metaverse Gaming

Our gaming metaverses are designed to provide an immersive experience with engaging 3D virtual environments, "play-to-earn" NFT gaming, live streaming of games, and other features that tap into the future of gaming.

Metaverse Marketplaces

If you plan to create a Metaverse marketplace, our team will help you build the same from scratch. Our end-to-end Metaverse marketplace development services come with guaranteed results.

Social Metaverse

Social Metaverse aims to create a virtual landscape to recreate the real world by crafting hangouts, events, concerts, and several other modes of interaction among users who love to socialize.

Metaverse eCommerce

Metaverse eCommerce is focused on the creation of fantastic digital experiences while shopping online with a realistic touch or inducing a feeling of real-time shopping, unlike the conventional 2D eCommerce shopping experience.

Real Estate Metaverse

Real estate Metaverse happens to be an exclusive platform where the virtual property can be bought, sold, and traded with cryptocurrency acting as the medium of exchange. Our team helps create an outstanding real estate platform to offer superior experiences to users.

Metaverse NFTs

Metaverse NFT development services are targeted at revolutionizing the Metaverse with non-fungible tokens by opening avenues for their trading.

Decentralized Spaces

Our proficient team develops decentralized spaces for socializing, gaming, trading, and many more depending upon the specific requirements of the Metaverse project.

Metaverse DeFi

Metaverse decentralized finance or DeFi services help monetize the virtual assets by providing the underlying logic for the appropriate execution of peer-to-peer transactions.

Three-Dimensional Spaces

SoluLab offers highly scalable three-dimensional space development and design services to various Metaverse projects to expand the use-cases across different new concepts.

Metaverse Integration Services

Our Metaverse integration services are aimed at improving the features and functionalities of already existing projects Metaverse to offer a much better rich user experience.

Metaverse Application Development

SoluLab's Metaverse app development service is focused on crafting apps for multiple domains ranging from games and education to social communications apps as per the needs.
Embrace the Metaverse Boom: Launch Your Metaverse Platform
The rapid growth of Metaverse has caught the attention of a big user base. With SoluLab's expertise in Metaverse app development, this is the perfect opportunity to launch your own Metaverse and capitalize on its emerging popularity. As Metaverse continues to expand and evolve, it opens up new possibilities for businesses to explore and leverage the power of virtual reality. SoluLab offers custom Metaverse development services in San Francisco that provide an array of opportunities for users to experience the virtual world like never before.
Our Metaverse Development Technology Stack
Revolutionize Your Business in the Metaverse
Our Metaverse App Development Services are designed to help your business leverage the vast growth opportunities in the Metaverse space. Whether you're in real estate, gaming, fashion, entertainment, social media, education, tourism, ecommerce, or finance, we can help you harness the potential of Metaverse and create a cutting-edge platform that meets your business needs and exceeds user expectations.
Our Metaverse Development Industries
With certified developers experienced in blockchain technologies, we offer custom metaverse software development to a wide range of industries in San Francisco. Our expertise in the field allows us to provide you with a metaverse platform customized to your business needs that will captivate your audience in the virtual space.
Metaverse for Real Estate

SoluLab can help you create a metaverse platform for real estate that offers a virtual property viewing experience, enabling customers to visualize properties without being physically present. This can lead to increased customer engagement, reduced travel costs, and improved customer satisfaction.

Metaverse for Gaming

Our metaverse app development company can help you create immersive virtual worlds that enhance your user's experiences and provide new and exciting gaming experiences. Our expertise in metaverse platform development ensures that your platform engages your audience, leading to higher user retention and increased revenue for your gaming business.

Metaverse for Fashion

Our custom metaverse app development for the fashion industry enables your business to offer virtual fashion shows, allowing customers to visualize products and interact with them in a virtual environment. This can increase customer engagement, improved brand awareness, and higher sales.

Metaverse for Entertainment

With SoluLab's expertise in metaverse development services, your entertainment company can create immersive virtual experiences that engage its audiences in new and exciting ways. Our customized solutions can help you build a metaverse platform that enhances your entertainment offerings and captures your audience's attention.

Metaverse for Social Media

By building a metaverse platform, you can create virtual spaces that allow users to interact in real time, socialize, and even participate in events. This provides a unique and engaging experience for your users, promoting social interaction and connection in a way that traditional social media cannot.

Metaverse For Education

SoluLab can help create a metaverse platform for the education industry that offers immersive and engaging virtual classrooms. This can lead to improved student engagement, higher learning outcomes, and reduced costs associated with physical classrooms.

Metaverse For Tourism

Our metaverse app development company enables your business to offer virtual tours of locations, reducing the need for physical travel while still providing a realistic experience for your customers. This can lead to increased customer engagement and satisfaction while reducing travel costs.

Metaverse for Ecommerce

With us, your ecommerce business can offer immersive and interactive virtual storefronts, enabling customers to visualize products and interact with them in a virtual environment. This can lead to increased customer engagement, improved conversion rates, and higher sales.

Metaverse For Finance

Our services for the finance industry can enable your business to offer virtual trading and investment experiences, providing customers with new and engaging ways to interact with financial products. This can lead to improved customer trust and convenience.
Our execution Process
Discovery Workshop

Here, we understand your business, goals, pain points and priorities. These multiple brainstorming sessions help us to map out the existing workflows and your future goals.

Strategy and Solution Design

At this stage, once we gather your requirements in a whiteboard session, we begin designing, prototyping, and user testing your platform or product.

Development

Programming and coding based on the designs approved by you takes place in this stage. Our development lifecycle consists of 3-stages: Alpha phase, Beta phase and Release phase.

Testing and QA

We continue our data-derived validation process, carry out in-depth QA testing, for each release of your product or platform to ensure that the final product, that is ready for the market.

Launch and Maintenance

Here, your product or platform goes LIVE. On your approval, our devs publish your product in live environments. We exclusively take care of cloud and on-premise hosting.

Support and Customer Service

To ensure continuous improvement, we perform ongoing product and platform maintenance and optimization, deploy market strategies, and provide real/fix support.
Client Testimonials
"Wow! What a team to work with! I am overwhelmed with the service received from SoluLab, and I would certainly recommend SoluLab, which requires Metaverse development services. Fantastic work!"

Margarita Arriagada
CEO, Valde
"SoluLab was undoubtedly a great choice for our Metaverse project. The sound technical knowledge and skills of the team played a significant role in boosting our Metaverse project