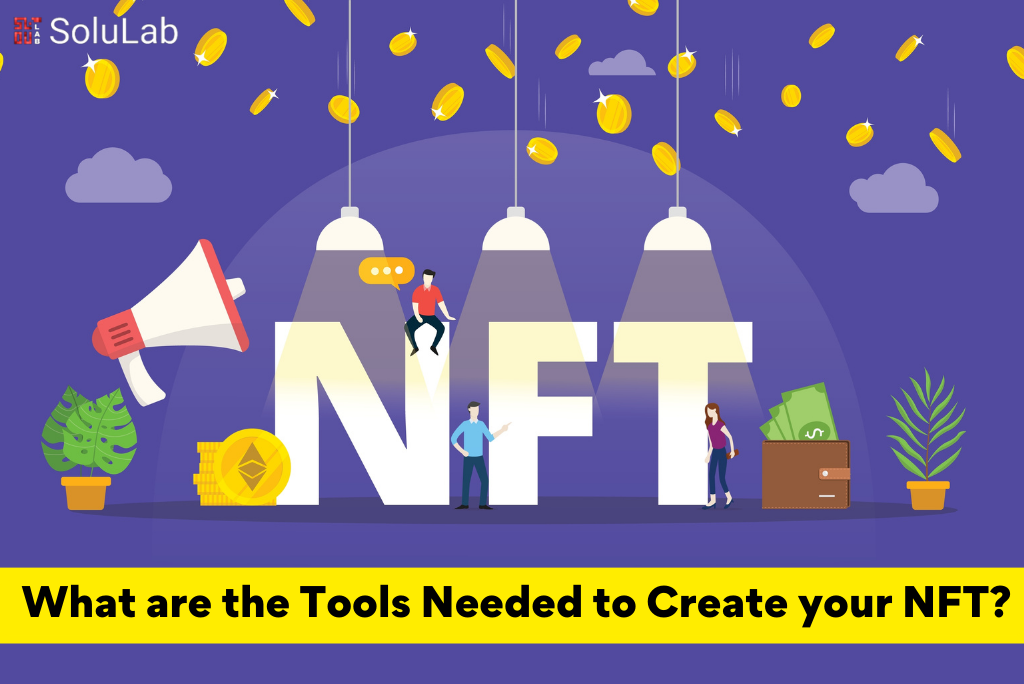 It's challenging to create NFT art. So, if you're doing NFT art, cherish who you are. Because only a small portion of people in the world produce unique and high-quality work. Additionally, the majority of us curate rather than create. The makers of digital art consider novel themes and ideas. and then convey them through written, spoken, or visual information, skills, or other means. There is a huge market for creators. Good art has a constant value in both culture and money. In actuality, art has long been considered one of humanity's best investments. In the sections that follow, we discuss a few of them and all the needed tools to create NFT.
A significant year was 2021. Digital art has been reinvigorated by NFTs. In case you were wondering, blockchain-stored crypto art includes both digital and NFT art. The ERC-721 standard is not a technical element that artists and makers need to know. or even the operation of non-fungible tokens Artists can use platforms to make digital works of art and sell them as NFTs. 
Difference Between A Fungible Token And A Non-fungible Token
Non-Fungible Tokens are special assets that belong to a single person and cannot be exchanged for other digital assets. As opposed to other tokens, fungible tokens can be merged with them and divided into smaller parts to create larger tokens of the same value.
What Does A Token Mean?
A token is a digital certificate stored on a decentralized information database (blockchain). It implies that each token contains unique information, including the seller and the owner of digital asset.
Some Principles of NFT
Blockchain-based digital assets are known as NFTs (Non-Fungible Tokens).

Each NFT is a unique asset that goes to a certain person; they are not interchangeable.

It is straightforward to confirm the authenticity of digital assets because each NFT carries unique information about the owner & sale. As a result, you can always determine which piece of art is real on the blockchain.
Read more: The 15 Best NFT Art Marketplace Websites
What are the tools needed to create your NFT?
SketchAR
An AI-based smartphone application created for artists is called SketchAR. The programme allows artists to produce their works of art & mint them as NFTs. Unfazed, a Lithuanian firm with headquarters in Vilnius made it. Even novice painters may use the software, says Andrey Drobitko, the company's CEO and founder. This makes it possible for anyone to acquire NFT ownership of their works. Technical aspects are not necessary for artists to understand unless they choose to.
You must first use a canvas to create your artwork here on app. You can improve your work by using the drawing tool & augmented reality features of the app. All users have access to drawing tutorials, courses, and sketches after joining up. When the piece of art is complete, SketchAR will list it on NFT marketplaces.
Fotor
A popular and widely used photo editor for producing digital NFT artwork is Fotor NFT maker. Its package includes graphic design, photo editing, collage building, and NFT production. Within the ecosystem of the platform, creators can generate their NFT works of art. The software also integrates with the biggest social media platforms. As a result, users may begin selling their NFT artwork to NFT aficionados all around the world right away. The site will increase NFT adoption by supporting international photo contests. The semi-professional & professional communities make up its main target audience.
DropKit by NiftyKit
It's a software platform that customers must pay to access and can customise their personal smart contracts. A separate mint page can be made if necessary in addition to the software development kit. Developers have the option to design their own parameters & NFT artwork. Both the Polygon and Ethereum blockchain networks are supported by the platform.
On the waitlist right now is the project. All premium members will pay $9.99 per month due to the project's emphasis on end users and developers. The team claims that the smart machines are designed to use gas effectively. The platform doesn't charge for airdrops, though. The platform has created batch minting technology to handle multiple airdrops.
For secondary sales, the platform does not charge commissions; nevertheless, primary sales are subject to a fee of 5% of revenues.
Mintable
Digital artists of different skill levels use the web-based platform called Mintable. Artists use the platform to quickly produce NFT artworks. Its main quality is how straightforward it is. Artists can use the platform in a similar way to how they would use a social media site. To build a smart contract, all you need to do is click a button and submit an image of your digital artwork.
Similarly, artists can transfer and control their NFT paintings within their own wallets. Additionally, Mintable offers a marketplace for artists. This makes it easy for anyone learning NFTs or digital art for the first time to pick it up as quickly as possible.
Async
Async, which debuted in February 2020, stands itself from similar products thanks to a number of characteristics. First, not everyone can use async. NFT artists make decisions about who is allowed to utilise the platform more in the style of a community. Second, the neighbourhood approaches digital art differently. Consequently, it enables artists to work in tokenized levels. Thus, NFTs with altered appearances can be produced by artists. There are no other NFT platforms that offer this potent functionality.
The platform offers favourable economics as a result. 90% of the first sale's sales revenue belongs to the artist. 10% of all secondary sales go to the artists. This is a quality that characterises digital and cryptographic art. The conventional art market typically does not give artists revenue from secondary sales.
Mixamo
To make your NFT collection come to life. Perhaps the friendliest group of animators on the internet, Invisible Friends, has inspired you. Then you require Mixamo, a user-friendly, feature-rich platform for animating your characters.
Do you need some motivation? You can choose from a variety of high-quality, pre-built 3D characters, ranging from realistic to cartoon, fantasy to sci-fi, in addition to building your own. Each character is fully textured and wired as it is created, allowing you to use them right away in your artistic endeavours.
Bueno
Bueno allows designers submit their assets, control rarity, and make NFTs without writing a single line of code, promising to help you generate a nearly infinite amount of NFTs. There is now a long wait to use this single platform that handles everything NFT.
How much does it cost to create NFT?
Some sites impose a "Gas" tax (Ethereum-based platforms). Simply put, "Gas" refers to the quantity of Ether required to carry out a given operation in a blockchain. The cost fluctuates according to how much the network is being overloaded. The charge increases as more users conduct transactions at once.
Things to Consider When Choosing NFT Creation Tools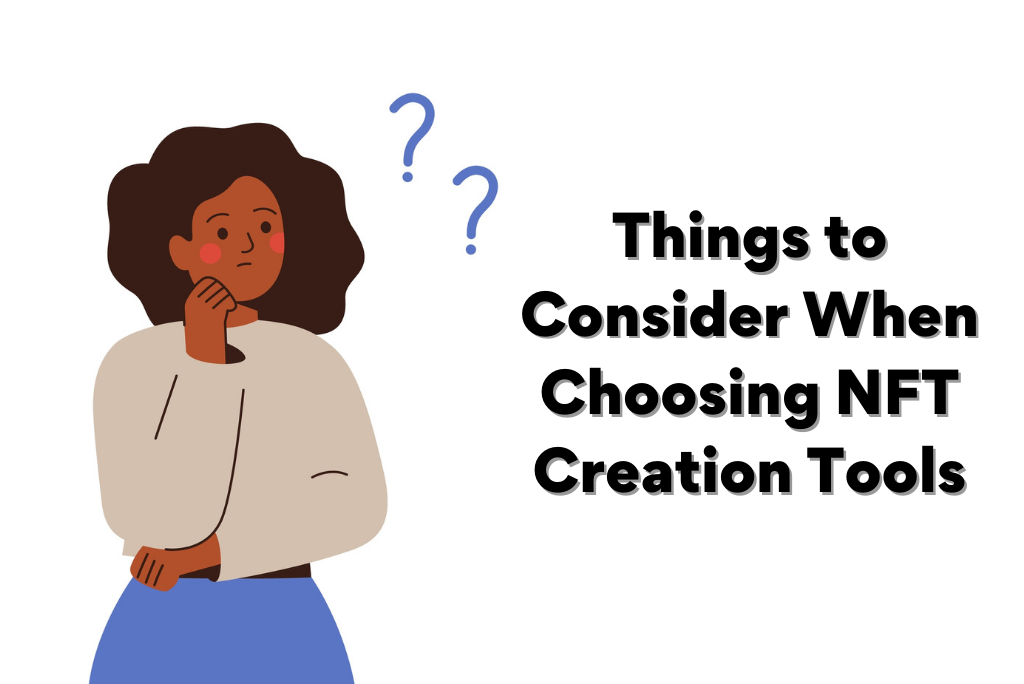 Editing Ability
Any modifications must be made when creating your NFT art. There is a requirement for customising features, hence they must be present in the ideal NFT building tool. While some NFT generation tools provide straightforward shade grading, others may be convincing enough to alter your photographs. As a result, you must evaluate each available tool and select the one that best satisfies your editing requirements.
Equipment And Templates
The software you use should provide enough features & templates to make your procedure simpler. Remember that having minimal resources restricts your capacity for creativity. Beginners must look for guidelines and tutorials in order to learn how to utilize NFT creation templates and tools.
Precision
Make sure the programme is precise when choosing a tool for NFT creation. Remember that while certain forms of art are emotive and unrestrained, others are planned and definite. It is therefore necessary to have a tool that enables you to study both art forms. The NFT generator application you choose should also produce beautiful images that faithfully represent even the slightest details.
Programmed Watermark
Some tools apply their built-in watermark to your creations when you export them. Ensure that the NFT minting equipment you buy is free of such preset watermarks in light of this. Make sure there isn't anyone else's watermark on your creation.
Conclusion
The times we live in are exciting. Furthermore, the global popularity of digital art is skyrocketing. NFTs are the art market's first significant stimulus in millennia. Digital artists are waking up to a new universe around the globe. The world's top creators and artists are moving toward NFTs. Over the course of this decade, human innovation and worth will soar.