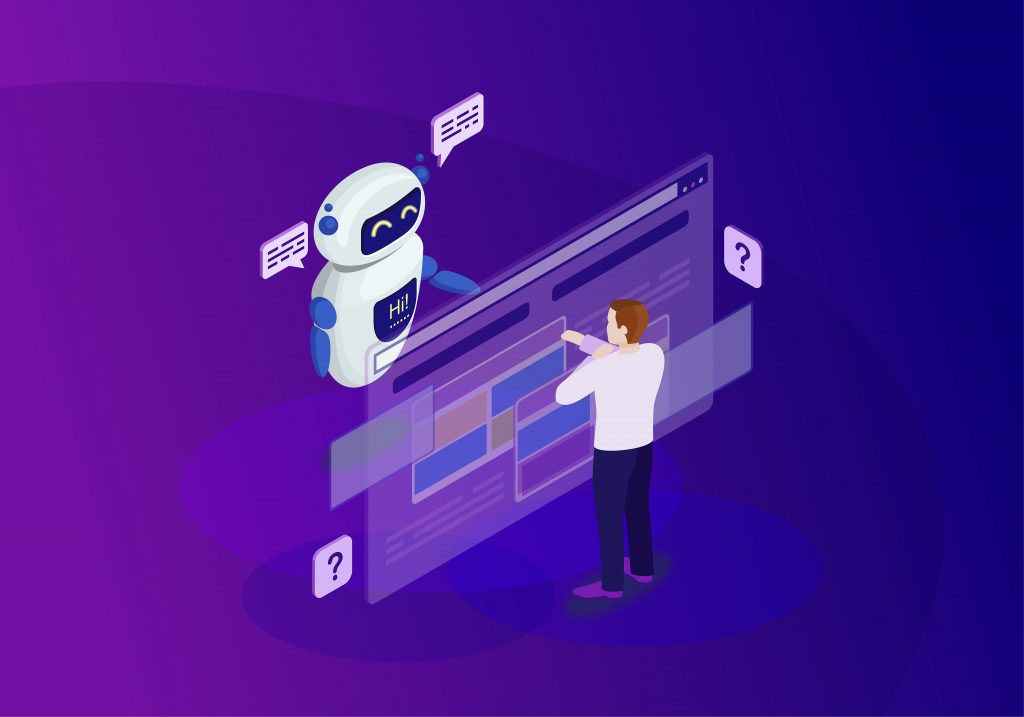 Imagine you are patiently scrolling through your social media feed and come across this really amazing site. You open that site and there is a chat box that pops-up at the bottom right corner of your screen. You are curious about the site and type in your queries and you get instant replies, which familiarizes you with the working of the site. Do not worry it is not something imaginary. I am sure you've inevitably come across these types of chat boxes. These are called chatbots. In technical terms, a chatbot is basically an application which is used to conduct an online conversation through text or text-to-speech, instead of providing direct contact with a human agent.
The main reason for using this source of artificial intelligence is to help your business to improve your communication with your consumers. This helps the business save a lot of money. The number of businesses that use chatbot technology has exponentially increased from 30,000 to 100,000 within a year! Around 85% of businesses around the globe have their own chatbots in place.
Now that we have that out of the way let's address the elephant in the room. Are chatbots that important? How exactly are they useful? How much do they cost? Isn't machine learning about human patterns harmful? How do they improve customer service?
 Do not worry, in this blog we have compiled all the reasons and benefits this piece of artificial intelligence is packed with. So, without further delay, here is how chatbots benefit your business:
Benefits of having chatbots for your business
Are you not tired of listening to the same waiting tune over and over again while waiting for your agent to respond? It is found that on an average basis people spend up to seven whole minutes until they are assigned to an agent. 
Do not worry we don't live like that anymore, thanks to the invention of the internet and artificial intelligence, those endless days of waiting are long gone. Thankfully, chatbots are now taking over live chat and other forms of contact. Maintaining a 24/7 response system and readily solving queries of the customer is undoubtedly a plus point for any business. 
Since chatbots are basically AI robots, they cannot get tired and continue to fulfill your wishes. They tend to tirelessly operate every day, 24/7, throughout the year without requiring to take a break. Except for the occasional updates or bug fixing. This increases customer satisfaction and helps you rank higher in your sector. The focal point is of course how well the chatbots are able to understand and solve customer issues.
According to research conducted by Chatbots Magazine, implementing virtual agents or chatbots can help businesses to save up to 30%. As a business owner, it is inevitable to incur a lot of expenditure, especially in the beginning years. Chatbots are a very good option from an investment point of view, they are a one-time investment that will help your businesses in the long run.
You can amalgamate a customer support chatbot in your business to answer simple queries of your customers and pass on the more complex queries to customer support agents. Each year, there are about 265 billion customer support requests made. These costs businesses a gigantic amount. This expenditure can be significantly reduced with the use of AI chatbots. 
Chatbots are responsible for giving support and solving customer queries, which in turn leads to free hands of service agents who then tend to handle more complex queries and hence provide better service to the customers.  Therefore, we can say chatbots help raise productivity levels. Hiring human support that is available 24/7, 365 days might add excessively to the cost.
Companies that receive simple queries ever so often can turn to chatbots. Virtual agents or chatbots can convey more complex queries to the consumer services agent, improving the entire customer service, and reducing cost. If these chatbots are nicely programmed they will use their machine learning and might be able to answer complex queries in the future.
According to research, chatbots will be able to deal with 90% of all customer queries within the next 2 years. This means that we can expect that chatbots will cut business costs up to $8 billion.
Progressive ways for marketing and sales
Chatbots that are developed by trustable sources, can facilitate sales through strong marketing. This can easily be done through:
Better client engagement — Chatbots can easily personalize interactions with clients, which leads to providing reliable shopping information based on their previous purchases and preferences.
Marketing guidance — Chatbots do not keep clients waiting. They lead them through every step of the sale and minimize hindrances by answering every inquiry as it arises.
Relevant notifications — The knowledge of these chatbots are based on machine learning and hence they can accurately predict customer behavior. Because of this reason, they can send them relevant notifications, every time.
Better reach — The birthplace of Chatbots is the internet and hence they can reach out to a larger and wider range of possibilities through social media than a human can ever think of.
Creating brand value — Chatbots can grab the client's attention through analyzing previous communications. Client feedback and data collected by various sources are gathered and thoroughly examined. This is used later to effectively communicate with the target audience at the right time.
There are only a certain number of tasks that are humanly possible to do at once. According to the study of human brain, studies suggest that the human brain can only concentrate on 3–4 things at the same time. If it goes beyond that point, we are prone to making errors.
Chatbots on the other hand can handle various tasks, simultaneously. Like they can have conversations with thousands of people at the same time. Irrespective of what time of the day it is or the number of people contacting these bots. They answer every single one of these queries almost instantly. 
Saves time by automating repetitive tasks
No one likes doing the same work, again and again, we as humans will be either very easily tired or agitated. Which in turn leads us to create errors. Chatbots however can help you automate tasks that are to be done repeatedly and at a certain time. Thanks to the growth of artificial intelligence technology we now have a large number of slack bots that can easily automate repetitive tasks.
This automation of tasks helps people to not only save time and increase overall productivity.
There are various pros of having a chatbot, one of them is that they provide personalization of data. They carefully analyze your patterns and provide you with adequate information at the appropriate time.
Chatbots are responsible for delivering personalized experiences. Probably more than customer service specialists can. This is due to the fact that they have no time to prepare for your call and need to understand and analyze the various contexts during the call.
Increases consumer interaction 
Chatbots provide a different channel to reach your target customers. These bots can be used to increase customer engagement by luring them through timely tips and offers. Real-time communication between the customers and chatbots helps the customer find what they are looking for and also provide them with different and/or better suggestions. 
This can increase consumer interaction, which leads to increased sales and also leads to gaining consumer data for future references. A chatbot is able to access your past interactions with the company, analyze it, in order to deliver you a personalized experience. Given the fact that chatbots are still a relatively new technology, this is not the focal point of most companies now but it sure will be an important part of future chatbot tech.
Chatbots platforms (such as Kik or Facebook Messenger) are quite popular applications. Being active on these platforms tend to help companies reach new customers who may otherwise not willingly reach out to the company.
The first impact of these chatbots is essential. If they are able to satisfy and help navigate the consumer, they are set to have a positive impact and hence continue using the site. This is essential for keeping and gaining appropriate traffic on your site.
Gain a deeper understanding of consumers
Your customers barely interact with your business through telephonic conversations or emails. Chatbots provide your business with detailed and trustable records of your customers' likes and dislikes, which in turn help your company improve its services and its products. 
The chance of successfully selling your product or service is directly proportional to the data provided by the consumer to the chatbots. These chatbots can improve the rate of customer data by providing help and earning their trust. Chatbots can be considered the ultimate tool for organizations to learn customer expectations.
With the data provided by the interaction between chatbot and customer, customer-bases targets can be planned and specific goals can be set to optimize the profitability of the business. Thanks to chatbots, the organization can receive feedback, and improve their quality by planning and making some changes according to the data received.
Chatbots can help be a promotional platform for your business as they can subtly, over-time present the customers with recommendations and eventually intelligently introduce customers to some new products and services provided by your company.
Bots can also increase sales because of their 24/7, 365 availability, and quick responses. Customers tend to hate waiting and long waiting times often result in losing potential sales.
Conclusion
Chatbots are a trend that is here to stay. Presently they are beneficial for one's business and can be easily relied upon. They help you in decreasing your workload and do the entry-level jobs without the use of actual human resources. And hence it also saves money. Artificial intelligence and machine learning are the future of online business and hence need to be paid special attention on.
We hope we were able to help you understand the various advantages these chatbots have. Thank you for reading!