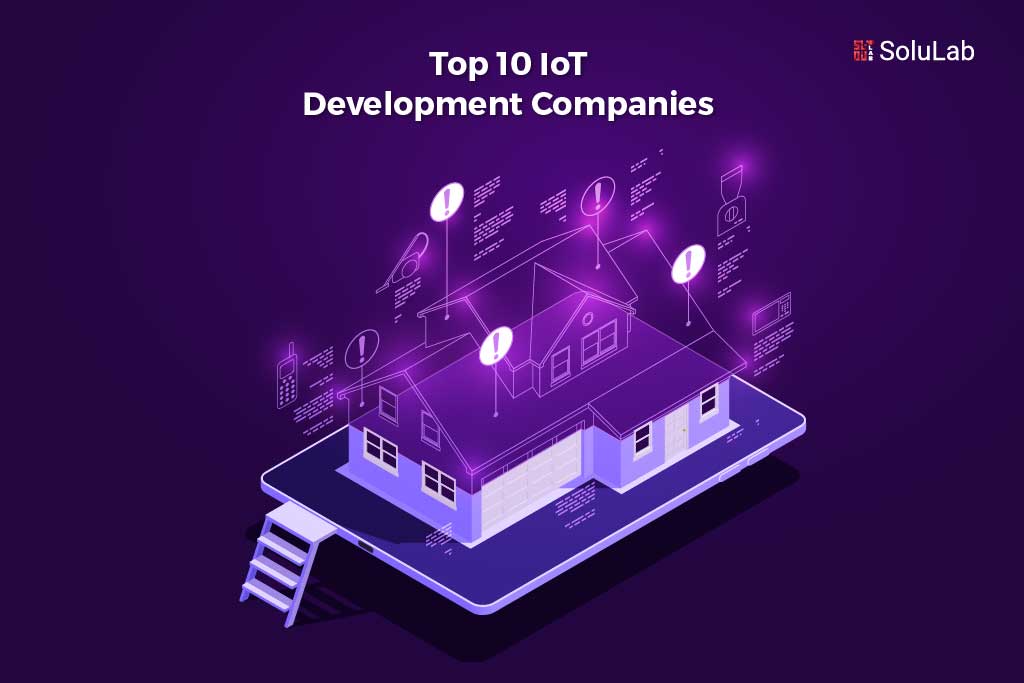 The Internet of Things (IoT) is one of the most fascinating, inventive, and promising technologies, opening up new prospects for companies, manufacturers, and ordinary people worldwide. The internet of things (IoT) alters how your organization and industry function by eliminating certain jobs and reshaping others.
An IoT ecosystem comprises web-enabled smart devices that use embedded systems such as sensors, processors, and communication hardware to transmit, gather, and act on data. The data collected by sensor IoT devices is shared by connecting to an IoT gateway or an edge device, which is examined locally or forwarded to the Cloud for analysis. These gadgets can also interact with one another and act on the information they receive. The devices conduct the majority of the job without human assistance. People, on the other hand, may engage with gadgets. You may give them instructions, access data, or set up a device.
The challenge today is how to choose the best IoT development company. Let us have a look at the top 10 IoT development company.

SoluLab is a digital and technology solution provider specializing in blockchain, artificial intelligence, IoT, mobile applications, and web development. The company is regarded as the leading worldwide enterprise Blockchain Development Company. Hiring the finest IoT development firm, automating procedures, and raising your ROI with high-end IoT application development can help you improve your business competency.
The organization offers a competitive price structure, which is a primary cause for customer favor. SoluLab is known for completing projects on schedule while maintaining high-quality standards. Take advantage of its IoT development services for web bluetooth app development, IoT and ML, IoT and Blockchain, wearable app development, and so on.
Leeway Hertz

LeewayHertz has facilitated the effective incorporation of smart technologies that have aided in the growth of businesses.
The organization's IoT operations focus on software and firmware development, allowing it to work on and provide the needed solutions for enterprises.
LeewayHertz offers Internet of Things (IoT) solutions in web services, embedded systems, and mobile platforms. Their technologies provide safe, dependable operations with a seamless cross-platform approach to product enhancement.
Under its IoT services growth, LeewayHertz collaborates with various platforms, including Google Services, Azure, AWS, and IBM Watson.
Hyperlink InfoSystem
Hyperlink InfoSystem is a renowned app development firm in India, having sales offices in the US and the United Arab Emirates. Web & app development, AI solutions, Salesforce solutions, IoT app development, AR/VR, Blockchain & many more services are available from the firm.
Since 2011, the firm has worked with around 2300+ global customers, delivering 4000+ applications and 2000+ website projects, as well as 200+ projects on cutting-edge technologies such as IoT, AI, Salesforce, and many more for bespoke needs. They can design the finest IoT-based solutions for your company requirements as an inventive and wiser technology partner, keeping you ahead in this digital era.
iTech Art

iTechArt is a top-tier, one-stop, bespoke software development firm with 1700+ experienced engineers on staff. They've assisted VC-backed startups and fast-growing digital firms in developing profitable solutions since 2002. They've assisted VC-backed startups and fast-growing digital firms in developing beneficial solutions since 2002. Their strength is in online, mobile, Big Data, QA, and DevOps.
As an Internet of Things software development company, they've created strong and secure IoT solutions connecting hundreds of goods and systems, delivering value and innovation to startups and organizations.
ScienceSoft

ScienceSoft began as an AI product firm and now offers IT consulting and software development services. ScienceSoft helps non-IT businesses enhance their company performance, customer service, and digital transformation projects.
The organization also assists software product companies in bringing innovative items to market. ScienceSoft develops value-centered Internet of Things solutions and builds multi-level data pipelines for these solutions, which span edge computing, data science, and cloud data processing.
PTC

PTC Inc. was a computer software and services firm based in Boston, Massachusetts, formed in 1985. In 1988, the business started creating parametric, associative feature-based, solid computer-aided design (CAD) modeling software, followed in 1998 by an Internet-based application for product lifecycle management (PLM).
Internet of things (IoT), augmented reality (AR), and collaboration software are among PTC's products and services. They also provide consulting, implementation, and training services.
PTC is an industrial IoT technology partner that assists businesses in navigating the ever-changing digital technology ecosystem and accelerating their digital transformation activities. PTC provides a range of product lifecycle management, CAD, augmented reality, and IoT solutions to customers to increase business continuity.
Cisco

Cisco develops and offers various technologies, including networking, cloud, security, collaboration, and apps. Businesses of all sizes, as well as public institutions, service providers, and governments, may rely on the corporation for technical assistance and sophisticated services.
Cisco provides end-to-end Internet of Things solutions that reliably link applications, assets, and data in real-time, resulting in dramatic improvements across their customers' organizations.
Oxagile

Oxagile is a firm that uses creative, custom-made software to help organizations expand, obtain competitive advantages and change. Through its data-driven solutions, the firm enhances the performance and results of companies and individuals.
The Internet of Things solutions provided by Oxagile is secure, resilient, and comply with all key industry standards. Oxagile has developed technical capabilities and knowledge of industry-specific difficulties through years of cooperation and collaboration with hardware suppliers to produce successful customized IoT solutions.
Fluper

Fluper is an IoT app development firm with offices in the United Kingdom, the United States, and the United Arab Emirates. It provides high-end IoT app development services tailored to the specific requirements of customers from different industrial verticals. Their expert IoT solutions help you to transform your equipment into smart gadgets.
Read Also: Top 10 Blockchain Development Companies in 2022
Fluper is also well-known for its mobile app development services, which enable consumers to use cutting-edge technology to handle complicated problems successfully and provide simple answers. It also serves as a one-stop shop for web and app development and design. Their solutions are cutting-edge, long-lasting, and deliberately intended to boost the brand's value.
DogTown Media

Dogtown Media, based in California, specializes in app development, AI development, and IoT app development. They guarantee that an IoT solution is designed and delivered from start to finish by combining skills in project management, design, development, and marketing.
They provide services that use cutting-edge capabilities in artificial intelligence, augmented reality, IoT, mobile commerce, geo-location, mobile app analytics, multi-media publication, mobile video and image technologies. as well as financial services.
Conclusion
The Internet of Things links commonplace gadgets to the internet. It enables all of your gadgets to communicate and stay connected. You can operate IoT devices from anywhere, boosting your quality of life and simplifying your life.
The best IoT firms listed above have expertise in developing IoT software and firmware for digital devices, which may assist you in streamlining procedures to increase efficiency.
Before choosing the top IoT development company, ensure you understand your goals and the demand for IoT solutions.