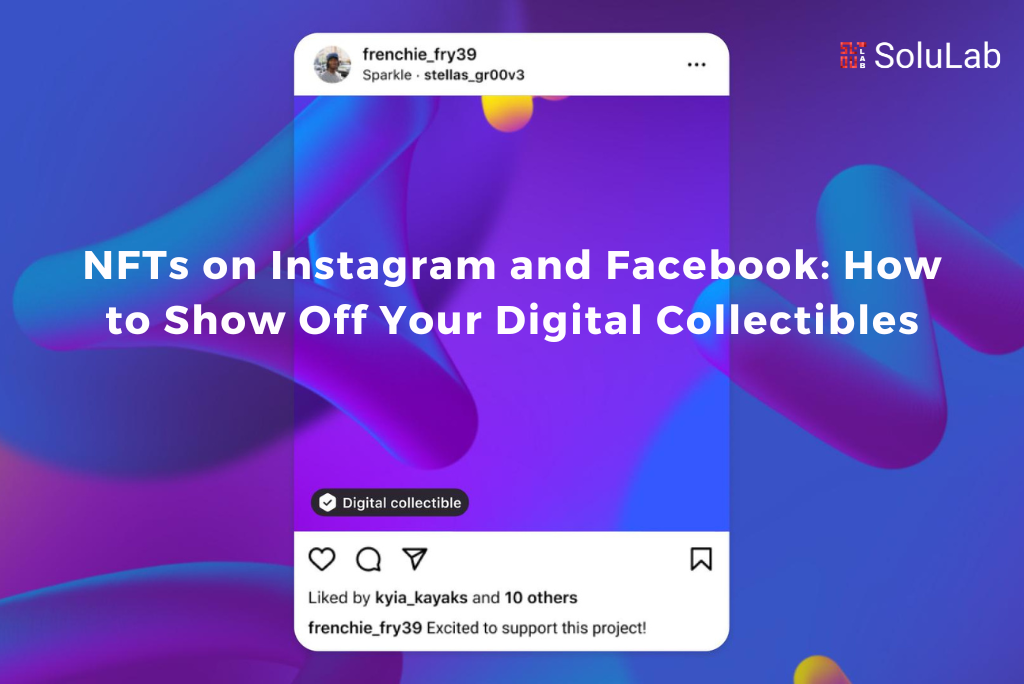 Instagram began testing non-fungible token (NFT) sharing on its platform in May 2022, allowing select U.S. users to connect to their digital wallets and showcase NFTs that they either created or bought. Instagram wrote at the time that it was focused on improving its user experience by creating more monetization opportunities and bringing NFTs to a broader audience.
In August 2022, the social media platform expanded its testing to 100 countries across Africa, Asia-Pacific, the Middle East, and the Americas, and added support for Coinbase Wallet and Dapper Wallet. Meta Platforms, Instagram, and Facebook's parent company, also started testing the feature on Facebook.
In Sept. 2022, Meta rolled out the ability for all users in the U.S. to be able to connect their digital wallets to either app and be able to share their digital collectibles across both platforms. "Additionally, everyone in the 100 countries where digital collectibles are available on Instagram can now access the feature," Meta noted in their update.
Read also: Twitter NFT; First Social Media Platform to Support NFT Technology
If you're able to access the feature and want to show off your NFTs, here's how it works.
What does having NFTs on Instagram or Facebook mean?
The new NFT integration allows users to connect to their digital wallets and choose which NFTs to share with their followers. This feature sort of functions as a digital art gallery and the NFTS you own or have created can be pinned to your feed next to your other images.
Once a user posts his or her NFT image, the platform adds a shimmery effect to the image and displays public information about the NFT, like a description of the collection, piece, or tagging the creator. The shimmery effect functions similarly to the hexagonal profile pic on Twitter, visually indicating authenticity and ownership over the asset.
Both the creator and collector can be automatically attributed in-feed, another function meant to help track the authenticity and ownership of an NFT. Meta says there are no fees associated with sharing a digital collectible on Instagram or Facebook.
As of August 2022, the platform didn't support buying and selling digital collectibles.
The integration is part of Meta's company-wide exploration into Web3 technologies, which it says is aimed at expanding access, reducing costs, and accelerating innovation as it expands its metaverse ambitions. In March 2022, CEO Mark Zuckerberg teased wider NFT integrations across the company's sites, like augmented-reality NFTs that can be shared on Instagram stories, and the ability to mint NFTs from Instagram.
How to post your NFT to Instagram
If you're not in the U.S. and looking to see if the feature is available to you, the best way to tell if you are in the test group is to check if the "Digital Collectible" option is available to you as shown in the screenshot below.
Currently, users are allowed to connect to third-party wallets, including Rainbow, MetaMask, Trust Wallet, Coinbase Wallet, and Dapper Wallet. The blockchains it supported as of August 2022 were Ethereum, Polygon, and Flow, with Solana to be added in the future.
Users can connect their digital wallets to the platform by visiting the "Digital Collectible" menu. Once there, a notification will open on your screen taking you through the next steps of connecting to a wallet. You can also connect additional wallets to your account by clicking the "Add Wallet" button. Wallet connection is a one-time authentication, and Meta says it doesn't "publicly surface" your wallet address.
Next, users can view all of their NFTs and share them as a post. Similar to sharing any other post on Instagram, users can tap the plus sign at the top of their screen and then select "Post." A special verified checkmark will appear above your phone's library, which will allow you to select any of the NFTs in your wallet. You can add a description to the selected NFT before sharing it with your feed.
When you share your digital collectible, you will be tagged as the owner or creator of that collectible. Instagram confirms ownership of the blockchain address associated with the collectible to authenticate ownership. Users can discover your digital collectibles in-feed, on your main grid, and through the platform's Explore page.
Ways to monetize NFTs on Instagram
Connecting your wallet to Instagram may be a good way to show off your NFT collection or creations and verify their authenticity. The move follows other social media platforms like Twitter and Reddit that have recently added NFT functionalities.
As of August 2022, users couldn't use certain tools like Collab posting, fundraising, location tagging, and monetization features like branded content and boosting that traditionally help content creators make money. The main opportunity regarding monetization was to use Instagram NFTs as an additional way to market or build hype for an NFT collection.
The platform might make it easier to mint or transact with digital collectibles, possibly expanding its Shop functionality. As of August 2022, the limited feature was mainly being used like an NFT trophy case by a small group of testers.
Blog Credits: CoinDesk