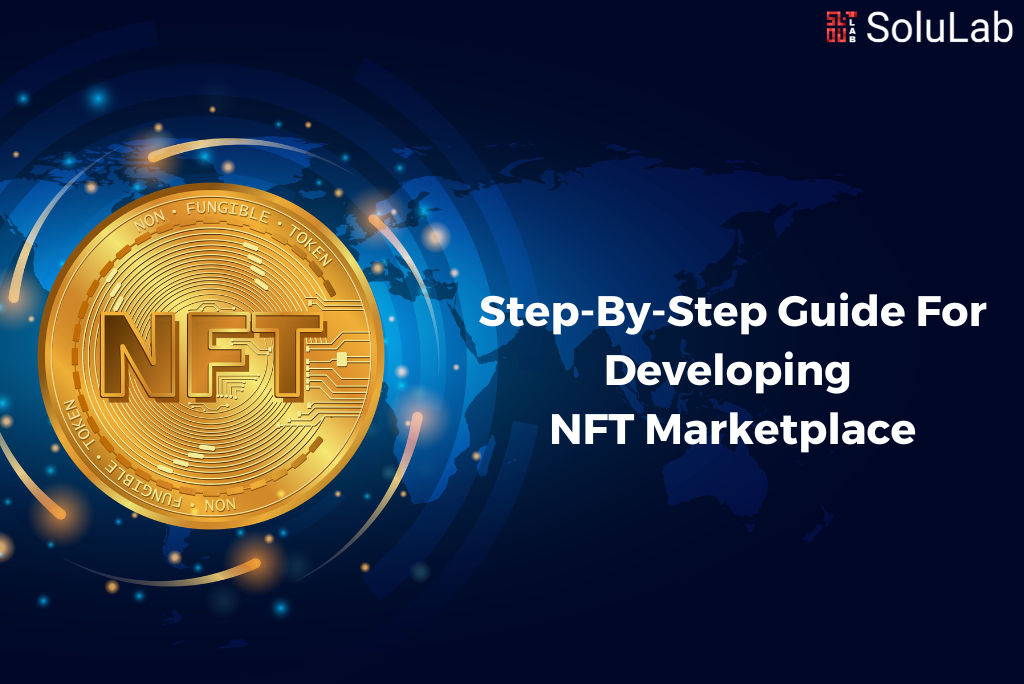 NFTs are revolutionizing the market's perspective towards the collectibles industry. From offering better circumstances for the creator economy to making the collectible industry more accessible, developing NFT are all set to bring revolution in all domains.
NFT collectibles are the new normal; collectible admirers are becoming NFTs collectors to generate better future value on their investments. Gaming NFTs are the utmost pioneer, as the ever-increasing gaming industry is now using NFTs for digitizing top-to-bottom gaming assets.
NFTs are on the rise, and NFT marketplaces are too. Numerous players are regularly entering the industry, increasing the size and gross investment. Plus, today's NFT marketplaces possess a first-mover advantage, as the market is still slow and adaptive to NFT. Altogether, this is the best time for companies to develop their NFT marketplaces.
In this blog, we're going to compose a step-by-step guide toward NFT marketplace development. Through this guide, companies can understand the essentials of marketplace development and how to strategize further development plans. 
7 Steps To Create NFT Marketplace
1.  Selecting a Suitable Niche
Undoubtedly, selecting the niche of NFT development is the foremost step to developing an NFT marketplace. Niche selection is simultaneously the easier and the toughest task because there are multiple layers of a niche section process.
A few examples of primary NFT niches are gaming, entertainment, fashion, artwork, etc. Each industry requirement isn't the same, so the NFT marketplace development procedure differs for each industry. The primary niche selection will streamline the development project towards a focused point.
After selecting a primary niche, the secondary niche selection process occurs. As an example, there are two gaming genres people find attractive – block and pixel games like Second Life, Roblox, etc., and High-definition games like GTA Online. This secondary selection is essential for bringing more clarity to the marketplace development.
The above discussion is enough to provide an idea of the niche selection process. Let's move on to the next step.
2.  Selecting a Suitable Blockchain Platform
The NFT marketplace creates a community of NFT buyers and sellers, buyers collect NFTs to expand their collection, and sellers trade their NFTs to receive better value and royalties. And the blockchain platform stores and facilitates all the transactions and records necessary documents.
Developers can establish NFT marketplaces on popular blockchain platforms like Ethereum, Solana, Polkadot, etc. For selecting the best blockchain platform, determining factors like the speed of transaction, the effectiveness of Smart Contracts based on that blockchain, the development cost, and the transaction fee accepted by that blockchain platform is crucial.
3.  Choosing Irresistible Features 
Implementing relevant and top-class features sets an application or software ahead of others. Also, bringing public attention to an NFT marketplace is easy if implemented features are simple and intuitive.
For any developing NFT marketplace, product simplification and making a hassle-free trading experience should be the prior goal. An efficient market research team is required for developing market-relevant features, also, taking notes from existing NFT marketplaces can enhance the efficiency of this process. The existing NFT marketplaces can have faulty features and loopholes that can be targeted.
Read Also: How to Build an NFT Marketplace from Scratch
The real-estate NFT marketplace requires a mapping feature, and fashion and artwork usually don't need the same. The same with gaming and music industry marketplaces. So, the feature development process should be industry relevant with keeping space for innovation.
All of these contributing factors help compose excellent features for the NFT marketplace.
4.  Choosing Suitable UI/UX
Excelling with UI/UX is a must for any software or application development. For an NFT marketplace development project, the interface must be familiar with best finance industry practices, with a combination of trading and statistical models.
UI/UX has a direct relationship to the usability of application features; using it perfectly will definitely attract users to the feature. The simplicity of the marketplace is also UI/UX dependent; the combination of an irresistible and simple interface will bring the most number of user's towards an NFT marketplace.
Numerous NFT development companies come with an interface designing team; choosing someone veteran is only what's necessary.
5.  Integrating Wallets
Integrating a crypto wallet with the NFT marketplace will facilitate trading procedures. Popular wallets like MetaMask, Coinbase, and Zeno are there; any industry newcomers can integrate their NFT marketplaces with these pre-existing services. Customized wallets are a better option in terms of establishing an elevated experience throughout the system. Any NFT marketplace developer can make customized wallets; hire a veteran NFT marketplace developer to get better solutions.
6.  Developing Smart Contracts 
Smart Contracts are the main activists of any repetition and automation-related tasks on a blockchain network-based project. Smart Contracts are a predefined set of programming that helps streamline transaction and agreement surveillance-related tasks.
For the NFT marketplace, Smart Contracts are very useful for tasks like NFT auction, royalty management, and payment facilitation. Smart Contracts should be supported with the chosen blockchain platform.
7.  Deploying and Testing 
After all the development efforts, it's time to put your development to use. Most of the deployment takes place in a predefined environment where the basic usability can be tested. Based on the results, developers can add or remove things.
For NFT marketplace testing, developers can assign organization employees to experience human-oriented factors like graphics and interface. After testing, developers are ready to push the NFT marketplace for public usage.
Conclusion
These are the essential steps companies should know before developing the NFT marketplace. Now, hardcore NFT marketplace development requires the best in-depth industry experience and knowledge, so it's best to consult a top NFT marketplace development company. For small-budget projects, hire NFT marketplace developers to save on cost allotment.
Read Also: Launch your Own NFT Marketplace: A Step-by-Step Guide
Author Bio
Akash Guha is a content writer with a grasp of different web content creation. He has an interest towards writing website content for multiple industries like blockchain, mental health and finance. Also, he is aimed to write simple and easy-to-understand content.