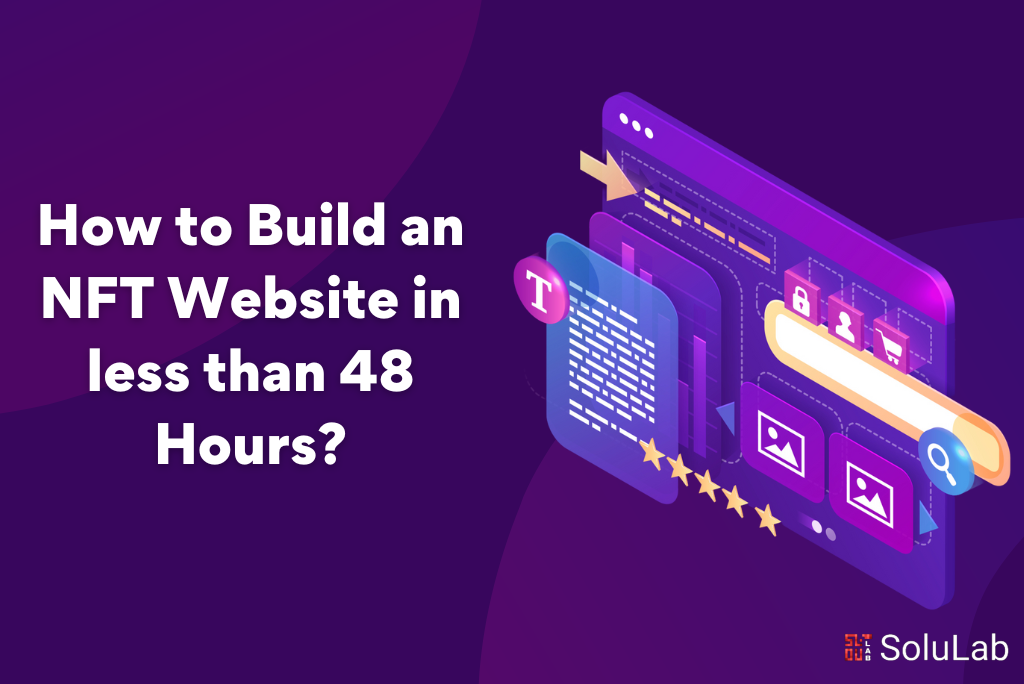 Non-fungible tokens, or NFTs, are a booming sector of the cryptocurrency market. NonFungible.com reports that in the first quarter of 2021, the overall capitalization of key NFT projects increased by more than 2,100%. The most popular NFT coins currently bring over $70 million when sold instantly. We will go into great depth on how to build an NFT website in this article. Goals, networks, protocols, and standards, budgeting, advantages, major features, and the required technological stack will all be covered in detail as we walk through the creation of the NFT platform, from testing to launch to maintenance and much more. Let's get started right away!
What Is an NFT?
A non-fungible token (NFT) is a singular digital asset that can be sold between the creator and the buyer, to put it simply. Each token is valued uniquely and cannot be traded.
NFT Features
Indivisibility

– NFTs cannot be divided into smaller amounts, purchased, or transferred in pieces.

Uniqueness

– Every NFT has a distinctive characteristic that is frequently recorded inside the token data. Every NFT has a unique personality; no two are alike.

Ownership

– These tokens guarantee the ownership of the asset getting transferred.

Scarcity

– The rarity of NFTs is one of the elements enhancing their value. Developers are free to produce as many assets as they like, but they can limit the supply of NFTs to create scarcity.

Interoperability

– NFTs can be purchased, sold, or traded across various DLTs using a decentralized bridge or a centralized custodial service.

Transparency

– Since public distributed ledgers are decentralized and irreversible, with records of token issues, transfers, and activity that can be publicly checked, buyers may trust and verify the legitimacy of a particular NFT.
What Is an NFT Marketplace?
A decentralized network called an NFT marketplace allows users to create, buy, sell, & store non-fungible tokens. They mostly concentrate on selling particular assets, such as digital tokens of artwork, games, soundtracks, and any other artistic effort, together with details about who owns them and when they are valid.
A kind of cryptocurrency called NFT crypto is used to buy and sell digital assets. Tokens can be purchased by users for a set price or through auction bidding. While some NFT marketplaces focus on a single sector, like digital art, others sell a broad range of NFTs, from trading cards and web domains to in-game collectibles. NFTs are employed in a wide range of sectors, including:
Gaming

Real estate

Academia

Sports

Music

Art

Fashion

Collectibles



How Does an NFT Website Work?
Typically, the same process is used by all NFT websites. To get started, a user needs to sign up for a website account & download a digital wallet to store their NFTs. Users can then upload objects to develop assets and display their effort. Additionally, the user can decide which payment tokens to receive for their artwork and, if the platform recommends it, set a price.
The process then moves on to the step of placing products on the market for sale. The user has the option of bidding a fixed amount or taking part in an auction. A transaction is conducted to start a personal trade smart contract for the user's wallet when they list anything for sale. The platform might need collection moderation; if accepted, NFTs will be added to the list.
Read more: White Label NFT Marketplace – The Best Way of Launching NFT Platform
Step-by-Step NFT Website Development
Budgeting
The development of the NFT marketplace is no different from everything else in that it is dependent on the amount of work necessary. Because of this, using a pre-made solution will be less expensive. To guarantee the platform's functionality, the flow remains constant. Your NFT website development costs will increase if your needs necessitate a more complex platform or if you must construct your own NFT.
Access to the NFT market is provided by a number of blockchain development services. With the help of this competition, you can develop at a reasonable cost. However, the starting price ranges from $30,000 to $50,000. Additionally, the development services provided determine the cost of development. However, it takes a while to build an NFT website.
Mapping Goals
It's important to define your aims and objectives before starting your own NFT website. This will enable you to create an NFT website design that is specifically matched to your requirements. We compiled a list of items you should think about when building a non-fungible token platform to make the work easier.
Monetization of Model
If you're unsure of how to build an NFT website, you should first decide what monetization strategy you'll use for your site. Here are a few ideas:
Subscription Marketplace Monetization Model
If the market has adequate traffic, the subscription monetization model—which is a well-packaged income strategy—might be taken into consideration. Under this subscription structure, subscription fees are levied.
Commission Monetization Model
The commission model is the one that all online marketplaces employ the most frequently and extensively. It is a common option for marketplace platforms as well. The commission model has gained popularity since it has shown to be a reliable source of revenue.
Freemium Listing Models
A marketplace platform that uses the freemium monetization strategy provides both paid and free services. In other words, the marketplace generates revenue by charging sellers a minimal price in exchange for superior services. It could seem challenging to offer consumers new services using a freemium listing approach.
Lead Fee Revenue Model
The lead fee monetization model, in which customers post a request and suppliers pay platform fees to win the bidding process, is the most popular method of revenue generation for service-based markets.
Product Listing Monetization Model
The greatest approach to paying out sellers of expensive goods is through a listing fee. Although the commission-based revenue model only compensates when a sale is made, it disregards earnings or fees from underperforming or unpopular products.
Which Protocol Tokens Are You Going To Use?
Cryptographic tokens known as protocol tokens are necessary to access the service provided by the underlying protocol. When selecting an NFT design, you will have a variety of options to consider, such as:
Binance Smart Chain (BSC)

Ethereum

Solana

Polygon

Tron

FLOW

Tezos

Solana
Features to implement
Before creating an NFT, you should decide which functionality your platform needs. You may want to consider including a few useful features on your NFT website.
Liquidity

User-friendly

Practical

Search Filters

Decentralization

Crypto Wallet Integration

Transparent network security
Technological Stack To Implement
The tech stack you'll need to implement the project must be chosen after all the features you want to see on your NFT website have been decided. You must choose the NFT standard that your marketplace supports, as well as a blockchain platform, storage platform, front-end development framework, and others. It is difficult to create an NFT website plus select an appropriate technology stack. So, how do you create a marketplace from nothing? Here are all the components of the technology stack that demand your immediate attention.
Storage Platforms

NFT Standard

Blockchain Platform

Front-end Frameworks
Testing
This is an important step that should never be skipped. Finding and resolving problems as soon as possible guarantees that your product is ready to go. Software testing also ensures that your platform performs as planned and satisfies the project's original criteria. Remember that a software solution that has been thoroughly tested delivers reliability, security, and excellent performance.
Security Audit
It is never advisable to miss this crucial step. Finding and fixing issues as soon as you can ensures your product is prepared for use. Software testing also guarantees that your platform meets the original project requirements and operates as expected. Keep in mind that a well-tested software solution offers dependability, security, and top-notch performance.
Marketplace Launch And Support
An NFT marketplace's debut is in and of itself a work of art. You have the option of starting your NFT project right away or spreading it out over several iterations initially. Another strategy that is less user-friendly but theoretically simpler is continuous integration. To choose the best choice for your project, talk to your developers. The development team's work does not stop with the launch, though. When new NFTs are added and additional users join the platform, you could need support and maintenance. The NFT marketplace, which is continuously working to ensure the smooth operation of your project, also demands frequent upgrades as well as the integration of new features.
Custom NFT Marketplace Development
Creating a personalized product requires a lot of time. The fundamental goal is to maintain each layer specific to the demands of your business. Solutions for NFT marketplace development are built by programmers specifically to meet the objectives of your business. Such software can only be used by that organization because it is designed with the infrastructure, implementation requirements, branding, and all the other components of the organization in mind. Custom development is, in fact, the most practical method for creating your own blockchain and NFT software.
Benefits of NFTs
Authenticity
Non-fungible tokens' benefits are mostly dependent on their scarcity. Since NFTs are developed on the blockchain, they are linked to unique data. The unique characteristics of NFTs reveal their capacity to add value. NFT producers also have the option of releasing a small number of NFTs in order to reduce supply.
Ownership
The principal benefit of non-fungible tokens is the ability to demonstrate ownership. NFTs can assist in tying ownership to a single account because they run on a blockchain network. Additionally, NFTs are non-distributable and cannot be divided among several owners. The advantages of owning an NFT also keep people from purchasing fake NFTs.
Transferability
The usage of NFTs facilitates ownership transfers because they are based on smart contracts. Smart contracts establish requirements between both the seller and the buyer that must be met before ownership changes may be finalized.
What Makes Your Project Stand Out From The Rest?
Making your target audience think you are extraordinary will be one of your major hurdles. The first step to completing a project successfully is earning trust. Buyers must have confidence in their group's and the neighborhood's capacity to ensure the project's overall success. Investors need founders to have a clear vision for the project and an actionable plan, as well as to be honest with them. If you don't have this vision, they won't be interested in the project for very long, and if you don't have it, they won't buy a single NFT.
In order to raise awareness, exchange information, and interact with people, one must be socially active. Social media marketing, which targets people of different ages, occupations, interests, and hobbies, is the most popular NFT marketing strategy. The use of additional marketing methods like email marketing, social media advertising, search engine optimization, or content marketing may also speed up success.
Conclusion
Overall, we want to emphasize that the NFT marketplaces are a fantastic and lucrative market for all entrepreneurs, crypto enthusiasts, and designers. Since any new platform, & designers in particular, may require time to thrive, we only encourage you to be committed, make informed decisions, and maintain consistency.
It should be much simpler to make decisions once you've established how to build your own NFT marketplace and taken into account all the pertinent information, including the mapping of goals, networks, protocols, and standards, budgeting, advantages, and key features. You'll also need to consider the necessary technology stack for building a marketplace, as well as the testing, launch, and maintenance phases.