What is an NFT or digital collectible?
Digital collectibles are non-fungible tokens (NFT). NFTs are a digital asset that exists only once and the holder is the true owner of them. This ownership is permanently verified by the blockchain and is visible to everyone who wants to prove it.
NFTs enable digital scarcity since the real owner of the asset can be distinguished from any other person who simply saves the image on a hard drive, or copy-pastes it in a local drive. Same as with real-life artwork, an NFT is unique, and can only be owned by one person at a time.
Read also: The Use of NFTs in the Sports Industry
NFTs can be traded between users on a public blockchain. Each NFT carries its own artwork, a serial number, and the history of previous owners, all of which make it a unique digital asset.
What are the use cases in sports?
There are many use cases in sports and for the purpose of this blog post, we will only cover the most prominent ones. Most of the time, you will not find one particular use case in a project, but rather a mix of them:
Collectible Cards:
A homage to classic sticker collectibles that we remember from our childhood. Trade them with your friends and build your collection. This connects to the human nature of collecting things.
Digital Video Moments:
An advanced version of the collectible card as a sports highlight video and one of the most common use cases made popular by NBA TopShot. On the video of a great sports moment and build your collection.
Gaming/Daily Fantasy Sports:
Acquire your team to play a fantasy manager game. This is often combined with a play-to-earn mechanism that rewards successful players with coins or NFTs. Apart from that, some projects are building sports simulation games in the Metaverse either to play or to watch while owning the players and staff as NFTs.
Profile picture ("PFP"):
The purpose of the PFP is to show the community on social media that you are a part of the group. This can be verified on Twitter via the hexagonal shaped PFP or in Discord via integrations. Most of the time, PFPs act as an access pass to a community and often include other perks.
Fashion/Avatar:
Closely connected to PFPs, they are meant to be played or used in 3D experiences or Metaverses like the Sandbox. The purpose of these collectibles is to build a digital identity that'll represent you in the digital world. Most of the time, fans use them as their PFP, too.
Community Voting:
NFTs can grant you access to a community and potentially voting rights about things that matter to you as a football fan. Most of the time, this is combined with a token.
Unlockable Content:
The owner of a specific collectible will get exclusive access to content that is attached to the NFT. This is in particular interesting for behind-the-scenes footage or personal stories by athletes.
Rewards and exclusive experiences:
By purchasing NFTs, football fans get rewarded with assets from the rights-holder such as tickets, jerseys, meet & greets, etc. that fans would usually not get access to.
Market Data & Observations
We will be sharing some market data and observations in the following paragraphs: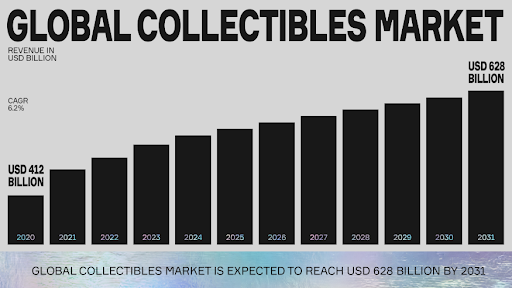 The market is growing
Sports collectibles hold a market size of $4.14 Billion and are expected to grow at a rate of 9.7 % between 2022 and 2032 (Source: Market Decipher 2022).
We are still very early. We are far from a point where we could say that NFTs have hit the mainstream and there is massive potential.
Sport is one of the biggest use cases
Dapper Labs has brought premium sports intellectual property rights to the Blockchain, including NBA TopShot, NFL All Day, and UFC Strike. These drops are consistently selling out. All NBA TopShot collectibles combined have a market cap of around 600 million US-Dollars.
More fans will adopt NFT technology in 2022
In 2022, 4–5 million sports fans will have bought or have been gifted an NFT (Source: Deloitte 2021). As football fans ourselves, we believe that digital collectibles will add another layer to the game that creates a deeper connection between us, the players, and the beautiful game.
There are successful football web3 projects in the market
In football, Sorare has been very successful by generating almost 300m USD in sales (Source: Cryptoslam, 2022). That proves that there is a huge opportunity by combining the power of NFTs with football. Since football is the world's most popular sport, we believe that football can drive the mainstream adoption of NFTs and digital collectibles.
Blog Credits: Medium