Hire Full-Stack professionals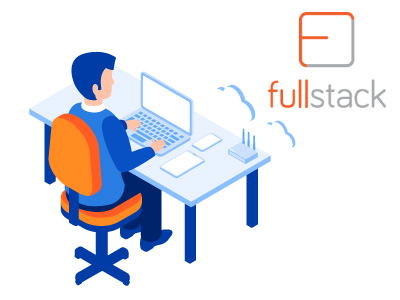 We work with startups and small to large enterprises and help them achieve their business goals. You can gain the advantage of hiring full stack developers from us as they use the latest tools and methodologies to deliver efficient solutions. Full stack developers at SoluLab offer the best solutions at cost effective prices.
Having a thorough knowledge of front-end and back-end technologies, our full stack developers for hire can work on different projects for web and mobile. Tech-savvy patrons and B2B clients can choose to hire full stack developers from us and save time, efforts, and costs. We have a large pool of full stack developers and you can choose to hire the right resources matching your requirements.
Full-Stack Development Services
Front-End Development
Curate and build advanced front-end with quality code conversion to GUI
Back-End Development
Use cutting edge technologies to improve server-side performance
DevOps Services
Automated handling of server administration, cloud services and scalability
UI/UX Designing
Understand user behaviour to create user-focused UI/UX themes
PSD to HTML Conversion
Seamlessly convert PSD files to direct application design and development
Build Custom Database
Build a database that are secure and optimized for performance
Data Modelling
Create dynamic web apps with intuitive business logic and MVC integration
Third-Party API Integration
Build customized APIs or integrate web apps with existing third-party APIs
Server-Side Scripting
Manage database and build server-centric programs to achieve quality adherence
Full-Stack Technologies we serve
Our Hiring and Engagement Model
Industries we serve
Supply Chain

Healthcare

Education

Real Estate

E-commerce

Finance

Entertainment

Legal

Government

Oil & Gas
Client Testimonials
"They are very agile and able to use the technology you need to solve the problem. They did good work and integrated well with our internal team"

Spencer Thomason
CEO, Clean Router
"They manifested our concepts, and were quite responsive, I could easily say it is one of the most trouble-free implementations I have encountered."

Julian Clarke
CEO, Versafit
"The transparency, quality of work and support were excellent. Strength and depth of technical ability are above par and unchallenged by their competition."

Ronald Sidharta
Co-Founder at AssetGenius
Work Speaks Louder Than Words
Casting Work Book

SoluLab

2021-03-31T11:59:50+05:30

Deals En Route

SoluLab

2020-02-27T07:53:40+05:30

Hello Layover

SoluLab

2020-02-27T07:55:29+05:30
Frequently Asked Questions
Do You Sign NDA?
SoluLab
2022-03-14T10:02:01+05:30
Yes, of course! We sign a non-disclosure agreement or NDA at the time of starting the project. You can be a hundred percent sure that every bit of your project is safe and secure with us. You can freely discuss your project without any kind of hesitation.
Our Offices