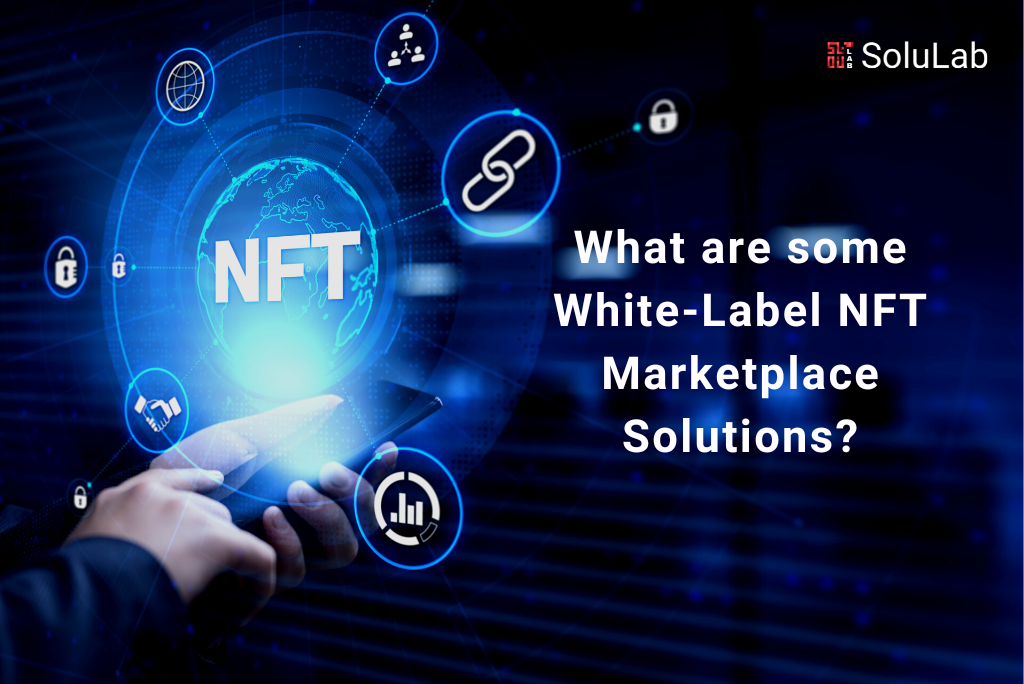 The NFT craze is far from over! Although non-fungible tokens have been around since 2014, 2021 is undeniably a watershed moment; this is when NFTs become mainstream. Eventually, the NFT market became much more well-known.
The NFT market gives a promising opportunity for entrepreneurs to invest in the current trend by starting the NFT trading platform. Is it possible to enter the NFT market in a short time?
Of course, anyone or everyone is capable of doing so. Are you wondering how? This blog is for you. Learn about the easiest way to launch the platform and the best NFT marketplace white-label solutions.
Ever Heard Of A White-Label NFT Marketplace Solution?
If not, let's go over it briefly in this section. NFT trading platform development is complicated and time-consuming from the start, requiring a significant amount of time and effort.
Another useful option is to use a white-label NFT marketplace solution. It is a custom-made solution supported by blockchain technology and incorporated with fundamental features found on NFT marketplaces in common.
Likewise, it is assessed to confirm the platform's performance and efficiency. It facilitates techpreneurs like you to begin the NFT trading platform as soon as possible.
The advantages of the white-label NFT marketplace solution comprise instant deployment and cost-effectiveness. You can also choose which blockchain network will be used to develop the white-label NFT marketplace. Ethereum is the preferred blockchain network.
White-label NFT marketplace solutions are pre-built software that will be renamed to your firm's name if obtained. White-label solutions for NFT marketplaces are relatively common these days, and your only tough job is to find the developer.
Read also: Why Should You Start Your Own NFT Marketplace Business?
With the help of a white-label software solution, you can execute any type of NFT marketplace development. Consider some of the most popular white-label NFT marketplaces.
CryptoPunks clone

OpenSea clone

SuperRare clone

Rarible clone

NBA Top Shots clone

Bored Ape Yacht clone

Zed Run clone and an immense variety of solutions. 
Development of a White Label NFT Marketplace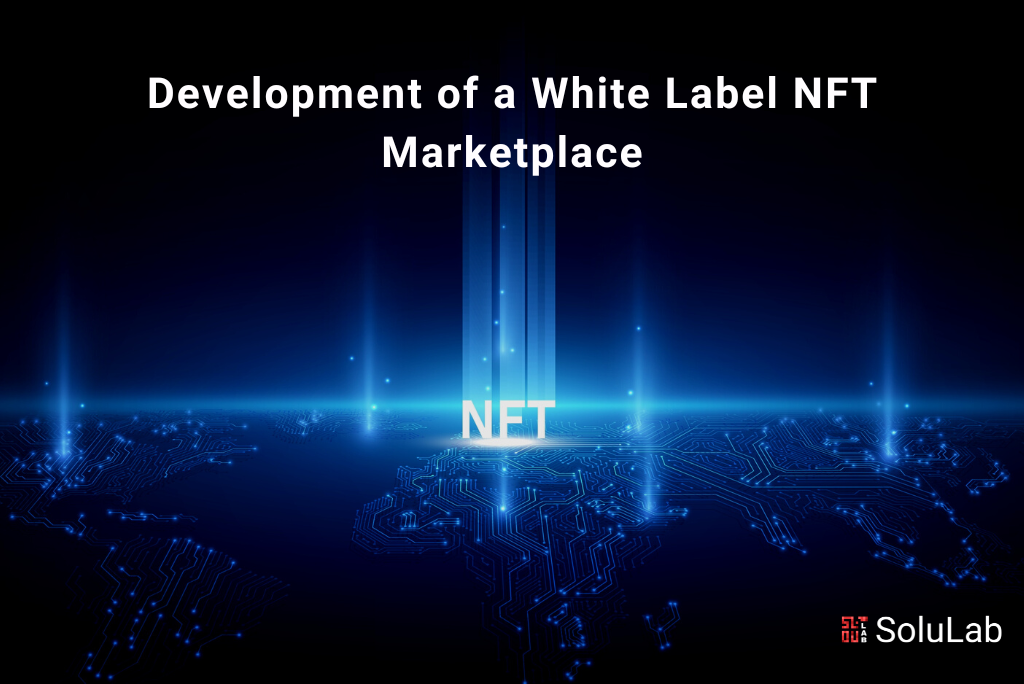 White-label NFT Marketplace Development can be performed on various blockchains, including Solana, Ethereum, Cardano, Binance Smart Chain, Polygon, and any other distinguished blockchain systems. Creators customize the White label NFT Marketplace to fulfill market requests to attract global users and develop the best market-ready NFT white label marketplace platform.
These workflows given below are followed by blockchain developers when developing white-label NFT marketplaces.
Determine the development of the Blockchain network's user interface.

Token Creation

Smart contract coding

Integration of IPFS storage

Integrating backend & frontend

Beta testing & Bug Fixing

Deployment in client's server
Providers of White-Label NFT Marketplace Solutions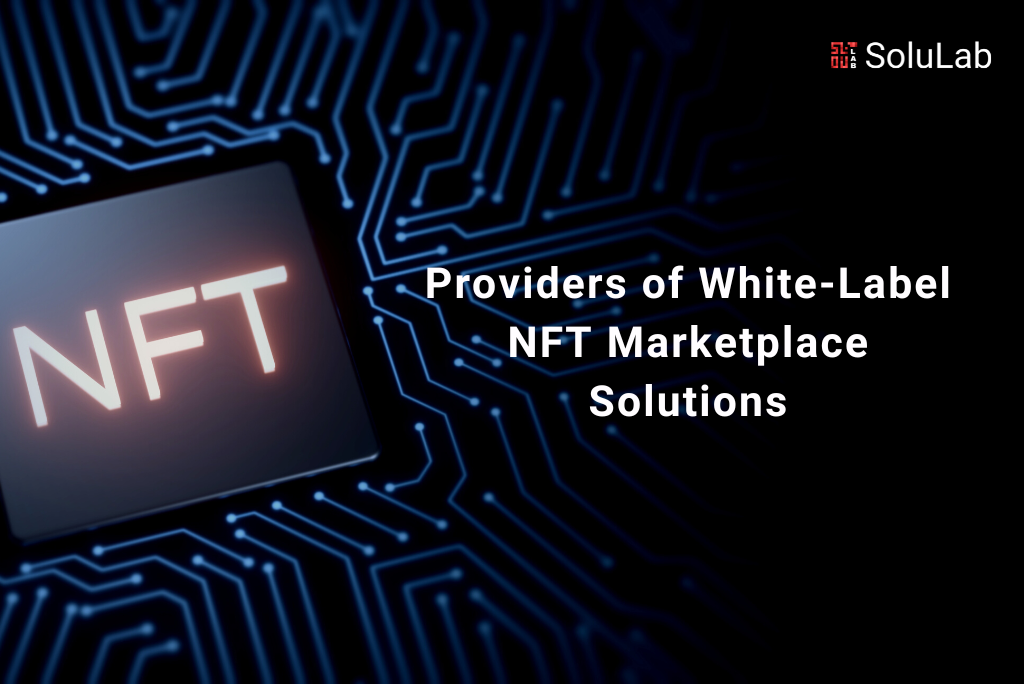 With substantial knowledge of a white-label NFT marketplace, it is a great time to join the NFT market and acquire benefits in terms of return on investment after executing essential revenue streams.
Read also: The Power of Polygon Metaverse with NFT Marketplace
Make your first move by contacting the best and most reputable company. If you're not sure which company to go with, we've compiled a list of the best white-label NFT marketplace solution providers. Examine this list.

It is a dominating white-label NFT marketplace solution provider with enormous knowledge in the blockchain industry for years, attending to clients all over the world. They offer white-label solutions for an NFT marketplace, DeFi platform, Exchange, Launchpad, and the in-house advancement team delivers a large spectrum of services.
The blockchain developers team has hands-on experience in bringing your NFT marketplace development idea to life with a white-label solution without sacrificing quality or perfection. The white-label NFT services we deliver contain crucial elements such as wallet integration, bidding, multi-language support, filters, browsing categories, and various more.
 The white-label NFT marketplace is easy to customize, so the aspects you need will be added, guaranteeing the platform is deployed instantly. The INORU is a preferred provider due to its transparency in development and availability of technical support at all times to resolve queries.

AppDupe has a large client base that uses this white-label NFT marketplace service provider to build their NFT trading platforms. Despite its aptitude in fundraising platforms, DeFi platforms, and developing exchanges, this firm is best recognized as an NFT marketplace development company.
The platform was built on various blockchains by a dedicated team of developers. As a result, you can determine after contemplating the pros and cons of each blockchain technology.
AppDupe, as one of the promising options for NFT marketplace development, will entrust a helping hand to those looking to join the thriving NFT market by initiating the NFT marketplace.

TurnkeyTown is the leading provider of white-label NFT marketplaces, offering a wide range of blockchain-related services. This will primarily include the development of NFT marketplaces, gaming platforms, exchange development, and even marketing services.
As the internet evolves (web3.0), TurnkeyTown makes it easier to enter the NFT world. That is, by utilizing white-label solutions. Individuals aspire to join the NFT verse as a result of this. This company's developers have extensive experience in developing white-label NFT marketplace solutions for individuals with varying business needs.
Foundation Clone, OpenSea Clone, SuperRare Clone, Rarible Clone, and numerous more are instances of popular NFT marketplaces. Customizations are made as needed to meet the needs of the business.

CronJ is a software development firm that provides end-to-end solutions to meet the needs of businesses, startups, and enterprises. This company's reputation has been built on providing high-quality NFT trading via a ready-made solution, i.e., a white-label NFT marketplace. This company's developers have a lot more experience in the blockchain field, making it a good choice for entrepreneurs.
It is a dependable partner who can help you achieve your goals by providing a custom-made NFT marketplace solution without sacrificing its quality. The most important reasons for entrepreneurs to choose this company for NFT marketplace development are cutting-edge development and meeting clients' minute requirements.

Zeligz web store is a leading software development firm that provides dependable solutions. This company is famous for its numerous services, which comprise web digital marketing, design, eCommerce development, NFT marketplace development, mobile application development, blockchain development, and NFT trade.
With so many alternatives, the Zeligz web store has succeeded a long way in delivering a high-quality white-label NFT marketplace solution financed by your preferred blockchain network. As the solution is grasped for your varying needs and goals, the infusion of characteristics defining functionality is allotted to your hand.
Conclusion
The ever-increasing potential and prominence of NFTs (non-fungible tokens) have inspired newcomers to take their first steps into the ever-expanding NFT market.
Those with the same impression could move ahead by choosing the best firm or provider for NFT market development. Hopefully, this blog's curated list of top NFT white-label marketplace solution providers will assist you in selecting the best one for your requirements.