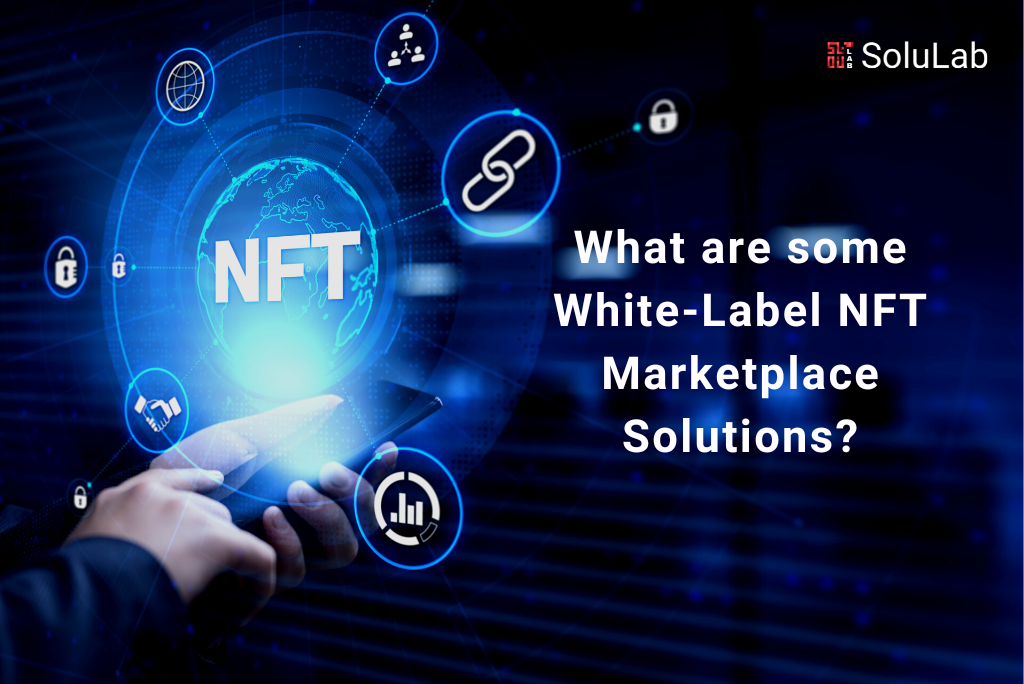 The NFT white label solution mania is still going strong! Despite the fact that non-fungible tokens have existed since 2014, the year 2021 will undoubtedly go down in history as the year when NFTs become widely used. The NFT market eventually gained a lot more notoriety.
Entrepreneurs have a great potential to capitalise on the present trend by launching an NFT trading platform thanks to the NFT market. Is it feasible to quickly enter the NFT market?
Naturally, everyone or everyone is able to accomplish this. Do you want to know how? You should use this blog. Discover the best white label nft marketplace and NFT marketplace white label solutions also the simplest approach to build the platform.
NFT Marketplace White Label Solution
If not, allow me to quickly go over it now. The creation of the NFT trading platform is a laborious and time-consuming process that takes a lot of work.
Utilizing a white label NFT marketplace solution is an additional beneficial choice. It is a tailored solution that is enabled by blockchain technology & incorporates key components that are common to NFT markets.
The platform's effectiveness and performance are also evaluated. It makes it easier for software entrepreneurs like you to launch the white label NFT platform right away.
The white label NFT marketplace solution has the benefits of rapid implementation and affordability. Additionally, you may decide which blockchain technology will be applied to create the white label NFT market. The recommended blockchain network is Ethereum.
NFT White label solutions are pre-built pieces of software that, if purchased, will bear your company's name. The only challenging part of finding a white label solution for NFT markets today is finding the developer.
Read also: How to Build the Best White-Label NFT Marketplace?
Any kind of NFT marketplace development may be carried out with the aid of white label software. Take a look at a few of the most well-known white label NFT markets.
CryptoPunks clone
OpenSea clone
SuperRare clone
Rarible clone
NBA Top Shots clone
Bored Ape Yacht clone
Zed Run clone and an immense variety of solutions.
Development of a White Label NFT Marketplace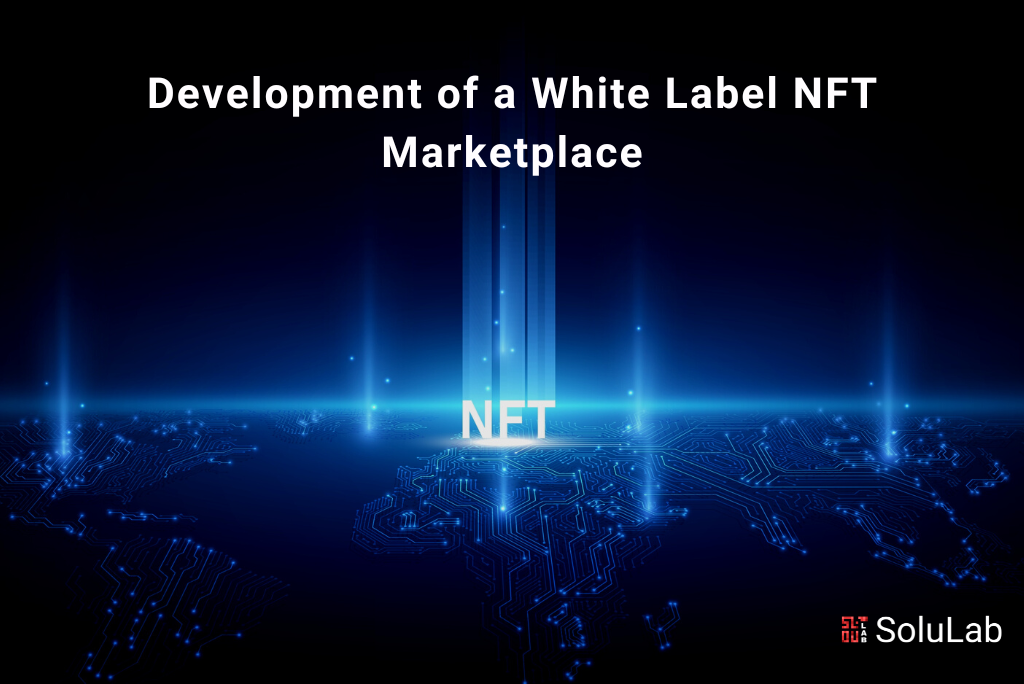 On a variety of blockchains, including Solana, Ethereum, Cardano, Binance Smart Chain, Polygon, & all other renowned blockchain systems, white label NFT Marketplace Development may be carried out. In order to draw in customers from all over the world and create the greatest market-ready NFT white label solution, creators adapt the White label NFT Marketplace to meet market demands.
Read also: White Label NFT Marketplace – The Best Way of Launching NFT Platform
Blockchain developers use the procedures listed below for creating white label NFT markets.
Determine the development of the Blockchain network's user interface.
Token Creation
Smart contract coding
Integration of IPFS storage
Integrating backend & frontend
Beta testing & Bug Fixing
Deployment in the client's server
Pros & cons of an NFT marketplace white label solution
Weighing the advantages and disadvantages can help you choose whether a white label NFT marketplace is indeed the best choice for you to fully understand what you're getting into.
Pros
For the best user experience, a white label NFT marketplace must be created with all the necessary features and functionalities.

The NFT market may be customized with your branding to make it uniquely yours. The white label NFT marketplace solution supplier can work to create a unique NFT marketplace with your demands in mind depending on your needs.

You can quickly build your personal branded NFT marketplace by customizing a white label NFT marketplace, which is already made.

Your NFT marketplace won't be created from the start because white label NFT marketplaces are pre-made, which lowers the overall development expenses.
Cons
Because it's pre-made, creating wholly new, personalized features that are targeted to your business requirements can be difficult and take some time.

You may experience problems where your NFT marketplace is difficult to differentiate from other NFT marketplaces utilizing the same solution, depending on the level of customization permitted within the UI/UX of the white label NFT marketplace solution. 
Monetize the white label platform
Your cryptocurrency business's foundation is monetizing a platform. A platform that shines brighter is the white label NFT platform.
Commission

– For making, offering for sale, and purchasing NFT via your marketplace platform, you can charge a commission fee. As a result, one of the sources of income for the NFT marketplace platform is the commission fee.

Listing Fee

– In your NFT Marketplace's shop, you can charge a price for listing user NFTs, and the platform fee is based on the NFT's pricing value.

Ad Spaces

– Within your marketplace platform, you must implement customized Advertising areas for brands so that you can monetize your operation.
We can start creating now that we have a general understanding of how to make money with white label NFT markets.
Providers of white label NFT Marketplace Solutions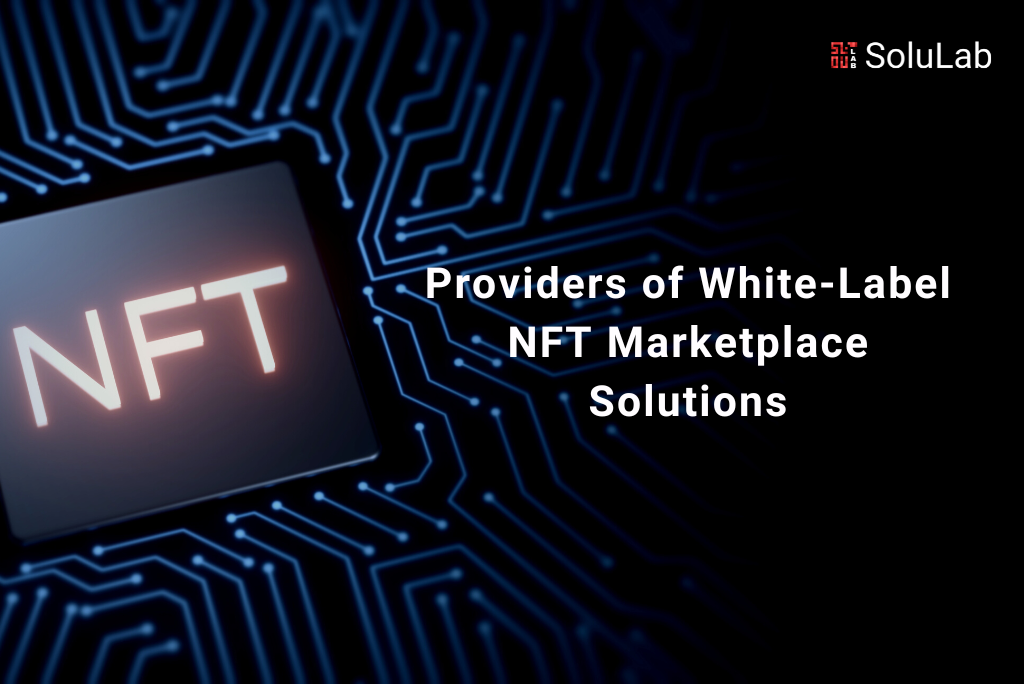 With an in-depth understanding of a white label NFT market, it is a fantastic moment to enter and benefit from the NFT industry after implementing crucial income streams.
Make the initial step by getting in touch with the greatest and most reliable business. We've produced a list of the best white label NFT marketplace solution providers if you're unsure which business to choose. Look through this list.
1. SoluLab

SoluLab provides complete white label NFT marketplace development solutions.  It is a prominent NFT Marketplace development firm that covers the United Kingdom, the United States & India. 
NFT Marketplace Development, NFT Exchange Development, NFT Development, and NFT white label Solution are among their NFT services. They have serviced top-tier companies such as NFTY, Liquid Craft, XinFin, One Ledger, and others with business PMs and top-tier developers.
NFT Metaverse, NFT Gaming, Sports League, Antique and Rare Marketplace, NFT Fashion Industry, Digital Art, NFT Scaled Music Marketplace, and NFT Backed Real Estate are among its NFT Marketplace offerings.
2. Inoru

INORU is a dominating white label NFT marketplace solution provider with enormous knowledge in the blockchain industry for years, attending to clients all over the world. They offer white label solutions for an NFT marketplace, DeFi platform, Exchange, Launchpad, and the in-house advancement team delivers a large spectrum of services.
The blockchain developers team has hands-on experience in bringing your NFT marketplace development idea to life with a white label solution without sacrificing quality or perfection. The white label NFT services we deliver contain crucial elements such as wallet integration, bidding, multi-language support, filters, browsing categories, and more.
The white label NFT marketplace is easy to customize, so the aspects you need will be added, guaranteeing the platform is deployed instantly. The INORU is a preferred provider due to its transparency in development and availability of technical support at all times to resolve queries.
3. AppDupe

AppDupe has a large client base that uses this white label NFT marketplace service provider to build their NFT trading platforms. Despite its aptitude in fundraising platforms, DeFi platforms, and developing exchanges, this firm is best recognized as an NFT marketplace development company.
The platform was built on various blockchains by a dedicated team of developers. As a result, you can determine after contemplating the pros and cons of each blockchain technology.
AppDupe, as one of the promising options for NFT marketplace development, will entrust a helping hand to those looking to join the thriving NFT market by initiating the NFT marketplace.
4. TurnkeyTown

TurnkeyTown is the leading provider of white label NFT marketplaces, offering a wide range of blockchain-related services. This will primarily include the development of NFT marketplaces, gaming platforms, exchange development, and even marketing services.
As the internet evolves (web 3.0), TurnkeyTown makes it easier to enter the NFT world. That is, by utilizing white label solutions. Individuals aspire to join the NFT verse as a result of this. This company's developers have extensive experience in developing white label NFT marketplace solutions for individuals with varying business needs. Foundation Clone, OpenSea Clone, SuperRare Clone, Rarible Clone, and numerous more are instances of popular NFT marketplaces. Customizations are made as needed to meet the needs of the business.
5. CronJ

CronJ is a software development firm that provides end-to-end solutions to meet the needs of businesses, startups, and enterprises. This company's reputation has been built on providing high-quality NFT trading via a ready-made solution, i.e., a white label NFT marketplace. This company's developers have a lot more experience in the blockchain field, making it a good choice for entrepreneurs.
It is a dependable partner that can help you achieve your goals by providing a custom-made NFT marketplace solution without sacrificing its quality. The most important reasons for entrepreneurs to choose this company for NFT marketplace development are cutting-edge development and meeting clients' minute requirements.
6. Zeligz web store

Zeligz web store is a leading software development firm that provides dependable solutions. This company is famous for its numerous services, which comprise web digital marketing, design, eCommerce development, NFT marketplace development, mobile application development, blockchain development, and NFT trade.
With so many alternatives, the Zeligz web store has succeeded a long way in delivering a high-quality white label NFT marketplace solution financed by your preferred blockchain network. As the solution is grasped for your varying needs and goals, the infusion of characteristics defining functionality is allotted to your hand.
Conclusion
We have now reached the blog post's conclusion. NFTs (non-fungible tokens) have inspired beginners to take their first step into the constantly increasing NFT market because of their rising bigger potential and notoriety.
Read also: 5 Best White Label NFT Marketplaces In The World
Those with the same idea might move forward by selecting the greatest organization, agency, firm, or service for the growth of the NFT industry. This blog's curated list of the best white label NFT marketplace solution providers can help you select the best option for your needs.
FAQs
1. Which is the best white label nft marketplace?
Numerous clients from all around the world have chosen Solulab's white label NFT Marketplace as the best white label NFT solution. Our NFT marketplace is designed with cutting-edge functions and outstanding features, making it a user-friendly platform. Browse our portfolio.
2. Why go for white label NFT marketplace development?
Most business owners prefer white label NFT Marketplace Development because it makes it easy to quickly and comfortably establish a custom NFT marketplace platform on their preferred blockchain network. Additionally, this white label NFT marketplace Solution has through many rounds of testing and is fully functional and ready for implementation.
3. How to launch a white label NFT marketplace?
Plan your business demands and purchase a white label NFT Marketplace from a reputable NFT development firm. Because the white label NFT marketplace can be customized, you may do it yourself or with the assistance of your business partner since no coding experience is required. After customizing it, release it to the marketplace.
4. Why choose Solulab's white label NFT marketplace?
Solulab has created several NFT marketplace projects for clients all over the world and has pleased them with our assistance in creating the NFT Marketplace. For you, our talented engineers will create the top NFT platforms currently available.