Experience Seamless Supply Chain with Our Blockchain-Powered Solutions!
Ready to revolutionize your supply chain and logistics? Partner with SoluLab and harness the power of blockchain to streamline your processes, improve traceability, and drive efficiency. Contact us now to get started and stay ahead in the competitive landscape.
Key Challenges in Implementing Blockchain for Supply Chain & Logistics
As the supply chain and logistics industry embraces the transformative potential of blockchain technology, several challenges emerge on the path to seamless integration. From integration complexities to data privacy concerns, these obstacles demand strategic solutions and industry-wide collaboration to drive successful blockchain implementations. Let's delve into the key challenges that businesses encounter when adopting blockchain in supply chain and logistics and explore how SoluLab helped to overcome them.

Integration with Existing Systems
Integrating blockchain into established supply chain and logistics systems can be complex and time-consuming, leading to resistance from stakeholders.

Data Privacy and Confidentiality
Supply chain data often involves sensitive business information, and ensuring data privacy while maintaining transparency is crucial.

Scalability for Large Networks
As supply chains involve numerous participants and a vast amount of data, scalability becomes a major concern for blockchain networks.

Standardization and Interoperability
Supply chain networks involve multiple stakeholders with diverse technological infrastructures, leading to challenges in achieving standardization and interoperability.

Adoption and Collaboration
Convincing all stakeholders within a supply chain ecosystem to adopt blockchain technology and collaborate on a shared platform can be a considerable challenge.

Cost and Resource Constraints
Implementing blockchain solutions can require substantial financial investments and technical expertise, posing a barrier for some businesses.
How SoluLab Enhanced Supply Chain & Logistics with its Blockchain-Powered Solutions?
One of the most popular applications of blockchain technology is supply chain traceability. Distributed ledger technology might boost trade volume by 15% and US GDP by up to 5% by taking the place of the current systems. Discover the compelling use cases that demonstrate how blockchain is used in logistics and supply chain, unlocking the true potential of this groundbreaking technology.
Enhanced Transparency and Traceability by 45%
Blockchain ensures unparalleled transparency by recording every transaction and movement of goods in a decentralized and tamper-proof manner. At SoluLab, we have developed flexible and modular blockchain solutions for various companies that can seamlessly integrate with existing systems, minimizing disruptions and providing enhanced transparency and traceability to users by 45%.
 Cost Savings upto 70% by 2025
Traditional supply chain processes involve multiple intermediaries, such as banks, customs brokers, and third-party logistics providers, which add costs and complexities. At SoluLab, with the help of blockchain implementation, the supply chain and logistics industry could generate over $100 billion in annual cost savings by 2025 globally.
Robust Security Measures Upto 60%
In a joint report by PwC and VeChain, it was found that blockchain implementation in the supply chain can reduce the risk of counterfeit products by up to 20%. With our team of experts, we implemented permissioned blockchains with robust encryption and access control mechanisms by 60%, allowing only authorized participants to view specific data while maintaining overall transparency for the supply chain network.
Real-Time Tracking and Visibility by 5x
With our blockchain solutions at SoluLab, gain real-time tracking and visibility of goods throughout the supply chain by 5 times more than other companies. We implement monitoring the movement and location of products at any given moment, enabling better inventory management and reducing the risk of stockouts.
100% Sustainability and Compliance
At SoluLab, blockchain promotes 100% sustainability and compliance by providing transparent proof of environmentally friendly practices to our companies. Additionally, the immutable nature of blockchain records simplifies compliance reporting, helping businesses adhere to industry regulations effortlessly.
60% Reduction in Counterfeit Incidents
With SoluLab, blockchain can create an immutable record of a product's journey through the supply chain, making it more challenging for counterfeit products to enter the market. This could potentially lead to a 60% reduction in counterfeit incidents, safeguarding both consumers and brands.
Client Testimonials
"I must say that SoluLab's technical knowledge and project management skills have amazed me. A must-have for any blockchain project. It's a big time saver when compared to the cost it would take to handle this manually."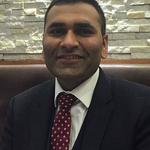 Adil Abbas
Founder, Igniter100
"They have continued to give exceptional service and support throughout the development and have always worked to satisfy our diverse demands as the project has advanced. SoluLab's White label real estate tokenization has revolutionized my investment opportunities. It's efficient, secure, and offers instant liquidity. Highly recommended!"

Scott Miller
Data Architect, Padgett Law Group
"I had heard a lot about SoluLab when it comes to the blockchain, but never thought they could do wonders while integrating real estate with blockchain. I am very impressed. We were able to reach out to hundreds of past customers and solicit reviews we certainly would not have gotten otherwise "

Shaily Srivastava
Co-founder and CEO, Acreage
Take Your Supply Chain to the Next Level with SoluLab's Blockchain Powered Solutions!
Ready to unlock the full potential of blockchain in supply chain and logistics? Partner with SoluLab today and experience enhanced transparency, efficiency, and security throughout your supply chain ecosystem. Embrace the future of supply chain management and gain a competitive edge in the dynamic marketplace. Contact us now for a personalized consultation and embark on your blockchain journey with confidence. Let's revolutionize your supply chain together!
Tell Us About Your Project
Once you've determined the necessities, our technical specialist will set up a call and review your idea in depth after signing a Non-Disclosure Agreement. We guarantee to uphold the privacy of all information and data.