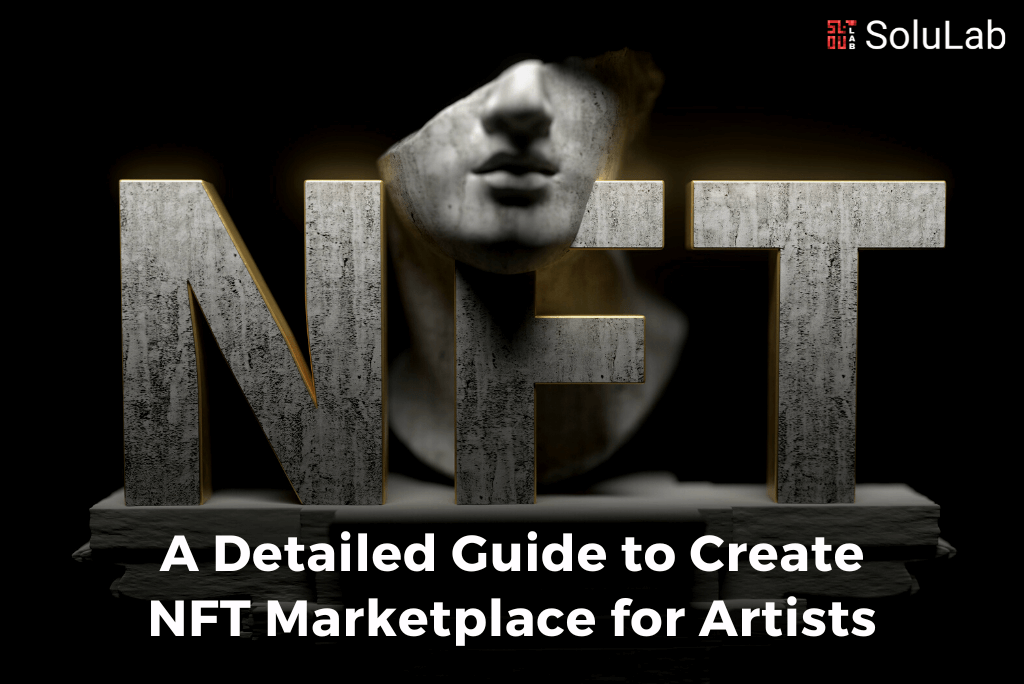 Digital artwork is one of the fastest-growing industries. NFTs were created to tokenize unique and different digital artwork and generate ownership rights to prevent counterfeiting. Digital artists can sell their work online. Tokenized paintings and smart contracts enable digital artists to add extensive qualities such as metadata, file links, and identity of ownership, allowing them to retain copyright.
NFT marketplace has offered many new opportunities for traders, and digital assets are becoming popular day by day. If you want to learn and understand more about NFT art marketplace development, you're at the correct place. In this blog, you'll learn how to launch the NFT art platform, its features, etc. Let's get started.
What is an NFT art marketplace?
It is a platform that allows you to store and sell NFT (Non-Fungible Tokens) effortlessly. These tokens are available for purchase or auction at a fixed price. It would be best if you had a crypto wallet to make trades and save your assets to use such a marketplace.
Users can create an account, upload digital artwork, and sell on an NFT marketplace. In general, niche marketplaces are already in higher demand than conventional ones because they include everything a client would require, specialize in marketing some digital artworks, and have a specific demographic.
Top Features of NFT art Marketplace development
Here are some of the features that an NFT marketplace can have:
Storefront
A successful NFT marketplace will typically have a storefront function similar to a dashboard. It gives the users all the information they need about an asset:
Owners

Bids

Value history

Previews
Token Advanced Search
Buyers should be able to receive full information about the products they require quickly and easily. Your NFT marketplace app should include every product organized by features (for instance, art, images, music, and videos). Buyers' satisfaction increases when searches are completed more quickly.
Filter
The use of filters is advantageous. It allows users to select assets based on category, payment method, due date, and listing status. Add this functionality to build an NFT marketplace platform for collectibles.
Bid and Buy
Traders must be able to buy and sell NFTs stored on the platform while using a marketplace. Their bids should also include a bid validity date and allow them to view data on the status of those bids.
Make Listings
Give customers the ability to create and send digital collectibles. Make sure they require the least effort to do the task. Try building a page where they may upload files and provide a full product description. Tags, titles, and illustrations are required.
Wallet
Customers should be able to use your NFT marketplace's wallet to store, transmit and receive NFTs and cryptocurrencies. You can create your wallets or combine multiple wallets such as Formatic, MyEtherWallet, or Coinbase onto your site.
Listing Status
It benefits people who can provide items and complete the product verification process. It enables you to keep track of the status of the authentication process. It facilitates collectible verification execution.
Rating
It's a feature for newbies who might not know where to start, select things rapidly, and how the system works. Users may determine whether a seller is honest by looking at their rating. Participants in an NFT marketplace can rank and provide comments based on their experience. It enables others to assess a user's credibility.
Types of NFT marketplaces
If you intend to launch an NFT marketplace, you should first select an appropriate type of platform. Mass platforms are among the most common types of NFT marketplaces. Platforms for art, gaming, and sports. The kinds of NFT marketplaces are:
Art NFT marketplaces: non-curated

Art NFT marketplaces: non-curated or invite-only

Gaming NFT marketplaces

Sports NFT marketplaces

Fashion NFT marketplaces

Real estate NFT marketplace

Music NFT marketplaces
Non-Curated Art NFT Marketplaces
Anyone can use this NFT to trade their artwork. As a result, the value of the digital artworks portrayed on such a platform may vary.
Non-Curated or Invite-Only Art NFT Marketplaces
Launch an NFT marketplace of this sort only if your target audience is interested in one-of-a-kind artwork. To be featured on such a platform, an artist must undergo a rigorous vetting procedure that can take months.
Steps to access the NFT art marketplace platform
Here's a step-by-step guide to developing an NFT art marketplace.
Users should sign up and choose their preferred digital wallet.

NFT owners can list their digital assets or NFTs on the platform and the asset's details. Now, they can select the type of sale — fixed or auction-based sale.

Once the platform approves the listed NFTs, buyers can view them.

Buyers choose their preferable NFTs and start placing the bids.

The smart contract will execute the trade.

Now, the NFTs will get transferred to the buyer's wallet.
NFT Marketplace Development for Artists
NFT marketplace development for artists has now become a marketplace platform for artists and producers where they may list their digital artworks and collections. The website enables digital artists to display their excellence and talents and sell or trade their artworks worldwide and gain recognition for their work. With their expertise, NFT artists have the great opportunity to become billionaires.
Read also: How NFTs Changed Digital Art & The Life Of Artists?
Create the NFT art marketplace to showcase the creativity of digital artists and provide them with a good and new source of income. The development of the NFT art platform can promote contemporary artists and generate significant revenue.
Conclusion
The hype about the NFT market has increased in recent years. People can purchase and create art pieces, cards, and other collectibles on numerous marketplaces — mass, art, sports, and gaming NFT platforms. NFT creates one-of-a-kind digital treasures by utilizing a blockchain's transparent and secure digital record.
You can create an NFT marketplace to dominate one of the most promising industries in the technology sector. You should select what type of platform to build and what kind of features you should offer. Following that, choosing the correct tech stack is one of the most crucial processes in the development process: blockchain and blockchain standard, testing tools, front-end, and back-end technologies, and developments.
Blog Credits: Medium