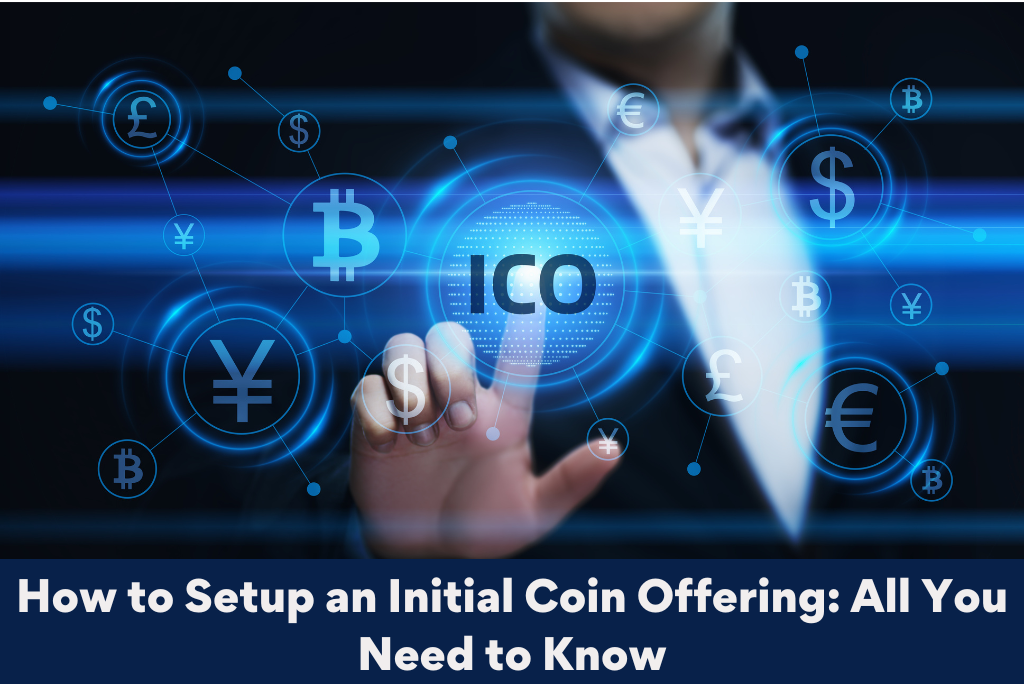 There is a lot of misconception about what an initial coin offering (ICO) is, the sorts of businesses it may be used for, and the steps involved in setting up an ICO from the perspective of a project. An ICO is also frequently referred to as a token generation event as well as a token sale.
Since the blockchain sector is still developing, there isn't a lot of information available (from the standpoint of a project), and teams are always learning the best practices for what to do and what not to do with each new initial coin offering (ICO). An overview of all the data we gathered on the ICO procedure is provided below, along with input from those who actually went through the procedure.
Initial Coin Offering (ICO)
In comparison to established methods of fundraising like VCs, ICOs are fundamentally different. On the one hand, you market upcoming platform utilization. On the other hand, you start off as a publicly traded firm. Ensure that you want to handle this responsibility before the ICO because you'll have a sizable community to maintain.
When deciding if your product should conduct an ICO in the initial place, bear the following in mind:
The cost of the token reflects everything you do and all of the actions you take.

Your team will be peppered with inquiries about the cost of your coin on a daily basis.

You must establish yourself as an international business right away.

Your entire team's internal talks will probably be made public.

Building things that are more beneficial in the long run than in the near run will be very stressful.

If the product is not already fully open-sourced, there will be significant pushback against it. Many blockchain projects are anticipated to be open-sourced initiatives.

In general, compared to conventional startups or even regular public firms, bitcoin ventures are far more open and transparent.

In general, good blockchain projects look and function much more like open-sourced software projects vs. traditional tech businesses. You and your team will have to decide both whether your application makes sense to be built on a blockchain + you want to operate as a transparent and open company.
Read more: How to Launch a Successful ICO?
Setup an Initial Coin Offering (ICO):
1. Decide an ICO 
All businesses should avoid using ICOs. It is not a means of swiftly raising capital or avoiding the time-consuming and expensive procedure of registering an offering with the authorities. That wasn't the case in the beginning when ICOs were just getting started, but it is now. Like everything else in the cryptocurrency world, the ICO ethos is evolving, and the sector is embracing unofficial standards. If a startup is thinking about participating in an ICO, its major self-examination issue should be whether or not it can meaningfully incorporate the digital token into its business strategy. If trading on an exchange is your coin's main purpose, it's a surefire way to see its value plummet quickly after the ICO. When a campaign's tokens are announced, there will be a lot of conjecture about them right away. Strong demand for the token, which can be generated through actual utility, is the only thing that can defend that. perhaps using a decentralized token can make your goods more valuable.
2. Create a product
The most crucial component of an ICO is by far creating an actual product. Build a stable, reliable, safe, & scalable product here on blockchain first, and only then explain how it will revolutionize the world. I think it's reasonable to say that most entrepreneurs will need to obtain a small amount of equity investment to get their business off the ground. You might be able to get away with launching an MVP or beta before holding your token sale, though. Making money requires money, and this isn't different. Your product must use your token, and you must have a product.
3. Create a token
This could be the step in the ICO process that is the easiest. Fundamentally, creating a token entails producing a resource that your company requires to function. Any traded good can be represented by a token, including virtual currency, reward points, gold certificates, IOUs, in-game goodies, etc. Tokens are comparable to the shares of a firm that are sold to investors during an IPO.
Decide how much money you want to raise, how many blockchain / ethereum tokens you'll issue, how many you'll keep for the team and sell during the Pre-ICO (if you decide to sell any of the tokens before the main ICO), and decide in advance under what circumstances you'll issue extra tokens.
4. Get a legal opinion
Being legally protected is important whenever you handle other people's money. To avoid having your token mistaken for security and to demonstrate that no deception is being attempted, this goal must be achieved. The legal planning and pre-sale phases are where the ICO really gets started. You'll need a written legal opinion as well as a legal description of the token sale and what investors really receive in exchange for their investment if you want to keep things out of the SEC's crosshairs. You should be aware that different countries may have different laws regarding the launch of ICOs. Make sure you follow all applicable laws and regulations by conducting your own research.
5. Write a whitepaper
A whitepaper is essentially a brochure that describes the technical features of the product, the issues it seeks to tackle, how it plans to do so, the team behind it, and how it plans to generate and distribute tokens. It serves as a technical guidebook, business plan, marketing plan, and pitch deck all at once. These are really complicated documents, and far too few organizations are spending money on qualified writers & marketers for this part. Hiring vetted outside writers can drive the founders to be more meticulous and detailed, whereas unreliable suppliers will use jargon and fluff to hide conceptual gaps or ineffective product features.
6. Create community and buzz
This is most likely the process' second-most crucial stage. Your token sale won't succeed until enough investors are aware of it. It is a sad but true fact that initial enthusiasm drives the majority of token sales. A genuine investor community that supports you and your coin and won't sell immediately at the first chance should, in theory, support this buzz.
7. Get your token out on exchanges
You must contact ICO exchanges to request that they carry your token once you have developed your coin, your whitepaper, and your marketing plan. Exchanges provide a platform for users to purchase and trade your token on the open market, making it crucial to have it recognized on the largest and most reputable exchanges. Best Bitcoin Exchange has a list of exchanges, and CoinMarketCap, which functions like a stock ticker for token sales, will also list the majority of tokens. ICOs that fail land at the bottom of this lengthy list or are completely removed. The exact steps involved in listing a coin on an exchange vary greatly depending on the website. The majority of exchanges sternly restrict tokens that might be regarded as securities.
Conclusion
Since ICOs have replaced traditional seed investment, more firms will be attempting to fit within the ICO framework in 2018. As a result, cryptocurrencies will become more integrated into the financial sector. This is simply the start of a very potent and egalitarian fundraising approach for new companies, even though shakeouts and market adjustments are unavoidable (especially when it comes to paying taxes). Beware of both buyers and sellers.