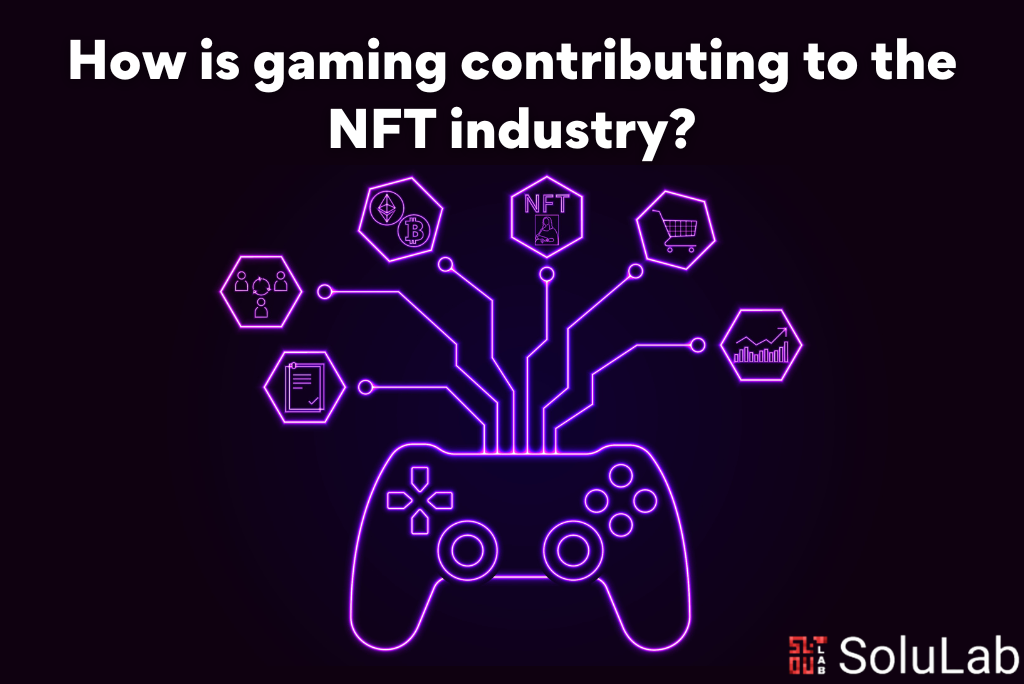 The global Play-to-Earn NFT Games market is estimated to be worth  USD 2845.1 million by 2028. According to the global fintech platform Finder, India gained the top position in the popularity and adoption of NFT gaming, followed by Hong Kong and the UAE. This forecast showcases that NFTs are expanding at a lightning speed, especially in the gaming industry. 
NFT marketplaces have revolutionised video games by making them not only competitive but also commercial. Thus, they attract both investors and more players in this gaming domain. 
The potential for profit within the gaming industry is always immense, making it a hotspot for trends. Gaming companies and brands desire to experiment with NFTs, likely by forming partnerships with third-party blockchain projects that have the technical expertise needed to conceptualise this insight into profit. 
Want to know what possible impacts can be derived through mainstream adoption of Gaming & NFT?   
WEB3 Games
NFTs have had a major contribution in fast-tracking Web3 gaming. It's similar to traditional video games, just that here players are awarded tokens or NFTs for the time spent playing the game and their earnings can be transferred to another game. They can also exchange these earnings with any other player with cryptocurrency. Unique objects and items from the game can be converted into NFTs and sold to earn income. NFT games are also known as play-to-earn games. The top NFT games are namely Axie Infinity, Alien Worlds, Gods Unchained, The Sandbox, The Parallel, Sorare, Star Atlas, etc.
Big-scale investment 
Gaming and NFTs are ever enlarging markets, individually. Integration of the two is indeed favourable and the statistics prove that! In 2021, gaming accounted for 49% of all blockchain usage.Web3 games are currently the most heavily invested sector of the game's economy. Web3 games have attracted 1.22 Mn unique active wallets, accounting for 52% of blockchain activity in the first six months of 2022.
Read more: Top 10 Mobile Game Development Companies in 2022
A way to encapsulate developing economies.
People buy NFTs because they function as an investment. So if it's merged with video games, we can anticipate similar outcomes. For instance, a player might buy an item from a local game at a low price. If in the future, this particular game becomes popular, the value of the items will increase. Then, the player may decide to sell them and get a greater return on his investment. Axie Infinity, created by SkyMavis, was hugely popular in the Philippines. Several Filipino people earned income through nonfungible tokens( NFTs), and cryptocurrencies by breeding, battling, and trading digital pets.
A Shift in the Value Model
Together, these two industries provide a far more equitable value model. As we know, money usually flows in a single direction in traditional games. However, blockchain-enabled games generate value not only for industry functions but also for players. NFT is a decentralised application (dApp), so it helps facilitate player ownership and immutability. Two games built on the same network can feasibly support the same in-game assets like vehicles, armour, or even entire characters. This curates sustainable interoperability across different environments. Hence, it is not wrong to say that NFTs would cause a shift in the power structure of the gaming economy. From game developers and giants, it'll transition into the hands of gamers. 
Streamlining a new profession
NFT gaming is popular across the globe because it offers a source of income to many people.  NFT games have paved a new means to market services and products constructively. Since NFTs cannot be replicated, players are secure that their hard-earned NFTs will not be lost or stolen. Players have ownership of their assets and also a way to earn cryptocurrencies (by selling the NFTs). Encapsulating gaming into the NFT domain can streamline a regular source of income for many.
NFTs are not a new concept in gaming, NFT games have been around for quite some time now. Cryptokitties is acknowledged as the first NFT game. It was released in 2017, where players were allowed to earn, buy, collect, breed, and sell digital cats. Gaming companies are exploring more possibilities. Incorporating NFTs is sort of termed the 'metaverse' in gaming. Major publishers and developers might possibly team up and allow NFTs of in-game items to work across different titles. 
Conclusion 
Shortly, more fluid participation of NFTs is expected. New blockchain-based games will feature the powerful support of blockchain to ensure security and transparency. The global gaming industry continues to grow across all markets. In contrast to traditional games where power setup is centralised, blockchain-built games are decentralised applications (dApps). Hence, they enable players to capture the utility and value of in-game purchases and asset acquisitions more effectively.