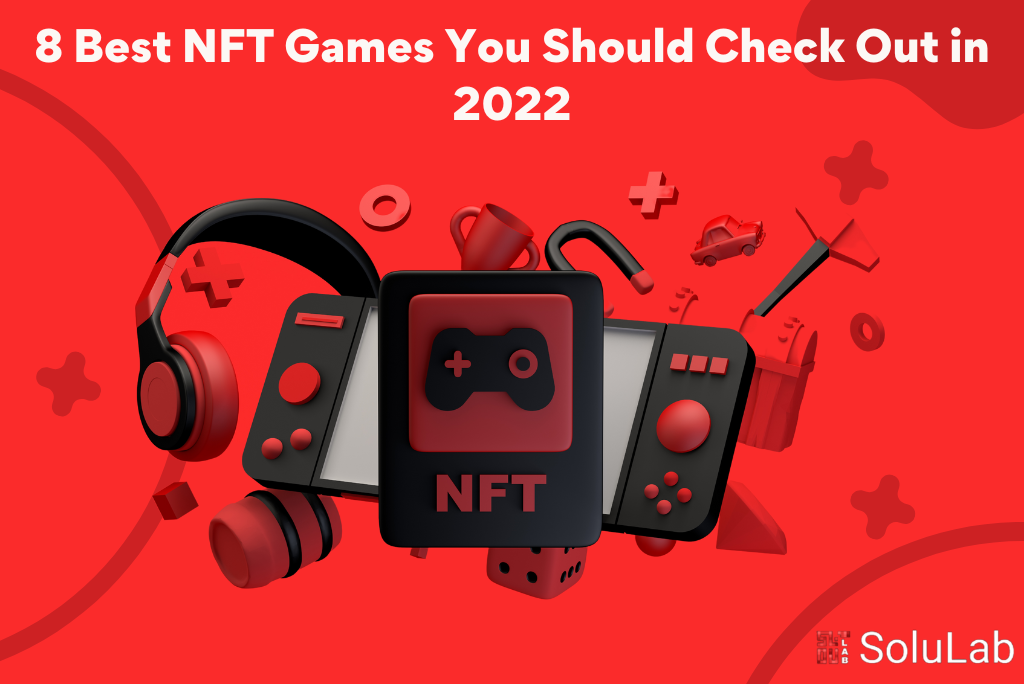 If you follow current social media trends, you are aware that NFT games are huge right now. You might be curious to start playing these games given how Non-Fungible Tokens (NFTs) have been the topic of debate on social media. Or these games are the ideal method to merge your two passions if you're a player and an investor in nft marketplace for games.
Nevertheless, not all NFT games are created equally. If you're unfamiliar with these games, we gather a list of the best NFT game titles you should play in 2022.
Top NFT Games to Play in 2022
As was already mentioned, not all games are made the same way. It can be difficult to decide which games to play because they are available in so many different genres and styles. Thus, your particular preferences will largely determine which option is ideal for you. You must choose the NFT game type that is suitable for you because some of them are play-to-earn and others are just straight play. Following are some of the top NFT game titles you should think about playing in 2022.
1. Axie Infinity
One of the top NFT games, Axie Infinity, has 2.8 million daily active players. Players can acquire AXS tokens using this game's play-to-earn feature, which they can subsequently use to participate in the platform's governance. To begin, players purchase three Axies, which are digital pets they can raise to eventually produce generation after generation of these creatures. Each Axie transmits its traits, limitations, and strengths to its offspring through genetic inheritance. In order to gain a decent price for their Axies on the Ethereum NFT marketplaces, where the animals may be exchanged, players should aim to breed uncommon Axies with the most distinctive characteristics.
2. Alien Worlds
With more than 1.1 million players, Alien Worlds is a significant NFT game. Earning Trillium (TLM), a currency in this play-to-earn game that can be used to access more gaming and take control of Planet DAOs, is a requirement to advance in the game. It encourages users to compete for the planetary council or participate in elections for council candidates while simulating economic competitiveness. Players can embark on missions in this NFT Metaverse and find NFTs, which can subsequently be utilized for missions, combat, mining trillium, and other purposes. The worth of NFTs in the game is based on their rarity and degree of shine.
3. Gods Unchained
A play-to-earn mechanism is used in the trading card NFT game Gods Unchained. Players in this free-to-play game have full control over the virtual goods they utilize, so they are free to exchange, sell, or use their cards any way they see fit.
Each card has its own special abilities and is grouped according to its value, tribe, mana cost, deity, and set. Some cards grant you the ability to draw more cards, heal other players, summon monsters, and more. Cards can be collected by players through either winning PVP games or buying them from other players.
You can win when you manage to get your opponent's life to drop to zero first. After that, you receive experience points for each victory. Once the experience bar is full, you can acquire a fresh pack of cards and advance to the next level.
Read more: What are the Features of NFT Gaming Platform?
4. The Sandbox
Similar to Minecraft in that it's more of a creative platform than a game, The Sandbox is a culture NFT platform. Users can design and animate their personal voxel ASSETS, which can then be converted into NFTs and sold on the market. Following that, these NFTs are incorporated into the GAMES that users develop on the platform.
With The Sandbox, users or producers can get revenue from the GAMES they produce and sell the RESOURCES they develop. By participating in the platform's GAMES, they can also receive incentives.
SAND, the platform's utility token, may be used to purchase in-game goods from the marketplace. In The Sandbox metaverse, players can purchase a plot of virtual land called LAND and fill it with games and ASSETS to create customized experiences. The 166,464 LANDS that make up the metaverse can be used by players to host games, construct homes, or create multiplayer experiences.
5. Splinterlands
Splinterlands is an NFT card game with similar mechanics to Gods Unchained that lets players earn money while they play. The primary distinction is that you must purchase your own card set in order to begin playing. Every card differs in terms of stats, mana cost, level, experience, ability, and rareness. Cards that enable you to deal double damage, slow down, heal yourself, and other abilities are available.
A player's cards can be rented out or traded with another player.
To advance in levels or even turn cards into cryptocurrency, they can combine various cards. You can sell Splinterlands cards on numerous platforms by using third-party marketplaces like Monster Market, PeakMonsters, and Open Sea.
You can earn rewards on Splinterlands by taking part in competitions and ranked play. To obtain these rewards, which can include magic potions, card packs, collector cards, and Dark Energy Crystals, players can also embark on quests. Crystals act as a form of virtual money that can be sold or used to pay for goods in the store.
6. Sorare
Sorare, a fantasy football card game that enables players to develop lineups and strategies, is the ideal NFT game for football fans. Weekly contests pit participants against other managers while using trade cards depicting actual professional football players. Similar to fantasy football, your points are determined by actual occurrences and how well your deck of players performs.
The platform values cards according to their rarity, which is divided into four categories: limited, rare, ultra rare, and unique. These NFT cards are owned by the players, who may then trade or resell them to other players.
Players receive a free beginning bundle when they sign up for Sorare, which is completely free to play. As they play, they can accumulate more cards. You must acquire the most unique cards if you want to move up the divisions and advance in the game.
7. The Walking Dead: Empires
This multiplayer game will attract fans who love survival games because it is based on the universe of the popular AMC TV show The Walking Dead. Players in this blockchain-powered MMO can work together to survive by fending off walkers, challenging rivals, constructing new dwellings, and foraging for resources. Similar to the TV program, players have the option of establishing their authority and leading a group of allies or swearing loyalty to a more powerful person.
In this game, players who own land gain more benefits when there is a large amount of activity in their regions, such as trading and killing or fighting. As a result, players will need to establish a solid stronghold that attracts both rivals and walkers as well as survivors. You can open up your land to other players so they can move there and help you develop it for survival.
8. Dogami
Dogami is a game where players can purchase a virtual pet or Dogami & raise it to adulthood to realize its full potential. It features a whole "Petaverse." Players can develop special features for their Dogami, modify it, and train it. Like genuine dogs, the more than 300 different breeds of Dogami NFTs each have distinctive characteristics. They come in four different rarity gradations: bronze, silver, gold, and diamond, which influence their market value.
The Petaverse's native money, DOGA tokens, can be won by participating in tasks. Purchasing items for your virtual closet, breeding your Dogami, buying consumables, and purchasing event tickets are all possible with DOGA tokens. On February 22, 2022, the first generation of Dogami was introduced, and it has since been sold out.
Which NFT Game Will You Play?
As you can see, there is a tonne of choices whenever it comes to NFT games, and there is something for everyone, whether you prefer to create things like Minecraft or you like to seek and capture strange beasts like Pokemon. In addition, while many of the games we've listed above are already well-known, others won't be available in full until 2022. So consider all of your options and choose the one that most closely matches your gaming interests.